Dodgers' pitching gets a little iffy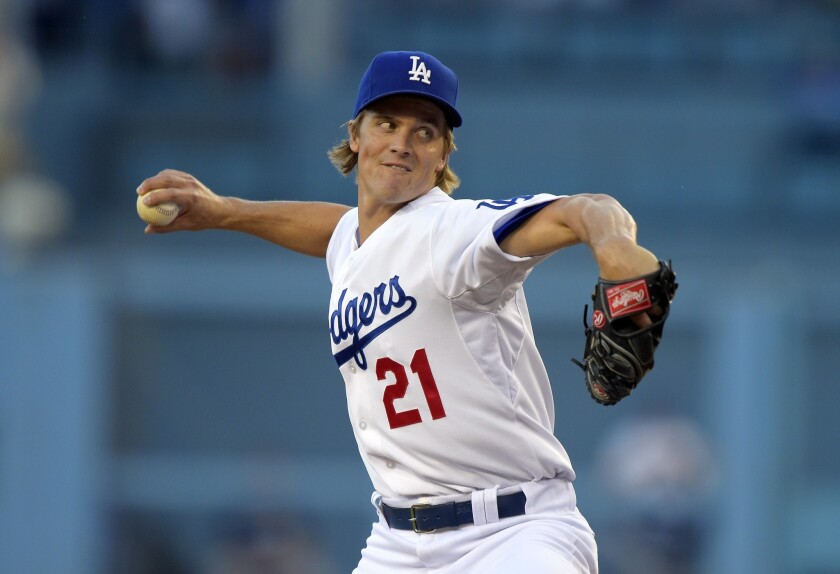 They were built around starting pitching. The Dodgers had all those pricey superstars in their everyday lineup, but if they were to reach baseball's Valhalla it would be behind their rotation.
And through three-fourths of the season, that's pretty much the way it played out. A rotation that's the envy of all baseball. It leads pitching's triple crown — wins, earned-run average and strikeouts — in the National League.
Only for the first time this season, that vaunted rotation looms as uncertainty.
Zack Greinke started Friday in the Dodgers' 6-3 loss to the Brewers, and if it was something of a wobbly effort, he at least had them up early.
Greinke lasted only five innings, leaving with a 2-0 lead, but the bullpen could not pick up the needed slack, the Brewers scoring five times in the eighth.
Greinke is a given. But injuries have forced a sudden revamping of the Dodgers' rotation, with two pitchers the Dodgers picked up only a week ago — Roberto Hernandez and Kevin Correia — now starters.
Prior to Friday's game the Dodgers put Hyun-Jin Ryu on the 15-day disabled list with his strained buttock. The Dodgers say they are uncertain when he will return, only that he will this season.
Josh Beckett remains on the DL with a hip injury that may yet require surgery and backup starter Paul Maholm had season-ending reconstructive knee surgery Friday. And there's no pitcher in the minors whose play is demanding a call-up.
So for now the rotation consists of Clayton Kershaw, Greinke, Hernandez, Correia and Dan Haren — who until his last two starts was a demotion candidate.
Can the Dodgers keep winning with that starting five? Surprise, Manager Don Mattingly believes the remodeled rotation will not falter.
"Not as long as they keep pitching the way they have," Mattingly said. "We've gotten good outings, Kevin pitched good. Roberto has pitched good both times. So as long as guys keep pitching well, you don't think about it too much. You keep doing that, and hopefully we don't have to talk about it."
Greinke gave the Dodgers plenty to talk about Friday, most of it good.
It was hardly vintage Greinke, but it seemed to work well enough. It was a struggle, though, Greinke matching his season-high with five walks and needing 98 pitches to get through his five innings.
All of the walks, however, came with two outs — including three consecutive in the fourth. Greinke had walked more than two in a game only twice all season.
He left with a 2-0 lead, both runs of the same ilk — Dee Gordon gets on base, steals second, scores on a Yasiel Puig single.
Gordon got the Dodgers going against Milwaukee rookie right-hander Jimmy Nelson when he beat out an infield single in the first.
He stole second and kept going to third when catcher Jonathan Lucroy's throw sailed into center for an error. Puig laced a single to center and the Dodgers had a 1-0 lead.
It remained that way until the fifth, when Gordon was at first after a fielder's choice and again stole second. It was Gordon's major-league leading 56th steal of the season. Puig again came through, knocking another hit to center to score Gordon and give the Dodgers the 2-0 lead.
The Brewers scored five times in the eighth, an inning that continues to plague the Dodgers. Jamey Wright was charged with all five runs after giving up four hits and an intentional walk.
Brandon League came in with the game tied and the bases loaded, but after striking out Rickie Weeks, gave up a three-run double to pinch-hitter Lyle Overbay.
---
Get our high school sports newsletter
Prep Rally is devoted to the SoCal high school sports experience, bringing you scores, stories and a behind-the-scenes look at what makes prep sports so popular.
You may occasionally receive promotional content from the Los Angeles Times.