Brandon McCarthy's conditioning is tested in Dodgers' spring game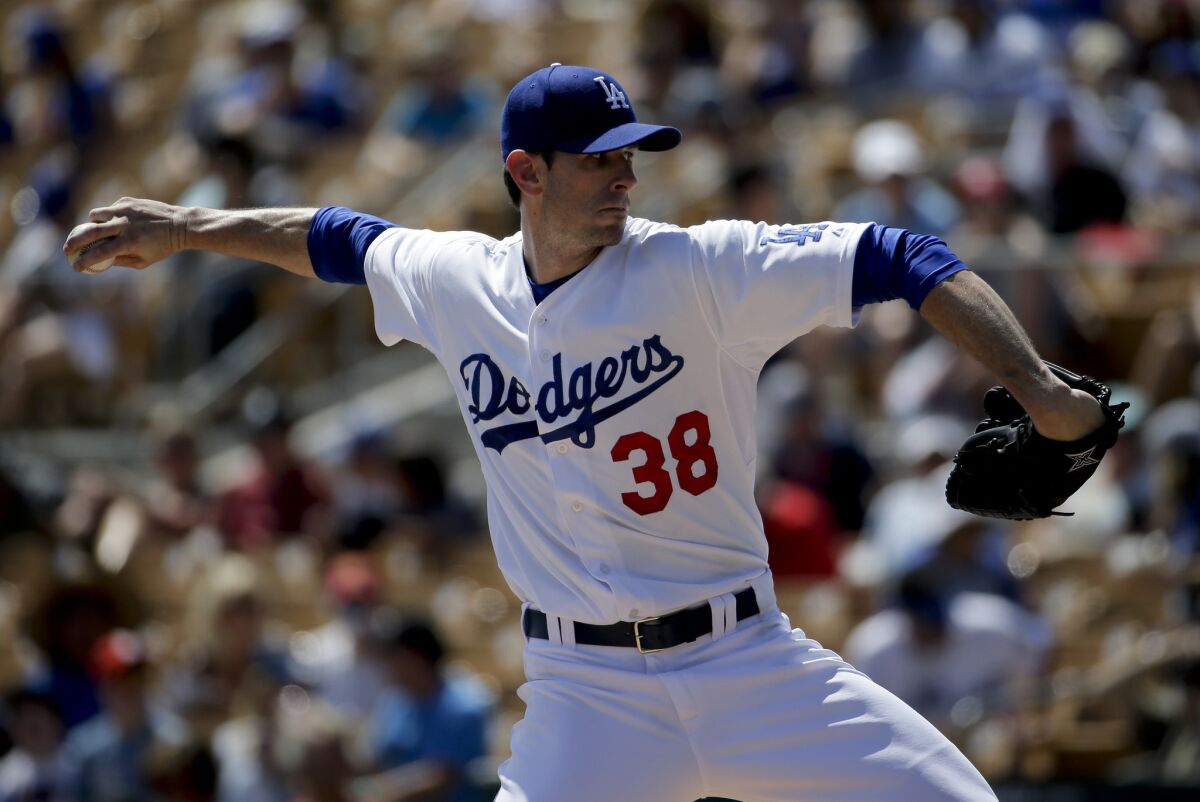 Reporting from PHOENIX —
Brandon McCarthy watched from the bench Sunday as the Dodgers scored five runs in one inning and two in another. The more his team scored, the more he would have to wait to return to the mound.
The long innings, combined with temperatures in the mid-to-high-90s, created a set of circumstances that were less than ideal for a pitcher. That's also why McCarthy thought the conditions were perfect.
"It felt like a long six innings to get through, but it was good that I got to find out where I'm at conditioning-wise," McCarthy said.
In his penultimate start of the exhibition season, McCarthy pitched 5 2/3 innings in the Dodgers' 10-5 victory over the Texas Rangers at Camelback Ranch. He was charged with three runs and seven hits, throwing 91 pitches in the process.
"You can get through 100 now," he said. "You're at a place that you're pretty well built up."
McCarthy, who is 1-1 with a 6.75 earned-run average in four exhibition starts, is expected to scale back his pitch count in his next start.
McCarthy, 31, signed a $48-million contract with the Dodgers in the off-season after spending last year with the Arizona Diamondbacks and New York Yankees.
McCarthy's durability will be vital for the Dodgers, especially with Hyun-Jin Ryu starting the season on the 15-day disabled list. McCarthy is lined up to start the Dodgers' third game of the regular season, a series finale against the San Diego Padres on April 8.
McCarthy said he doesn't feel burdened by the responsibility.
"I want to pitch well whether everybody's hurt, whether nobody's hurt, whatever the situation is," he said. "You just want to do what you can do. Any time you start focusing on things that are too large and out of your control, then you kind of lose sight of what you should be working on."
Backup plans
While refusing to provide any details, Manager Don Mattingly said he now has a "pretty clear" idea of what his opening-day roster will look like.
With Ryu starting the season on the disabled list, the Dodgers are expected to use his roster spot for a position player because they won't need a fifth starting pitcher until the second week.
Under that scenario, the Dodgers would have six bench players on their opening-day roster.
Catcher A.J. Ellis, utility man Justin Turner and outfielder Scott Van Slyke appear as if they are certain to be on the team. If the Dodgers can't trade Andre Ethier, he, too, should be on the team.
That leaves Alex Guerrero, Enrique Hernandez, Darwin Barney and Chris Heisey in competition for the final two spots.
Guerrero is .341 this spring and has the contractual right to refuse a minor league assignment. If Guerrero isn't on the roster, he can become a free agent and the Dodgers would still owe him the $14 million that remains on his contract.
Hernandez, Barney and Heisey still have minor league options, meaning they can be sent to the minor leagues without clearing waivers.
Hernandez, who was acquired in the off-season from the Miami Marlins, has overcome a slow start in the exhibition season to hit five home runs. He is also the most versatile player in the group, as he can play multiple infield and outfield positions.
Twitter: @dylanohernandez
Get our Dodgers Dugout newsletter for insights, news and much more.
You may occasionally receive promotional content from the Los Angeles Times.