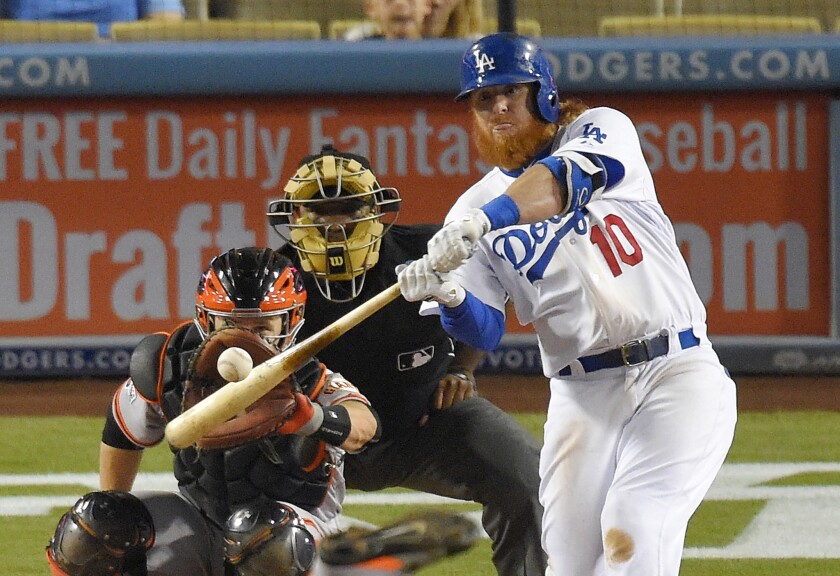 When Justin Turner joined the Dodgers shortly before spring training last year, he did so on a minor league contract.
Friday night, with the first-place Dodgers opening a three-game series against the second-place San Francisco Giants, Turner batted third for the most expensive team in baseball.
The third baseman played up to the role. He doubled twice. He homered. He drove in two runs, was hit by a pitch and raised his season average to .329.
On a night when the Giants scored nine runs, that wasn't nearly enough.
The Dodgers lost for the fifth time in seven games, this time by a score of 9-5. By falling to the Giants for the eighth time in 10 games this season, their lead in the National League West was reduced to 11/2 games.
While Yasmani Grandal's run-scoring single in the second inning ended a scoreless streak of 32 innings against the Giants — the Dodgers failed to score a single run in a three-game series in San Francisco last month — the offense remained dormant for large stretches of the game. The Dodgers trailed this game by as many as six runs.
"Every team is going to go through this," Turner said. "Right now, it's our team that has to go through it."
Turner batted third two previous games this season.
Adrian Gonzalez, the team's regular No. 3 hitter, didn't play in one of those games. Howie Kendrick, the cleanup hitter, didn't play in the other.
Turner batted third on Friday for entirely different reasons.
Turner wasn't in the middle of the lineup because Manager Don Mattingly wanted to give a day off to one of his best players. Turner was there because the Dodgers can't score.
Entering this game, the Dodgers had scored two or fewer runs in 18 of their 32 previous games.
The shortage of runs prompted Mattingly to make changes to the top of the order.
Yasiel Puig, who batted second in nine of his previous 10 games, replaced a slumping Joc Pederson as the leadoff hitter. Pederson moved from first to second.
"Just moving pieces," Mattingly said. "It's not really a whole lot, to be honest with you."
The right-handed-hitting Turner was inserted between the left-handed-hitting Pederson and Gonzalez.
Turner downplayed the significance of where his name was on the lineup card, saying, "It's only for the first time through the lineup."
Kendrick was dropped from fourth to fifth.
"We're just trying to get something that sparks us a little bit," Mattingly said.
Until the last week or so, Mattingly insisted that he had no problems with the quality of his team's at-bats.
But he said he was alarmed by the lack of scoring opportunities in recent days.
"That's when you notice it," he said.
Mattingly called on his players to improve their plate discipline, similar to how hitting coach Mark McGwire did the day before.
"I don't think we tried to get away from it," Mattingly said. "One thing happens, another thing happens, the next thing you know, you've deteriorated. You've played 67 games, you've played every day. You don't realize all of a sudden that it's turned into something different or it's turned a little different and they don't even realize it. Really, it's getting back to who we want to be as a team."
Turner did his part.
Turner, who entered the game batting .342 with runners in scoring position, doubled in the third inning to drive in Pederson. Turner scored later in the inning on a single by Gonzalez to cut the Dodgers' deficit to 4-3.
With the Dodgers trailing, 5-3, Turner led off the sixth inning with a double. But he didn't score, as Gonzalez lined out, Kendrick grounded out and pinch-hitter Scott Van Slyke flied out.
By the time Turner hit a solo home run in the eighth inning, the Giants had already scored nine runs.
Follow Dylan Hernandez on Twitter @dylanohernandez
---