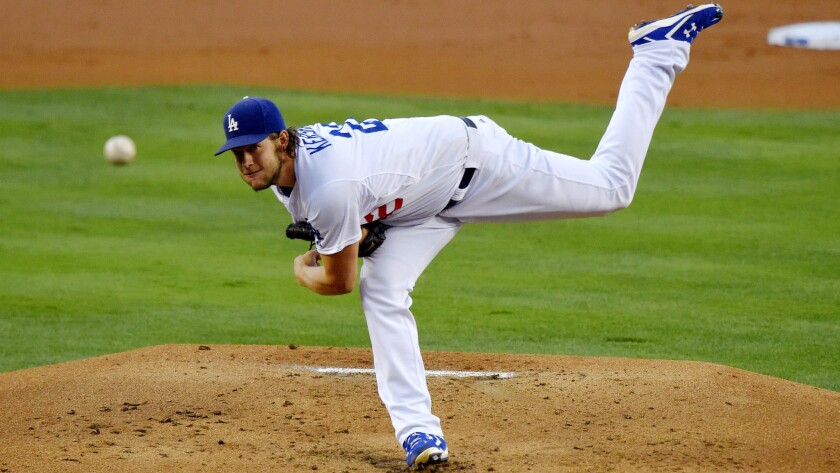 Only three National League pitchers have struck out 200 batters or more in six consecutive seasons in baseball's modern era.
The first was Sandy Koufax, the second Tom Seaver.
The most recent pitcher to reach the benchmark was Clayton Kershaw, who became part of the exclusive group Wednesday night in the Dodgers' 3-0 victory over the Washington Nationals at Dodger Stadium.
Kershaw (10-6) struck out eight batters and didn't walk any over eight innings, raising his major league-leading season total to 205. He gave up three hits and lowered his earned-run average to 2.39.
Kershaw said he appreciated his latest entry into the history books because of what it represents.
"I like consistency," he said.
He pointed to his admirations of pitchers such as Mark Buehrle and Dan Haren.
"The guys that don't go on the DL, the guys that are around for a long time, I have a lot of respect for those guys," Kershaw said. "Hopefully, in 10 years or so, I'll be in that category."
Koufax's 200-plus strikeout streak was from 1961 to 1966. Seaver's streak spanned from 1968 to 1976.
Kershaw's performance was particularly timely and not only because Manager Don Mattingly was spared from turning to the team's slumping middle relievers.
Right-hander Jordan Zimmermann was also dealing, limiting the Dodgers to a run and two hits over seven innings. The came in the third inning, when Carl Crawford singled to left field to drive in Joc Pederson.
Kershaw protected the 1-0 lead by pitching a perfect game until Michael Taylor doubled over Pederson's head in center field with one out in the sixth inning.
Kershaw said his fastball command was significantly improved from his start five days earlier, when he gave up four runs in six innings in Pittsburgh, but added his dominance could be attributed in part to the defense behind him.
The most important defensive play of the game was made by Enrique Hernandez, whom Mattingly started at shortstop because he wanted to give Jimmy Rollins a day off.
With two outs in the sixth inning and Taylor on second base, Kershaw gave up a chopper up the middle to Yunel Escobar. Hernandez made a sliding stop and bounced on his feet to make a spinning throw to first base to retire Escobar.
"Saved a run for us," Kershaw said.
Asked whether he thought he could pitch a perfect game, Kershaw replied, "Not really. Not too much."
However, the possiblity was on Hernandez's mind.
"I was thinking about New York," Hernandez said.
The reference was to a three-hitter Kershaw pitched against the New York Mets at Citi Field last month, when he had a perfect game broken up in the seventh inning.
The Dodgers broke open the game in the eighth inning, when they extended their lead to 3-0 on a bizarre throwing error by second baseman Anthony Rendon.
It happened after Pederson was struck by a pitch. Pinch-hitter Andre Ethier doubled against setup man Drew Storen, prompting Rendon to retreat to shallow right field to collect a relay throw from Bryce Harper. Even though Pederson stopped at third base, Rendon threw toward the plate. The baseball skipped past Storen and intonearby seats.
Pederson scored, as did Ethier, who was awarded an extra base because the baseball sailed into the stands.
Closer Kenley Jansen pitched a perfect ninth inning, sealing the victory by striking out Harper. The save was Jansen's 22nd.
The Dodgers extended their lead to 31/2 games over the second-place San Francisco Giants in the NL West.
Up next
Dodgers right-hander Mat Latos (4-8, 4.67 ERA) will oppose right-hander Keyvius Sampson (1-1, 3.00) and the Cincinnati Reds on Thursday at 7 p.m. at Dodger Stadium. TV: SportsNet LA; Radio: 570, 1020.
---