Dodgers' Hyun-Jin Ryu is taking return from shoulder surgery at a cautious pace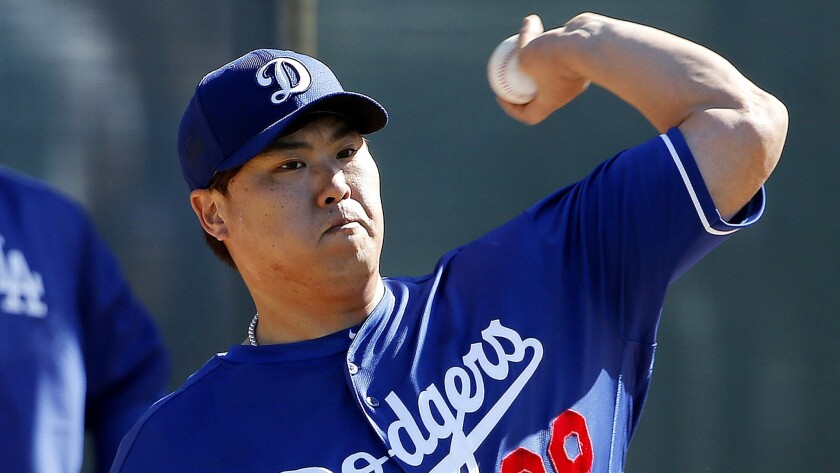 Reporting from Phoenix —
The distance between Hyun-Jin Ryu and the rest of the Dodgers pitching staff has become obvious.
In his bullpen session Friday, Ryu was not allowed to throw curveballs or sliders. A day later, Clayton Kershaw breezed through the first day of live batting practice, an event marking the start of the five-day schedule leading pitchers into the regular season.
When the season begins April 4, Ryu will not be ready. Still recovering from shoulder surgery, Ryu said Saturday he will open the year on the disabled list. He hoped to pitch for the Dodgers "sometime" in May.
Ryu revealed his goals for 2016. He wants to make 20 starts and log 150 innings.
"With having a surgery like that, who would expect 200 innings and 30-something starts?" Ryu said through an interpreter.
Ryu required surgery on his left labrum in May. He sat out 2015. In his absence, the club could turn to Alex Wood or Mike Bolsinger.
Saddled by a bone bruise last summer, Wood stumbled after joining the Dodgers midway through the season. But he has impressed Manager Dave Roberts and pitching coach Rick Honeycutt with his more polished delivery.
Bolsinger had a 3.62 earned-run average in 21 starts last season. Brandon Beachy, who is nearly two years removed from his second elbow ligament-replacement surgery, could also be a candidate.
The Dodgers would like to avoid a repeat of their rotation woes in 2015. After Ryu injured his shoulder and right-hander Brandon McCarthy tore an elbow ligament, the team utilized 16 starting pitchers. No team used more starters, hinting at the instability behind the two-headed behemoth of Clayton Kershaw and Zack Greinke.
McCarthy and Ryu could contribute in 2016. McCarthy has mentioned the All-Star break as a reasonable target for his return. McCarthy said recently he would throw only bullpen sessions at spring training.
The Dodgers expect Ryu to pitch in Cactus League games. Neither Roberts nor Andrew Friedman, the president of baseball operations, would provide a schedule for Ryu's spring debut.
"He completely understands where we, as an organization, want to be," Roberts said. "Coming off surgery, to expect him to make 32 starts, it's highly unrealistic, anyway. As an organization that's looking to play through October, there's really no reason for us to rush him."
Ryu did clear one hurdle Friday. He integrated changeups into his bullpen session. He had been restricted to throwing fastballs. Roberts observed Ryu and reported that the activity went "great."
"He held velocity," Roberts said. "The volume, he's right there. For us, it's more about how he comes out of it and how he feels the next day. He feels encouraged."
Ryu, who had a 3.17 ERA in 2013 and 2014 combined, is under team control through 2018 and due $23.5 million during that time.
Yet, shoulder problems can derail a career. So Ryu will stick with his goals: A return in May, 20 starts and 150 innings.
"He's behind," Roberts said. "And we've said it from the beginning that there's no hard date. And we're not going to rush him to get to that date."
---
Get our Dodgers Dugout newsletter for insights, news and much more.
You may occasionally receive promotional content from the Los Angeles Times.