After years with the San Francisco Giants, Sergio Romo ready to wear Los Angeles Dodgers blue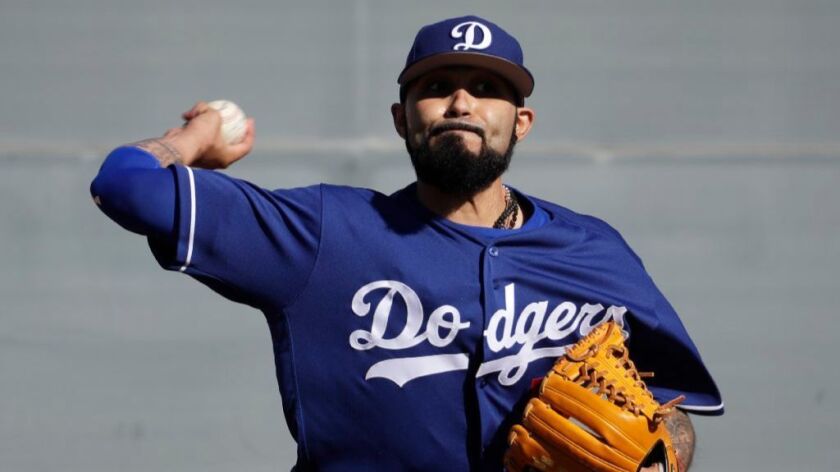 phoenix —
In the summer of 2008, friends and relatives of Sergio Romo flocked to Dodger Stadium. Romo had never before pitched in the ballpark of his childhood favorites, so the game classified as an event for the group from Brawley.
His friends decked themselves out in Dodgers garb, a fashion choice that ignored Romo's standing as a member of the San Francisco Giants. The scene did not, Romo recalled Thursday with a chuckle, endear him to the Giants brass.
"It didn't really fly well," he said. "But now they get to bring that blue and white out. They can bring it out the closet now."
The garments, in that sense, lay hidden for nine seasons, as Romo became a vital member of a Giants bullpen that won three World Series championships. Cut loose as a free agent this winter, he joined the Dodgers on a one-year, $3 million contract. For him, becoming a Dodger after so many years on the other side of the rivalry was "pure irony," he said.
The Dodgers have not revealed a specific role for Romo, who finished 2016 with a 2.64 earned-run average in 40 appearances despite spending time on the disabled list because of a right flexor strain. He could replace Joe Blanton as the primary set-up man for closer Kenley Jansen.
Blanton remains unsigned, a reality that Romo relates with. He was somewhat surprised by the slow-moving market for veteran relievers this winter. Romo could not find a deal until this month. The waiting provided him with perspective, he said.
"I just think it's pretty cool that I've got a team that I can play on," Romo said. "I can still call myself a big leaguer. I've got a job."
A few minutes later, he turned to his locker and touched the blue and white No. 54 jersey with ROMO stitched across the back.
"That's my name," he said. "That's my number. It means a lot."
Ryu has work to do
Hyun-Jin Ryu lined up alongside pitchers such as Romo, Jansen and Rich Hill on Thursday for a bullpen session. He looked, for a moment, like any other Dodger. Except unlike most of his teammates, Ryu enters spring needing to prove that his surgically repaired left shoulder can handle the rigors of a major league season. He has appeared in only one game since 2015, when he suffered a torn labrum.
Manager Dave Roberts watched video of Ryu's throwing sessions during the winter. In the first few clips that Roberts saw, Ryu lacked the ability to achieve full extension in his delivery. He looked like he was protecting his arm, much like he did during an ill-fated comeback attempt last summer, which prevented him from properly finishing his pitches.
In Ryu's last bullpen session, though, Roberts noted that Ryu looked more comfortable. The radar gun clocked his fastball velocity at 84-86 mph, Roberts said. Ryu can build strength in the coming weeks, but his fastball will be monitored closely. It resided in the mid-80s during games in 2016 and in the low-90s in 2013-2014.
Even if Ryu is sound, the Dodgers will not hold open a spot for him in the rotation. There are several other candidates, from veterans such as Scott Kazmir and Brandon McCarthy to promising younger pitchers such as Brock Stewart and Ross Stripling. Ryu must show that he belongs.
"He does need to perform," Roberts said. "That's fair, and that's the expectation for him. He hasn't essentially pitched in two years. For us, it's really important to get him in front of hitters and [see if he can] get guys out."
Maeda packs on the pounds
After wearing down in the second half of last season, Kenta Maeda added about 10 pounds to his 175-pound frame over the winter. He did so through an increased emphasis on weight training and enhancements to his diet.
"Ramen," he joked.
The goal is to provide Maeda with enough strength to handle pitching every fifth day without incident. He often pitched on an extra day of rest last season, as was the custom in Japan, and his performance tanked in the second half. He posted a 2.95 earned-run average in the first half and a 4.25 ERA after the All-Star break. He finished with 175 2/3 innings, a total he hopes will increase.
"I definitely want more innings per game," he said. "And to stay in the rotation, and be treated like everybody else."
Twitter: @McCulloughTimes
---
Get our Dodgers Dugout newsletter for insights, news and much more.
You may occasionally receive promotional content from the Los Angeles Times.