Dodgers pitcher Julio Urias' first spring training appearance is brief, but effective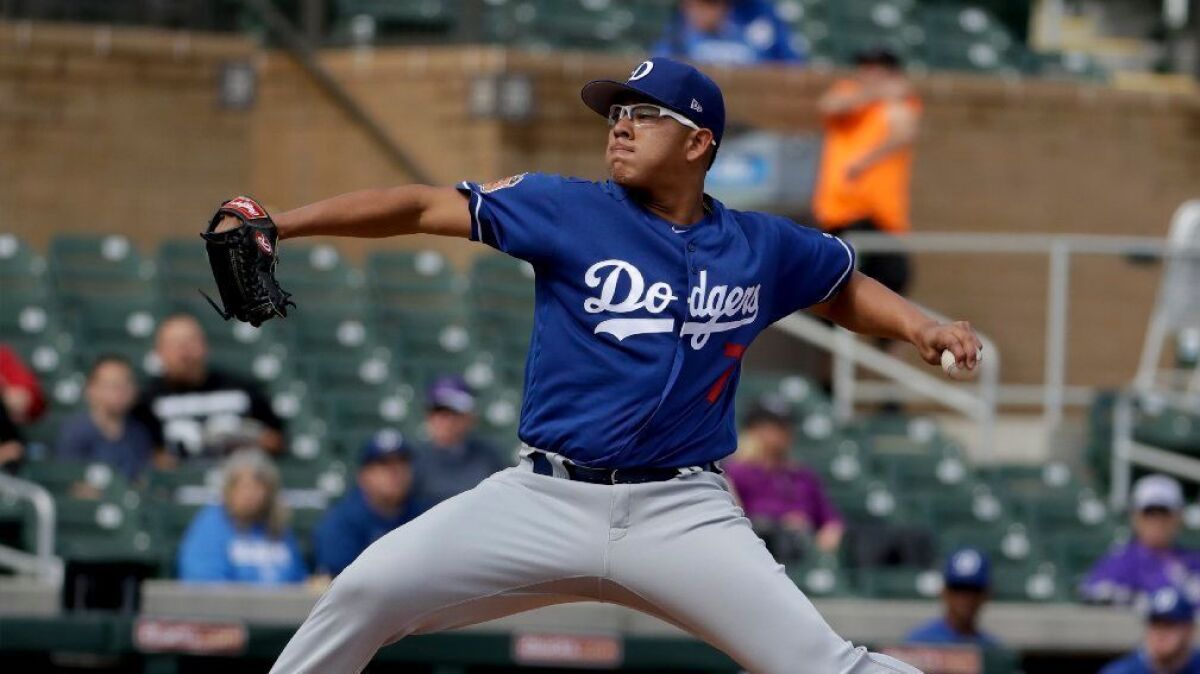 Midway through the second inning of a 14-3 Dodgers victory over Colorado, 20-year-old left-hander Julio Urias left his dugout and trotted toward the bullpen. He had allowed a run in the first inning, struck out two and thrown 14 pitches. He would not throw another competitive pitch for the day.
The first Cactus League outing of Urias' spring went like much of his tenure with the club has gone. He was effective. The outing was brief. And afterward, Manager Dave Roberts declined to declare a long-term plan for Urias' usage. He will make another start in five days, Roberts said, but the team has yet to decide whether Urias will begin the season in the majors, the minors or in extended spring training.
"You guys want to know, Julio wants to know and we really want to know a decision, too," Roberts said. "But I think that we're really not trying to act too quickly. As you see, we've been very cautious."
The caution stems from both Urias' youth and the shifting hierarchy within the team's starting rotation. Urias is part of a seven-man competition for the last two spots. While his talent may make him a major leaguer, the Dodgers plan to ration his innings, likely capping him somewhere between 160 and 180, so he can be fresh in September and October.
The team is still gauging the readiness of veteran pitchers like Scott Kazmir and Brandon McCarthy. Both will pitch in Cactus League games this week. If Kazmir and McCarthy start the season in the majors, the Dodgers can retain a raft of starter depth that could include Urias, Alex Wood, Ross Stripling, Brock Stewart and Hyun-Jin Ryu.
On Tuesday, facing mostly Rockies regulars, Urias nearly escaped without allowing a run. He gave up a leadoff single to outfielder Charlie Blackmon, who took second when the Dodgers could not turn a double play. In between strikeouts of outfielder Carlos Gonzalez and first baseman Ian Desmond, Urias paid for a misplaced fastball to third baseman Nolan Arenado, who hit an RBI single.
Urias finished 2016 with a 3.39 earned-run average in 18 big league appearances. He struck out 9.8 batters per nine innings.
"He's done a really good job of not letting things out of his control distract him," Roberts said. "We have conversations all the time and try to make him understand that it's not an easy situation. He's a special person and pitcher. So we're really trying to be methodical about what's best for him and what's best for us."
Gonzalez pranks Kershaw
With the team's customary ping-pong tournament in full swing, first baseman Adrian Gonzalez elected to mess with ace Clayton Kershaw, the architect of the tournament. When Kershaw came into the clubhouse on Tuesday morning, he saw the ping-pong table had been replaced with a pool table.
"Yeah, he wasn't too pleased, he wasn't too amused with Gonzo," Roberts said. "But we got the ping-pong table back. So he can pick the tournament back up."
Calhoun working on fielding, conditioning
Willie Calhoun, a talented 21-year-old infield prospect, has yet to appear in a Cactus League game this spring. Roberts indicated the team had assigned him to an extensive program focused on learning the rigors of second base and developing a productive routine to carry into the season.
Because Calhoun is undergoing intense activities fielding grounders, lifting weights and doing conditioning drills during the mornings, Roberts said the team felt it would be counterproductive to throw him into game action in the afternoons.
The Dodgers selected Calhoun in the fourth round of the 2015 draft. He spent last season with double-A Tulsa, where he hit .254 with 27 home runs and a .788 on-base-plus-slugging percentage. Calhoun still needs to show improvement at second base before he can merit consideration for a spot on the big league roster.
"This is a guy who can really swing the bat," Roberts said. "So our infield guys really hadn't gotten eyes on him. To break him down, mechanically, we feel it'll really help on the back end with Willie."
Twitter: @McCulloughTimes
Get our Dodgers Dugout newsletter for insights, news and much more.
You may occasionally receive promotional content from the Los Angeles Times.