Dodgers' Adrian Gonzalez likes the changes made in off-season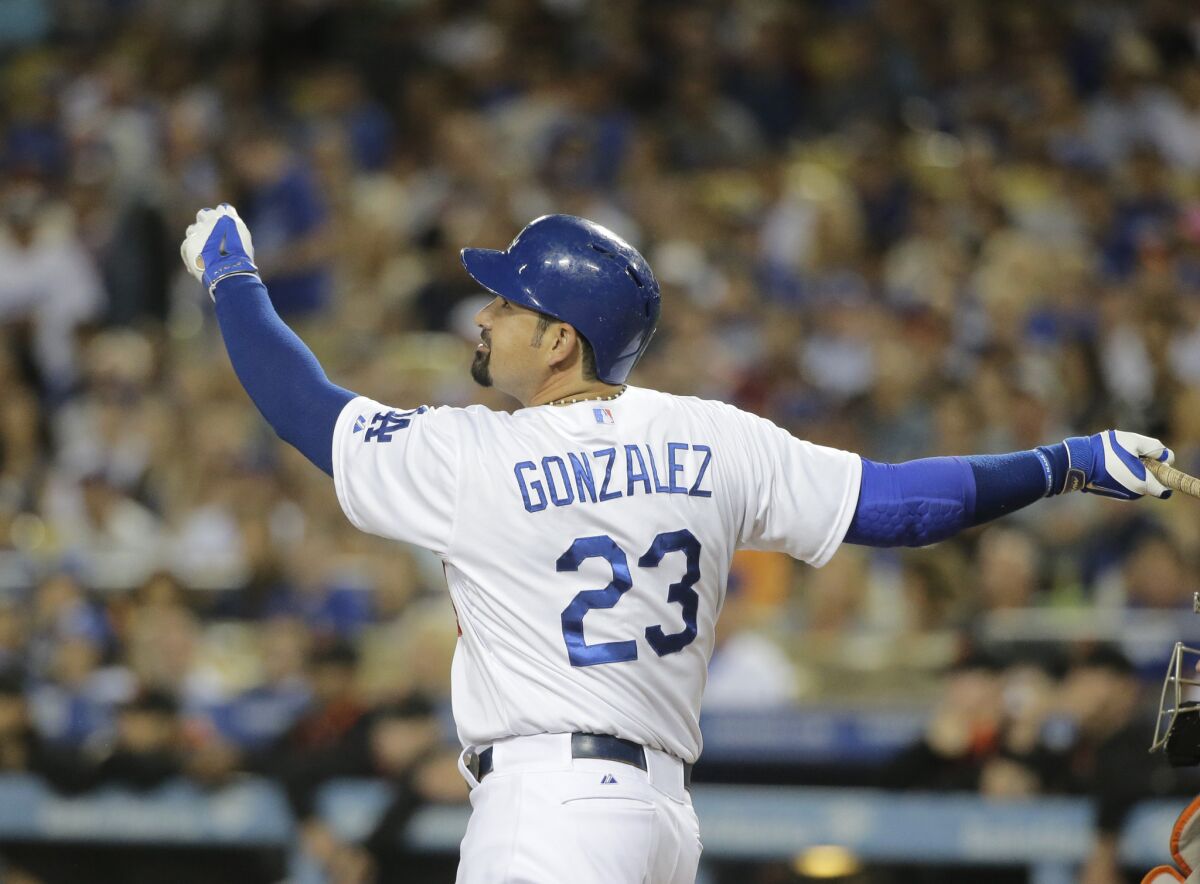 When Adrian Gonzalez led the major leagues in runs batted in last season, he was often hitting behind Hanley Ramirez and in front of Matt Kemp.
Ramirez is now with the Boston Red Sox and Kemp is with the San Diego Padres.
But Gonzalez is confident he'll remain well-protected. If anything, he thinks the radical changes the Dodgers made over the winter will make them less reliant on him.
"I think we're deeper, so I don't think we're going to be so dependent on the middle of the order," Gonzalez said Monday at Garfield High in East Los Angeles, where he worked with the school's baseball and softball teams as part of the Dodgers' week-long community caravan.
Gonzalez pointed to how unstable the lineup was last season until Kemp rediscovered his home-run stroke after the All-Star break.
"People say that we lost power, but I think we just put the power in different areas of the lineup," he said.
Ramirez's replacement at shortstop, Jimmy Rollins, hit 17 home runs. Catcher Yasmani Grandal, who was acquired as part of the trade that sent Kemp to the Padres, hit 15. The team's new second baseman, Howie Kendrick, has considerably more power than the departed Dee Gordon.
"They're going to battle every at-bat," Gonzalez said. "They're going to be prepared. I'm not saying that we didn't before, but I think the guys that we got are guys that are going to be tougher to game-plan for. From that end, it will be a deeper lineup."
In Gonzalez's view, another benefit of the team's reconfiguration is that the new projected starter in center field, left-handed-hitting rookie Joc Pederson, should understand that he is part of a platoon. If Pederson is the primary center fielder, he could be replaced by Scott Van Slyke or Chris Heisey on days the Dodgers face a left-handed starting pitcher.
But Gonzalez sounded most upbeat about what the roster makeover did for the team's defense.
"I always said pitching and defense wins championships," he said. "Once you get in the playoffs, you have to be able to pitch and catch and have quality at-bats throughout."
Gonzalez said he should be ready to do his part. He will turn 33 in May, but doesn't think he will slow down.
"My dad played until he was 50 years old," he said.
Gonzalez has maintained a winter workout program similar to the one that helped him prepare for a 2014 season in which he batted .276 with 27 home runs and 116 runs batted in.
The most significant change is that because he's now a full-time Los Angeles-area resident, he can lift weights at Dodger Stadium under the supervision of strength and conditioning coach Brandon McDaniel.
"We can take that into spring training and into the season and stay under one program," Gonzalez said.
Gonzalez has also continued to incorporate boxing into his off-season program, only now he trains at the same Hollywood gym at which Manny Pacquiao trains.
Gonzalez said he doesn't have any inside information about Pacquiao's potential showdown with Floyd Mayweather Jr., but doesn't think the long-overdue fight will ever take place.
"My gut instinct says Mayweather's going in a different direction," Gonzalez said.
Short hops
Cuban infield prospect Yoan Moncada worked out for the Dodgers, according to a person familiar with the situation who spoke on the condition of anonymity. A 19-year-old switch-hitter, Moncada has drawn comparisons to Yasiel Puig and could land a bonus of $30 million or more. For the team that signs him, the cost will likely be close to double that, as it will have to pay a 100% tax on the amount by which it exceeds its international bonus pool. The team would also be banned from spending more than $300,000 on any single international prospect for the next two years. … The team's annual FanFest at Dodger Stadium will take place Saturday from 10 a.m. to 4 p.m. Admission is free.
Twitter: @dylanohernandez
---
Get our Dodgers Dugout newsletter for insights, news and much more.
You may occasionally receive promotional content from the Los Angeles Times.