Column: Will Alex Wood stay in the Dodgers' rotation?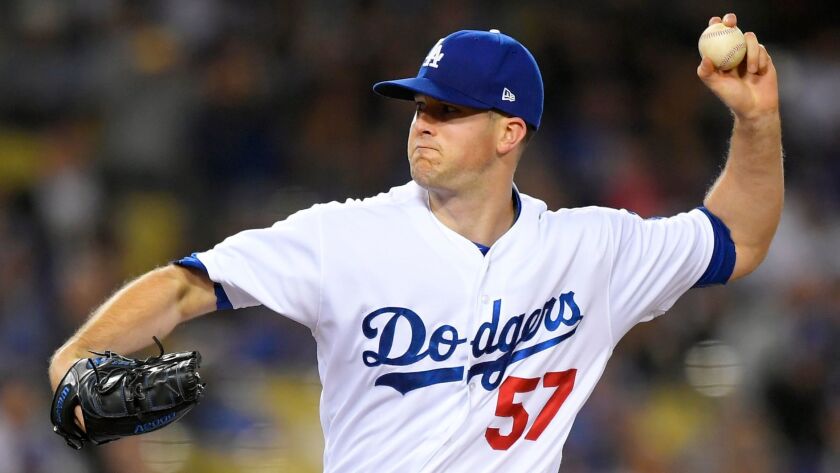 On Monday afternoon — a few minutes after the Dodgers placed Brandon McCarthy on the disabled list with an injury that McCarthy does not feel is serious and a few hours before Alex Wood struck out 11 batters in five innings — manager Dave Roberts was asked about the depth of his starting rotation.
The Dodgers devote themselves to depth with an ardor that borders on fanaticism. It is an understandable affection: The club used more starting pitchers than any other team in baseball in 2015 and set a major-league record for players on the disabled list in 2016. Yet, in each of the first two seasons of president of baseball operations Andrew Friedman's tenure, the Dodgers won the National League West.
Roberts is both a beneficiary of this depth and the target for its blowback. A successful manager acts as the force who coheres the philosophy of the front office with the desires of the athletes. Doing so with a lineup that rejects some of the sport's more outdated philosophies often involves tense dialogue between Roberts and his players.
Like on Sunday and Monday, when Roberts talked with McCarthy about heading to the disabled list.
Or, next week, when Roberts may have to talk to Wood about returning to the bullpen. There is a way to avoid this outcome, but it remains a possibility.
"These are decisions we can make, and we have to make," Roberts said before a 12-1 victory over Pittsburgh. "You look at the roster, and you have seven guys who are legitimate major-league starters. Do we expect them to all be healthy at one time? No. But if they are, these are tough conversations.
"There's got to be some unselfishness. We're not going to go to a six-man [rotation]. There's only so many starting positions. I've said it, I've joked about it: It's a high-class problem. It depends on how you look at it. It is a problem.
"The players still want to play, and perform. You can't fault the guys for wanting to get at-bats, wanting to pitch. That's completely appreciated."
The team is attempting to reshape how it uses starting pitchers. Roberts has admitted that none of his starters, save for Clayton Kershaw, are expected to log 200 innings. The Dodgers do not want to exhaust their starters before October, when the team hopes to snap a 29-year championship drought.
In order to keep the pitchers fresh, the Dodgers will take advantage of the 10-day disabled list, which was shortened from a 15-day disabled list in the newest edition of the collective bargaining agreement. The five-day difference is significant. Teams can now fiddle with their schedules so that a pitcher may only miss one start, rather than a fortnight.
And so Hyun-Jin Ryu is currently nursing a bruised hip (or something). The Dodgers are being cautious with Rich Hill as he tries to build a callus for the blister on his middle finger. McCarthy dislocated his non-throwing shoulder in the weight room last week, but still felt capable of pitching on Saturday, Sunday or Monday.
Instead, McCarthy will throw a simulated game on Wednesday, in hopes of returning from the disabled list next Monday in San Francisco. Which, not coincidentally, is when Roberts will resume having the "tough conversations" he mentioned.
The Dodgers have not announced a starting rotation for this weekend in Colorado. But it would stand to reason that Ryu will return on Thursday. Roberts mentioned giving Kershaw an extra day of rest after throwing 118 pitches in his last outing. That would push Kershaw to Friday, and Ryu appears the only reasonable candidate for the opener.
McCarthy intends to come back next Monday. Hill will throw in a rehab setting on Wednesday, with the hope of starting next Tuesday.
Here is a theoretical outline for the rotation for the next week or so:
Tuesday (Pirates at home): Julio Urias
Wednesday (Pirates at home): Kenta Maeda
Thursday (at Rockies): Hyun-Jin Ryu
Friday (at Rockies): Clayton Kershaw
Saturday (at Rockies: Alex Wood
Sunday (at Rockies): Julio Urias
Monday (at Giants): Brandon McCarthy
Tuesday (at Giants): Rich Hill
As you may have counted, that is seven different pitchers in eight games. It is not sustainable.
Hill is not a lock to be ready by Tuesday. He looked shaky in his first rehab outing. His blister has been an unremitting foe for two years, and may persist. And the team could still ease him into action with stints in the bullpen.
Even so, with Ryu and McCarthy due back soon, someone must budge. It won't be Kershaw. It shouldn't be Julio Urias, who has made two starts and is not a candidate for relief duty. It probably should be Kenta Maeda, the shakiest member of the starting rotation.
In order to put a player on the disabled list, there must be an injury. During Maeda's physical two winters ago, the examination found irregularities believed to be in his elbow and shoulder. And the Dodgers have displayed creativity in these situations before: Ross Stripling spent time on the minor-league disabled list last summer with something called "lower body fatigue." Miraculously, Stripling recovered.
I cannot tell you if this is how the Dodgers will proceed. Plans for this organization change on a dime, and additional injuries can happen at any time. But if Ryu comes back, if McCarthy comes back and if Hill comes back, then the team may have to consider pushing Wood back into the bullpen.
Wood is not an easy pitcher to categorize. Some in the organization view him as a potentially devastating reliever, a late-inning, left-handed complement to closer Kenley Jansen. He has also been a solid starting pitcher this season, with a 3.33 earned-run average in five outings. Wood stressed after Monday's game how much he has benefited from the consistency of his assignment these past few weeks in the rotation.
"It's not hard going from the rotation to the pen, because you only throw an inning or two — maybe three, in my scenario," Wood said. "But going from the pen to the rotation, even if you go eight or 10 days without starting, it's tough to really stay in a groove, or get into that groove. It's been nice to have two or three in a row where I can do my normal routine, and go about it like that."
Which is why Wood does not want to ponder leaving the rotation.
"You've got to control what you can control, man," Wood said. "I'm just trying to throw well. I'm happy with the consistency of my stuff. As long as I stay consistent, the results will show. I've just got to keep pitching well, and whatever happens, happens."
The Dodgers should be able to find a way to avoid bumping Wood back into relief. But if not, these are the type of tough conversations Roberts must have.
---
Get our high school sports newsletter
Prep Rally is devoted to the SoCal high school sports experience, bringing you scores, stories and a behind-the-scenes look at what makes prep sports so popular.
You may occasionally receive promotional content from the Los Angeles Times.