Houston Astros want the retractable roof at Minute Maid Park closed for Games 3, 4 and 5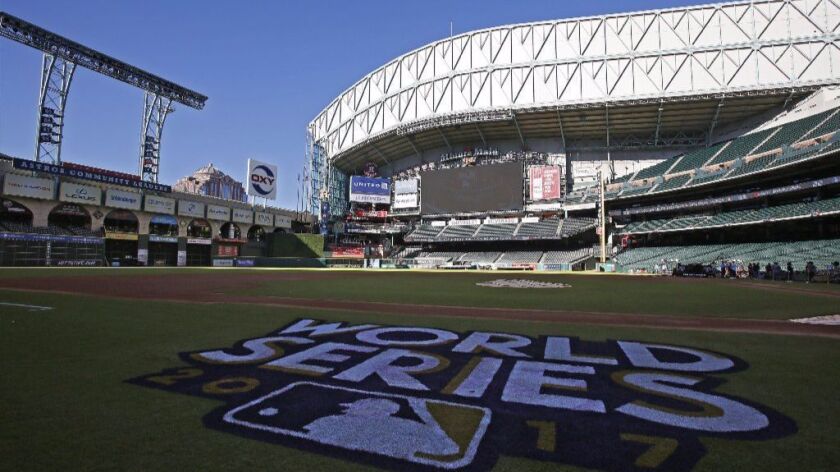 Reporting from Houston —
The Houston Astros have not played a game with Minute Maid Park's retractable roof open since June 9. They want that to remain the case through Games 3, 4 and 5 of the World Series this weekend against the Dodgers, the last games of the year to be played in the stadium.
"We want it closed. We've got to have it closed," reliever Chris Devenski said. "I feel the electricity when it's closed is so much better. We have so much excitement being here and the electricity and the vibe. I feel like we feed off of it."
According to the Astros' blog that documents the status of the structure, the roof was open for only 14 of 78 games this season. (The Astros played three "home" games in St. Petersburg, Fla., because of Hurricane Harvey.) Those were mostly in April, when the weather is more temperate than in the humid summer.
Ultimately, what to do with the roof is not the team's choice.
"The decision on an open or closed roof during postseason play rests with MLB, whose determination is based in part on the factors that guide the home club during the regular season," league spokesperson Mike Teevan said.
In the regular season, the Astros have closed the roof when there are threats of rain, threats of sustained winds above 30 mph, temperatures below 65 degrees for a night game or temperatures or heat-index readings above 88 at night or 84 during the day.
Games 3, 4 and 5 will begin at 7:20 p.m. in Houston, 5:20 in Los Angeles. Friday's forecast for Game 3 calls for a threat of rain and a cool 59-degree reading at first pitch. Saturday and Sunday are expected to be precipitation-free, but prognosticated first-pitch temperatures do not reach 65 degrees.
So, the roof probably will be closed every night, as it was when the Dodgers worked out Thursday night.
"We want the roof closed because we don't want to get rained on," Astros manager A.J. Hinch said. "That's tomorrow. It's quite an environment. When we play under the roof, our fans get going."
In addition to the elevated noise level, right-hander Lance McCullers, the Astros' Game 3 starter, said he felt more comfortable with the roof closed.
"That's how we play most of the games here," McCullers said. "We're very used to it. I definitely think it's part of our home-field advantage. … We're very accustomed to it, which is I think why a lot of the guys want it to stay the same."
Third baseman Alex Bregman reiterated his teammates' thoughts at a news conference. He said there was no doubt in the team's mind what their decision would be, if the decision was theirs. Later, when Bregman arose to depart the conference room, he leaned into a microphone and repeated that the roof should be closed.
Hinch disputed a TMZ Sports story that he engaged in a heated altercation at a Pasadena hotel bar after his team's loss to the Dodgers in Tuesday's World Series opener.
"There was no altercation," Hinch said. "It's a shame I get asked about nonsense, fabrications and non-stories on the national stage."
He continued: "Fabrications really suck."
Hinch declined to comment further. The Astros cut off a follow-up question about whether Hinch snapped and yelled at bar patrons who had been "talking trash" about his team, as TMZ Sports reported.
A Pasadena police spokesperson said no crime occurred at the scene and no report was taken.
"There was no fight that we were separating when we got there," Pasadena Lt. Tracey Ibarra said.
Dodgers manager Dave Roberts said he would start Joc Pederson in left field and Austin Barnes at catcher in Game 3. He declined to name his designated hitter. … Dodgers right fielder Yasiel Puig and shortstop Corey Seager were among three finalists at each position for National League Gold Glove awards. The winners will be announced next month. … According to two reports, Dodgers player development director Gabe Kapler is one of two finalists for the Philadelphia Phillies' vacant managerial job. In 2015, Kapler finished as the runner-up for the Dodgers' opening that Roberts won.
Times staff writers Bill Shaikin and Alene Tchekmedyian contributed to this report.
The Los Angeles Dodgers in the 2017 World Series
On Now
Video: Kenley Jansen, Cody Bellinger, Rich Hill talk about losing Game 7
1:59
On Now
Video: Analysis: Dodgers lose Game 7 and the World Series
11:43
On Now
Video: Yu Darvish talks about using his slider for Game 7
1:34
On Now
Video: Kenley Jansen and others talk about winning Game 6
1:58
On Now
Video: Analyzing the Dodgers Game 6 win
7:26
On Now
Video: Clayton Kershaw on starting Game 5 of the World Series
1:57
On Now
Video: Dave Roberts Talks Rich Hill and Kenley Jansen pitching in Game 6
1:57
On Now
Video: Dave Roberts talks preparing for Game 7
1:26
On Now
Video: Here it is, Game 7, and Bill Plaschke knows who wins
2:22
On Now
Video: Rich Hill talks about Game 6 of the World Series
1:48
Twitter: @McCulloughTimes
---
Get our Dodgers Dugout newsletter for insights, news and much more.
You may occasionally receive promotional content from the Los Angeles Times.