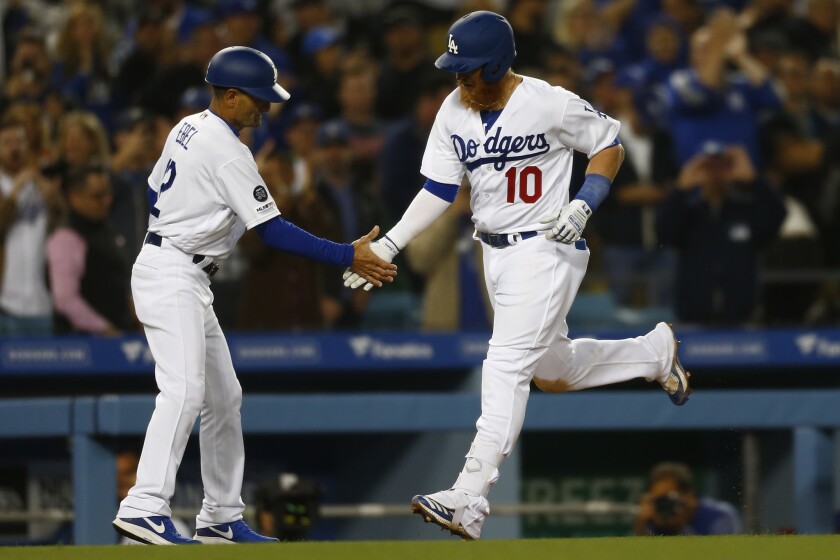 For the first time in three days, the Atlanta Braves were threatening to steal a game from the Dodgers. They had somehow scrapped together two runs with two outs in the seventh inning, a rally ignited by two infield hits, to chase Clayton Kershaw and pull within one Wednesday night. Momentum, if there is such a thing in this sport, was on their side.
It was fleeting. The Dodgers' offense, the unrelenting machine leading the National League in runs scored, emerged to immediately douse that threat and slammed the door with another exhibition of depth, patience, and timely hitting in the seventh inning of their 9-4 win.
The victory was the Dodgers' 10th straight at home and 10th in their last 13 games overall. They own the best record in the National League at 25-14.
"It definitely feels like when you come to the ballpark, we're going to win every night," Dodgers starter Clayton Kershaw said. "The ebbs and flows of a season, it's not always going to feel that way, but right now it does."
The seventh-inning production began with pinch-hitter Chris Taylor working a walk against left-hander A.J. Minter. It continued with Max Muncy fouling a pitch with two strikes after thinking the plate umpire had given him time and realizing he hadn't only when a pitch was coming his way. He quickly stepped in and lined the fastball foul to stay alive. He lined a single to complete the at-bat for his third hit of the game.
Sign up for our Dodgers newsletter »
Two batters later, Cody Bellinger was intentionally walked to bring up Corey Seager with first base open for the second time. Atlanta initially tried the strategy with two outs in the fifth inning and Seager flied out. In the seventh, they gave Bellinger a free pass to load the bases with one out. Seager flipped his fortune with a dribbler down the first-base line that Minter didn't cleanly handle. Seager was credited with a single and a run batted in.
The rally's final blow came was a line-drive single by Alex Verdugo that drove in Muncy and gave the Dodgers a three-run cushion.
An inning later, Justin Turner clubbed his fourth home run in 24 hours, a two-run shot after he belted three home runs Tuesday. Joe Kelly sealed the win with his second clean inning of the season as the Dodgers claimed the three-game sweep of their playoff foes last fall without facing a deficit.
"To be stubborn in the strike zone, to give that next guy an opportunity, that takes discipline," Dodgers manager Dave Roberts said. "And at the plate, one through eight, when we're really good, we show a lot of discipline."
Verdugo walked to the batter's box for the first time Wednesday in the second inning. The rookie's walk-up song — Vicente Fernandez's "Volver, Volver" — has become a crowd-pleaser this season and it drew even heartier applause from fans on Mexican Heritage Night. He incited more cheers with a two-out, line-drive single to center field. Enrique Hernandez followed with a missile over the left-field wall to open the game's scoring. Muncy added a solo home run in the third inning
Ronald Acuna Jr. supplied a two-run home run for the Braves (18-19) in the fourth inning when he smacked a curveball from Kershaw to right-center field. It was the only damage Atlanta inflicted on Kershaw until a tough-luck seventh inning chased him. After two quick outs, the Braves mustered consecutive infield singles. Josh Donaldson's two-out run-scoring single on Kershaw's 100th pitch ended his evening.
Kershaw departed dripping with frustration. He watched Scott Alexander give up another run at his expense, increasing his earned-run average to 3.31 in 322/3 innings this season. It was, in the box score, the poorest of his five starts as he continues to traverse the next phase of his career with diminished velocity. Kershaw said it was an outing he hopes to forget.
The Dodgers, however, did not break. They picked up their longtime ace, continuing to land blow after blow until they held a comfortable lead and clinched another victory.
"There's just a lot of signs of a great team," Kershaw said. "Different guys contributing all the way through and if we get everybody going at the same exact same time, it's going to be pretty scary."
Twitter: @jorgecastillo
---