It's back to drawing board for Braves' anemic offense
If the Braves are going to force the National League Division Series to a fourth game, they will have to reset their approach when they return to Atlanta for the third game of the series on Sunday.
The urgency had set in by the time manager Brian Snitker faced reporters in the aftermath of his team's 3-0 loss to the Dodgers on Friday night. He sat behind a microphone in the bowels of Dodger Stadium with his arms crossed, his tone betraying little if any optimism as he dissected the problem that ruined the start to the Braves' first postseason run since 2013: Overaggressiveness.
The Braves, one of the National League's most productive offenses, were shut out for the second straight night. They mustered just three hits. They hacked at first pitches, barely got balls out of the infield and stranded three precious runners as they became the first team to open a postseason run by being shut out in two straight games since the 1921 Giants, according to ESPN.
"Our whole lineup is having a hard time, struggling offensively right now," Snitker said.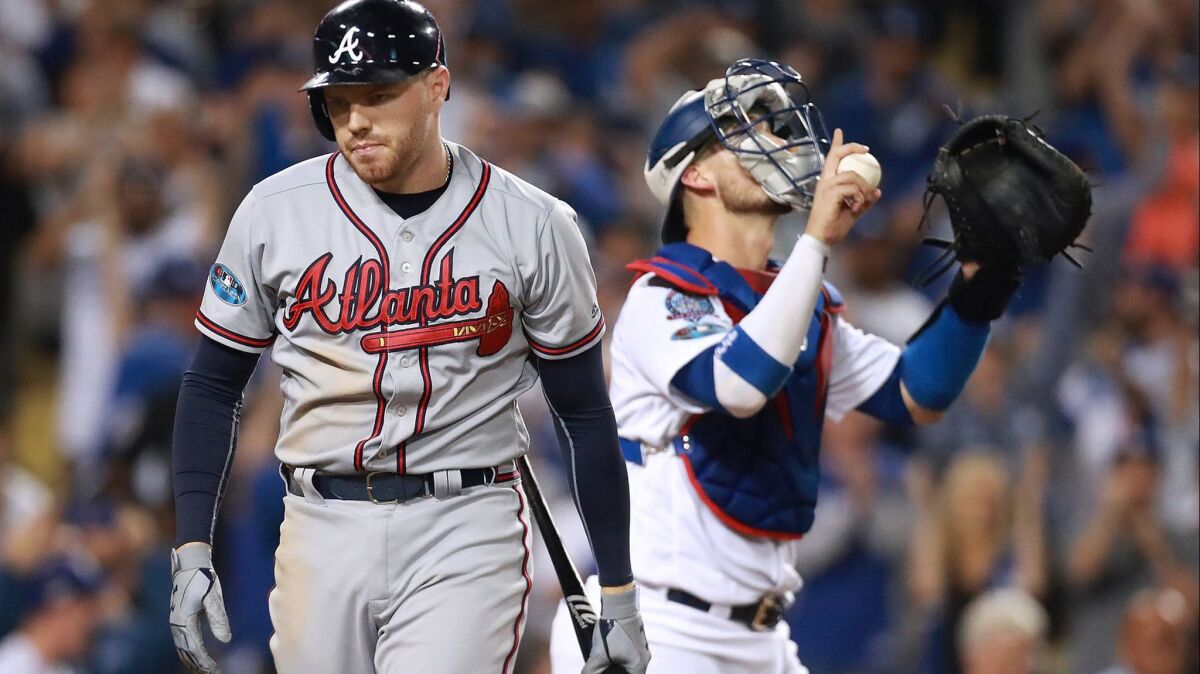 The struggles have given the Dodgers control of the series. They are headed to SunTrust Park needing one more victory to return to the National League Championship Series for the third straight year.
Which means the Braves are headed home in a 2-0 hole in desperate need of a solution.
Dodgers starter Clayton Kershaw manipulated the Braves' bats as he hurled eight scoreless innings of two-hit baseball. He made the Braves look foolish, enticing first-pitch swings from 11 of the 26 batters he faced and getting called first strikes on nine others. He threw the Braves off-kilter by throwing his slider 43.5% of the time, according to MLB's Statcast system.
"I think Kersh mixes things up pretty well," said Charlie Culberson, the former Dodgers utility man starting at shortstop for the Braves. "I think he threw a lot more sliders than I was expecting. He probably threw 50% sliders, I bet. … He had a feel for it, he knew what he wanted to do, throwing it in, throwing it away. He's one of the best and he showed it tonight."
Kershaw exploited the Braves' eagerness. He averaged about 10 pitches per inning and got through his outing with just 85 pitches in all.
Only Culberson, Nick Markakis and Ozzie Albies stayed in the box long enough to see six pitches from Kershaw in an at-bat. No other Brave worked a deep enough count to see more than five, as Kershaw got into just four two-ball counts.
"I don't know that moving guys around, giving them different looks in the lineup when you're swinging the bats like we are, is even the answer," Snitker said. "But we'll try something a little different on Sunday."
The 1921 New York Giants came back to beat the Yankees in that World Series in eight games. These Braves have not looked like a team that can climb out of their rut to any similar success.
They have nine hits in the first two games, batting .145 (nine for 62) with no walks.
The Braves will have their work cut out for them against Dodgers starter Walker Buehler on Sunday. The rookie pitcher held the Colorado Rockies to two hits in 6 2/3 scoreless innings in the Dodgers' tiebreaker game Monday.
For four consecutive starts, Buehler has allowed no more than four hits.
The Braves' task is gargantuan, and they're running out of time to complete it.
"Our bats have been very quiet," said Braves outfielder Ender Inciarte, who had the Braves' second hit against Kershaw. "We can be a lot better. But we're doing it. We all know it. When we go back home we're gonna do what we can do. We know what we did in the regular season. It's not a secret this offense can get a bunch of hits in a row. And we are ready to do it because we are going back home."
SIM GAME PLANNED FOR SUNDAY
With Atlanta right-handed pitcher Kevin Gausman tentatively scheduled to start Game 3, the Dodgers may go three games without facing a left-handed starting pitcher. To keep their right-handed hitters fresh, the team is planning to run a simulated game on Sunday afternoon before the actual game against Gausman.
Roberts cited the benefits of getting live at-bats for players like Matt Kemp, David Freese and Brian Dozier. Roberts does not plan to adjust the composition of his lineup if Atlanta starts a third right-handed pitcher.
"We've had stretches where there's a run of lefties or a run of righties, where you've still got to keep these guys current," Roberts said. "That's why we're going to try to do this thing on Sunday."
Get our Dodgers Dugout newsletter for insights, news and much more.
You may occasionally receive promotional content from the Los Angeles Times.