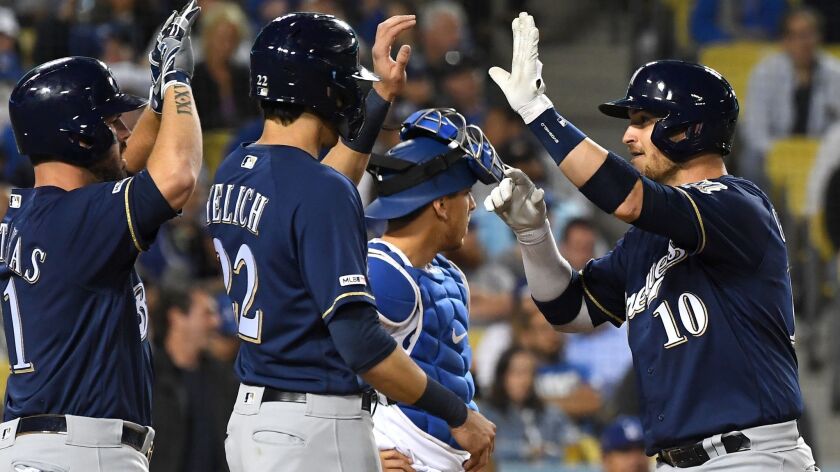 The Dodgers and Milwaukee Brewers stumbled into their first meeting since last October's National League Championship Series, the Dodgers coming off a four-game sweep at the hands of the Cardinals in St. Louis and the Brewers losing three straight to the Angels in Anaheim.
In search of the swagger that marked their hot starts, the teams exchanged several haymakers in the middle rounds in Dodger Stadium on Friday night, sending drive after drive into the outfield pavilions.
But it was the Brewers who were left standing at the end of an 8-5 victory before a crowd of 43,643 that extended the Dodgers' losing streak to five games.
The Dodgers, trailing 7-5, threatened in the eighth inning off Brewers relief ace Josh Hader, the left-hander who gave up no runs, one hit and struck out 13 of the 25 batters he faced in his first five appearances.
David Freese led off with a pinch-hit double to left. Austin Barnes popped out, but Chris Taylor singled to center, advancing Freese to third. Pinch-hitter Max Muncy struck out on a full-count fastball, the eighth pitch of the at-bat. Corey Seager walked to load the bases, but Justin Turner struck out on a 2-2 slider.
Most of the players from that seven-game NLCS won by the Dodgers are back this season with two notable exceptions — former Dodgers shortstop Manny Machado signed a 10-year, $300-million deal with San Diego, and former Dodgers catcher Yasmani Grandal … hit fifth for the Brewers on Friday night and hit a two-run home run off Julio Urias.
Grandal turned down the Dodgers' $17.9-million qualifying offer to become a free agent. When the multi-year offers he expected did not materialize, the switch-hitter signed a one-year, $18.25-million deal with Milwaukee.
"I spent the last four years here," Grandal said before the game, "so this is like coming home."
Grandal, 30, had a .790 on-base-plus-slugging percentage, 89 homers and 245 RBIs from 2015-2018 but lost playing time to Barnes because of his defensive struggles last October.
The Dodgers extended a qualifying offer so they could gain draft-pick compensation but made no attempt to sign Grandal. No hard feelings, said Grandal, who was presented with his NLCS ring before the game.
"I knew there are other guys here who need to get their shot," said Grandal, who entered Friday with a .343 average, 1.029 OPS and three homers. "Barnes has been here for a while, and you have [top-catching prospects] Will Smith and Keibert Ruiz in the minor leagues.
"I knew they believe in those guys and they need an opportunity to play, so I knew there wasn't going to be too much contact [from the Dodgers]. I was prepared for that."
Grandal received a nice ovation before his first-inning at-bat and doffed his helmet to the crowd. He then gave the Brewers a 1-0 lead with a run-scoring single off the foot of Urias. Mike Moustakas followed with an RBI single to center for a 2-0 lead.
Seager's opposite-field homer to left on a first-pitch 96-mph fastball from Milwaukee starter Corbin Burnes cut the deficit to 2-1 in the bottom of the first, but the Dodgers failed to tack on when A.J. Pollock flied to shallow left and Alex Verdugo grounded to first.
Seager doubled to left to open the third and scored when Cody Bellinger rifled his NL-leading eighth homer, a two-run shot to right with an exit velocity of 110 mph and distance of 412 feet, for a 3-2 lead.
The advantage disappeared in the fourth when Moustakas reached on Urias' one-out throwing error and Hernan Perez hit a towering two-run homer to left-center that put the Brewers back in front 4-3.
The lead changed hands again in the bottom of the fourth when Barnes singled and Joc Pederson turned on an up-and-in 94-mph fastball, sending a two-run homer into the right-center field seats for a 5-4 Dodgers advantage.
It was gone again in the fifth. Christian Yelich was hit by a pitch and Grandal stayed on an 82-mph Urias changeup, lofting it into the left-field seats for a two-run homer and a 6-5 Milwaukee lead.
Sign up for our daily sports newsletter »
---