Column: The ball's in Kershaw's hands now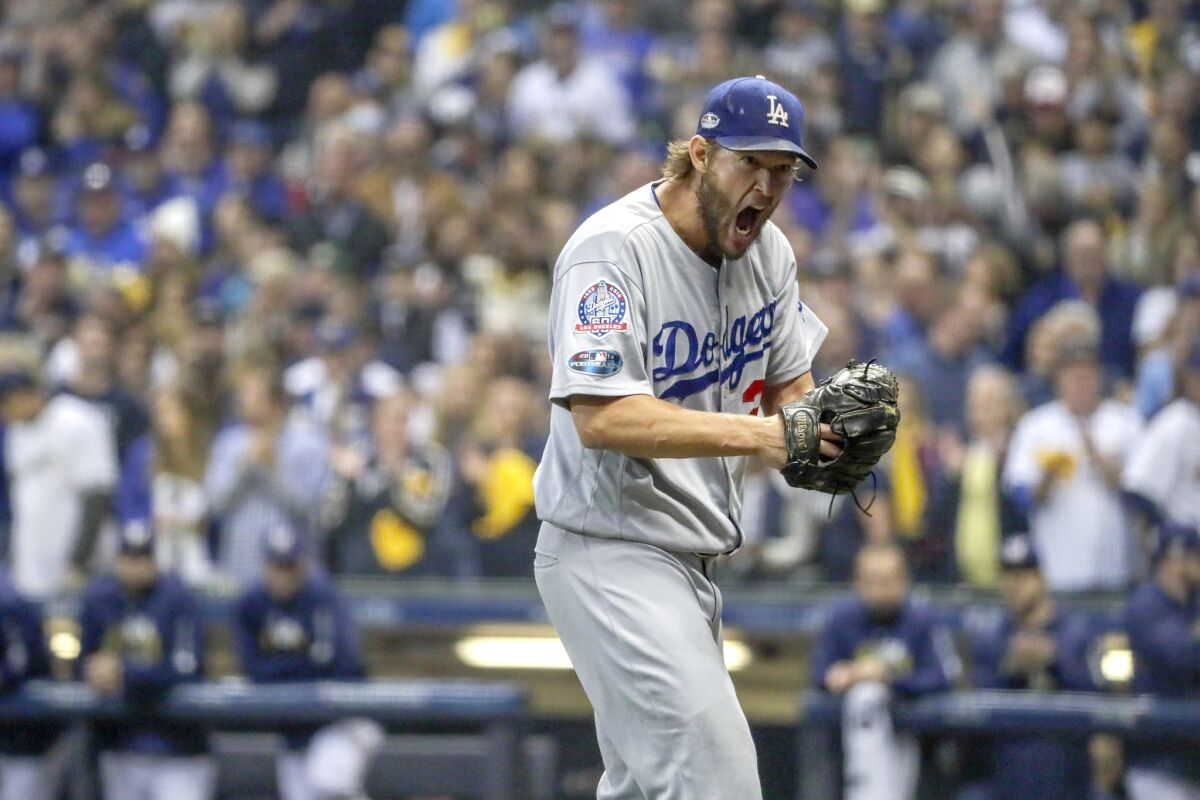 And so it comes down to Clayton Kershaw.
Of course it does.
Kershaw will pitch the pivotal fifth game of the National League Championship Series, a contest that will decide whether the Dodgers move to the brink of a second consecutive World Series appearance or a step closer to being eliminated by the Milwaukee Brewers.
Only there's more.
The game Wednesday afternoon at Dodger Stadium could mark the last time Kershaw scales a mound in a Dodgers uniform. If the Dodgers drop this series and Kershaw elects to explore the free-agent market this winter, he might never pitch for them again.
Even under the most ordinary of circumstances, Kershaw treasures routine. The five-day cycles of running and throwing that lead up his starts are designed to minimize distractions. He's especially mindful of that here.
So he's not making any extra efforts to take in everything or commit certain details of this place to memory.
"Trying not to," Kershaw said. "I think it's hard enough to try and win a postseason game."
He smiled.
"I know that more than anybody," he added.
The self-effacing remark was evidence of the latest stage of his personal evolution. He has responded to his disappointing postseason record in a variety of ways over the years, from denial to acceptance to being at a loss for words. He's now trying humor.
He spoke in a similarly lighthearted tone at a news conference a couple of weeks ago, before his start in Game 2 of the National League Division Series. People familiar with the situation said he was disappointed not to pitch the opening game of the series. His sense of humor helped him conceal that.
Kershaw was spectacular in that NLDS start against the Braves. In addition to pitching eight scoreless innings, he reestablished himself as the team's No. 1 starter.
The Dodgers won the NLDS, three games to one, but manager Dave Roberts said that Kershaw would have pitched the fifth game if the series had reached that point.
And in this NLCS, Kershaw was chosen to start the first game in Milwaukee. The assignment came with responsibility beyond pitching in the series opener. He was also entrusted with Game 5, whether it was to close out the series, keep the Dodgers alive, or something in between.
Kershaw made the shortest start of his career in Game 1 of this series against the Brewers, as he was charged with five runs over three innings. His results against them were better in the regular season, as he was 1-1 with a 2.25 earned-run average.
"There's no secrets anymore," he said. "I think now that we're in the fourth game of the series and facing them a couple of times in the regular season, I know what their strengths and weaknesses are. They obviously know mine."
He was asked if his diminished ability to miss bats, a byproduct of his decreased fastball velocity, made him feel any less in control of results and how he was dealing with that.
"I don't really think about that," he said. "It's not like I'm trying to pitch to contact more. It's just happening."
Kershaw uncharacteristically acknowledged the expectations of winning a World Series weighed on him more now than it did in the past. "I think with each postseason and not winning a World Series, I think you tack on a little bit more pressure, a little bit more urgency to win, especially when you're in the market that we're in, when you're with the team that we are," he said.
He recycled a joke he's previously used, about how the Dodgers are tired of hearing about the 1988 World Series.
"And it's up to us to do something about it, obviously," he said. "We need to create a history of our own, for sure."
Shortly after saying he still hasn't decided whether he will void the remaining two years on his contract that are worth a combined $65 million — he thinks he has 10 days after the World Series to make up his mind — Kershaw reflected on his own history here.
"I got drafted when I was 18," he said. "I got here when I was 20. From 20 to 30, that's a lot of growing years right there. I've gotten married, had two kids, played a lot of baseball. And really have grown up in this city.
"The only word that comes to mind is just grateful. I really am. It's been a great run. And whatever happens, I'll be thankful for that, always."
Follow Dylan Hernandez on Twitter @dylanohernandez
---
Get our Dodgers Dugout newsletter for insights, news and much more.
You may occasionally receive promotional content from the Los Angeles Times.