Scott Alexander isn't injured, just bypassed, for a roster spot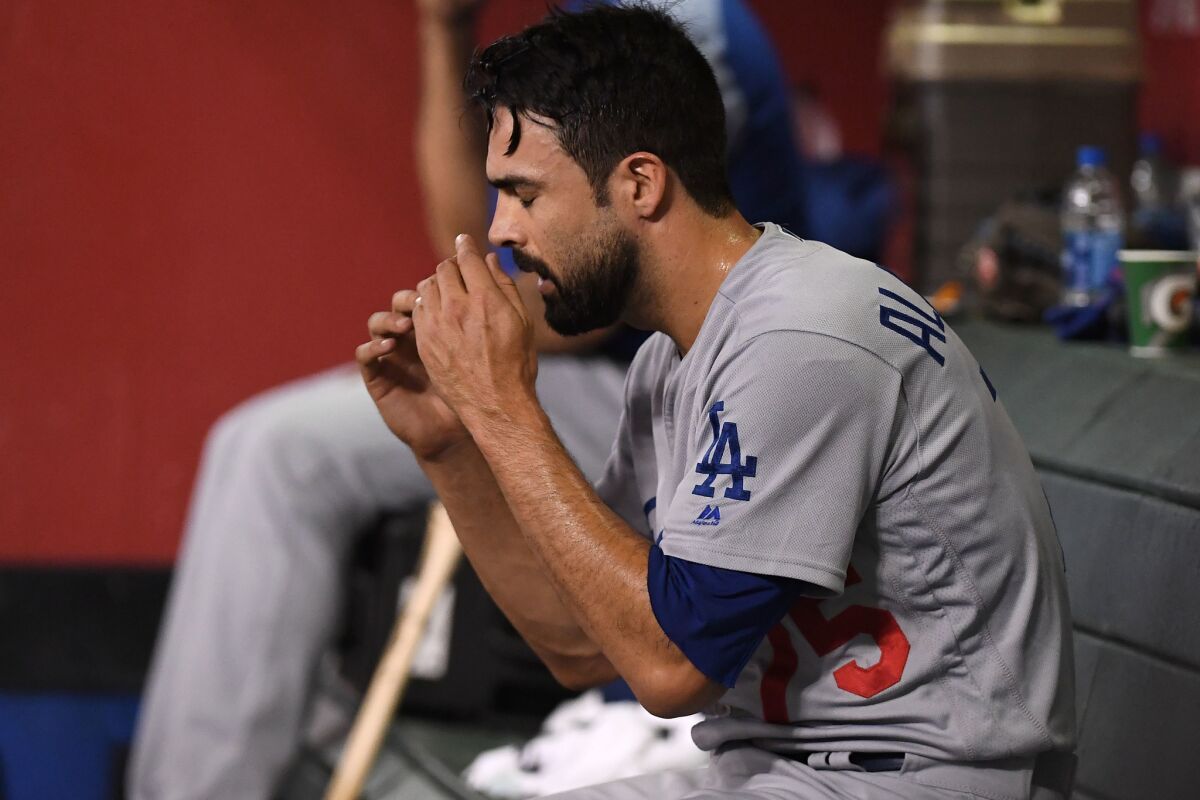 Reporting from Milwaukee —
The Dodgers did not elect to take Scott Alexander, their most reliable left-handed reliever this season, off their roster for the NL Championship Series because of injury. Alexander is healthy. The reasoning came down to the Dodgers believing Julio Urias, who hasn't pitched in a tough situation this season, provides them a better left-handed option out of the bullpen.
"We like his pitch mix," Dodgers manager Dave Roberts said before Game 1 Friday at Miller Park, "the weapons he has to attack the lefties and the righties in their lineup."
His first test did not go as the Dodgers hoped. Urias entered the game in the seventh inning Friday with the Dodgers facing a 5-1 deficit and surrendered a leadoff home run Jesus Aguilar. He then gave up a hit to the next batter, but escaped the inning without yielding another run.
Once a precocious prospect, the 22-year-old Urias oozes potential. He burst onto the scene as a rookie in 2016 and earned a place on the Dodgers' postseason roster. But a torn anterior capsule in his left shoulder he suffered last spring slowed his development. This season, he has pitched just four innings in three games after undergoing surgery to the shoulder in May 2017. Each appearance was not in a tough spot l and surfaced with at least six days' rest. Urias will not enjoy those luxuries one step short of the World Series.
"He can get more than three outs, and then the back-to-back, that's something we're comfortable with, but obviously that wouldn't be an extended back-to-back," Roberts said. "But the value of Julio to come in and get one to four or five outs, I think that for us, with our bullpen construction, we feel comfortable with that."
Alexander, 28, had a 3.68 ERA in 73 games for the Dodgers during the regular season before tallying a scoreless inning in his only appearance against the Atlanta Braves in the NL Division Series. His 74 appearances between the regular season and playoffs lead the Dodgers. He won't be adding to that total, at least not before the World Series. Instead, the Dodgers turned to a young talent they believe can handle the grand stage.
"It's a credit to the training staff and Julio," Roberts said, "to put in that work to be in this position right now."
Ryu ready for Game 2
After tossing seven scoreless innings of Game 1 of the NLDS on Oct. 4, Hyun-Jin Ryu idled while waiting for his next assignment. The team tabbed Clayton Kershaw for a Game 5 that never came. When the Dodgers clinched this week, he prepared to start either Game 2 or Game 3 against the Brewers.
Given the lengthy layoff, Ryu committed something that classifies as a radical act for him: He threw a bullpen session.
Most starting pitchers throw in the bullpen two or three days after a start. Ryu has eschewed the practice, as he prefers to preserve his arm strength for games. Ryu indicated that the bullpen session he completed Wednesday was the first he had thrown since coming off the disabled list for a torn groin muscle in August.
"Obviously there was a need for me to go up on the mound, and that was the reason I had a little bullpen session," Ryu said through his interpreter, Bryan Lee. "Just to make sure that there isn't too much rest between my starts."
Ryu will be operating on eight days of rest when he starts Saturday. The Dodgers chose Ryu for Game 2 because they felt the two extra days of rest between Games 2 and 3 would not be beneficial. Walker Buehler will start Game 3 on seven days of rest.
Uecker throws out first pitch
Hall of Fame broadcaster Bob Uecker threw out the first pitch before Friday's Game 1. A couple of hours earlier, the former big league catcher spent 15 minutes reminiscing on his career, beginning with his home run off Sandy Koufax.
"For whatever reason, I hit Sandy fairly well," the 84-year-old Uecker said. "I don't know why. But I did hit a home run against him in Dodger Stadium, and since then, every time I see him…I always apologize because I thought it was going to keep him out of the Hall of Fame."
The homer was one of the 14 Uecker hit during his six-year career before moving to the broadcast booth.
Free burgers on the line
A win Friday would not only have positioned the Brewers within three games of their first World Series appearance since 1982. It would have been the Brewers' 12th straight victory, which meant free hamburgers at George Webb, a 24-hour southeastern Wisconsin restaurant chain, on a date to be determined.
"Who knew that we would make it this far and the biggest piece of stress going into this game would be George Webb's hamburgers?" Brewers manager Craig Counsell asked before Game 1
Twitter: @jorgecastillo
---
Get our Dodgers Dugout newsletter for insights, news and much more.
You may occasionally receive promotional content from the Los Angeles Times.