After The Slide, Chase Utley returns to New York prepared to face the vitriol of Mets fans
Chase Utley understands what awaits him on Friday in New York. He does not welcome it, but he does not fear it. He accepts the incoming vitriol as penance for a sin he did not intend.
Months ago, he identified the broken leg of Ruben Tejada as an unintended byproduct of the spirit that has defined Utley's career. He cannot bend time and undo the damage. He can only swallow regret.
"Looking back on it, knowing that he was going to spin, he wasn't going to get off his feet, I would have done things differently, knowing that he was going to get hurt," Utley said earlier this week. "But I can't take that back. So I imagine the fans will let me have it."
See more of our top stories on Facebook >>
For three nights at Citi Field, Utley will reprise his role as the most despised man in Queens. Signs in the crowd will curse his name. Spectators will hurl epithets or worse. At some point this weekend, Utley expects a member of the New York Mets to throw a baseball at his back, the final word stemming from his slide in October.
Utley conveyed his resolution toward the situation with a shrug. He appreciates his privacy and avoids introspection. He dislikes knowing the protection Major League Baseball instated for fielders at second base has become known as the Chase Utley Rule, but he refuses to speak out about it. He acknowledges vilification from opposing crowds as "part of the deal."
Utley, 37, is the oldest Dodger and one of the most vital contributors. He bats leadoff most days, and his .379 on-base percentage is the team's best. He anchors the defense from second base. He provides counsel to veterans and rookies.
Now in his 14th season in the majors, Utley opens his Rolodex on pitchers to teammates, conferring before games with Yasiel Puig, Yasmani Grandal, Charlie Culberson, any teammate who asks. He studies video of opposing coaches to see if they tip signs, because "he's a conspiracy theorist," catcher A.J. Ellis said. He searches for patterns, his mind churning for details, for any hint of an advantage.
"Even people who give him credit don't realize how much he brings to this team," third-base coach Chris Woodward said.
Utley inspires hyperbole all around. Clayton Kershaw suggested if he had a son, he would instruct his child to study Utley to learn how to play baseball. Utley, he explained, "is always doing the right thing." Bench coach Bob Geren, a member of the Mets coaching staff last October, offered Utley his version of the ultimate compliment.
Your player got hurt, so everybody was upset about it. But you look at it, and that was just the way the game has been played since I played.
— Bob Geren, a member of the Mets coaching staff
"I'm trying to think, in all my years, if I know anybody I've ever either played with or coached or managed that's a better baseball player," Geren said. "I can't think of one."
During spring training, Geren mentioned during a meeting the idea of "taking every rule in the rule book and using it to the limits." Utley welcomed the concept. If he is at first base when a first baseman fields a grounder, he will deliberately step onto the grass to add difficulty to the fielder's throw. He does something similar at third base.
Utley hunts for the tiniest edge. One day last week, he struck out on a pitch that bounced away from the catcher. Utley dropped his bat in between the catcher and the baseball, so the catcher had to make a more difficult play while stepping over the lumber.
"I'm in the dugout like, 'Did you see that?'" Geren said. "It's the littlest thing. But that's who he is."
Early in Utley's career, Philadelphia Phillies coach John Vukovich instilled in him the importance of concentration on each pitch. The concept sounded simple, but Utley learned how difficult it was to sustain across 162 games. More than a decade later, Utley said he takes the most amount of pride in this aspect of his game. "He doesn't take any plays off," San Diego Padres pitcher James Shields said.
As Utley entered his 30s, his style clashed with his well-being. Because of injuries, Utley averaged only 116 games per season from 2011 to 2015. His coaches asked him to tone down his risk-taking and conserve his energy. He told them he would not.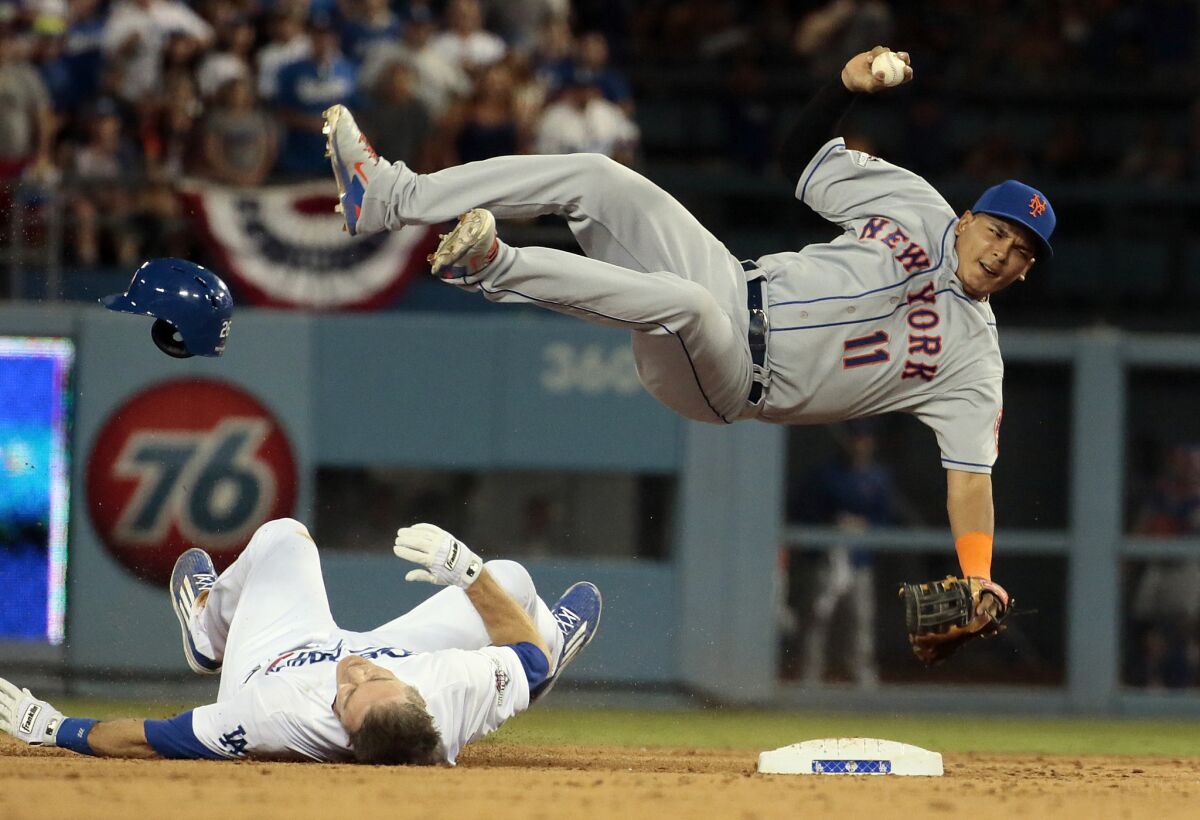 "I understand the concept behind it," Utley said. "It's just something that I've never done. I don't feel like for me, personally, it's the right thing to do."
But why?
"I don't know," Utley said. "That's a good question. Like, I'll dive for balls I probably shouldn't dive for, because I'm not going to catch them. Once in a while, I'll dive for a ball I don't think I can catch, and I will catch it.
"There's always in the back of your mind, 'Maybe I can catch that ball.' Or 'maybe this guy will bobble a ball, and I'll be safe.' Ninety-five percent of the time, I'm wrong. But there is that 5% chance. Probably for that 5%, I do it."
Utley has nuanced ways of making life miserable for opponents. He sets up late in the batter's box, which disorients pitchers, Dodgers starter Alex Wood explained. He nabs extra bases whenever they are available. Even before he wiped out Tejada, Utley's legacy of physicality was well-known.
The combination of his aggression and stoicism can be off-putting. Utley disdains chatter with opponents. Woodward played in the National League East in the 2000s. When he met Utley this spring, he said, "I told him I respected the [heck] out of the way he played, because he never said a word to you.
"When you're more liked by the other team than your own team, something is wrong," Woodward said. "When you aren't liked by the other team, so what? You're going into battle against those guys."
And so, on Oct. 10 at Dodger Stadium in the second game of last year's the National League Division Series, Utley charged toward second base as Mets second baseman Daniel Murphy flipped a throw to Tejada. The toss forced Tejada to turn his back as he spun to first. It was this positioning that Utley lamented months later, because the awkwardness put Tejada at risk.
Utley did not slide until he reached the bag. He expected Tejada to be facing him upon arrival. Instead, his lower half crashed into the shortstop from behind. Tejada's left knee collided with Utley's head. Utley never touched the base. He bounced up as Tejada writhed in the dirt. The play changed the game, and allowed the Dodgers to tie the series.
"Your player got hurt, so everybody was upset about it," Geren said. "But you look at it, and that was just the way the game has been played since I played. In fact, I've seen some of the other ones in the '70s that were incredible."
MLB suspended Utley for two games. Utley appealed the punishment. The suspension was dropped in March, after league officials altered the rulebook to forbid players from kicking, shoving or throwing their bodies into an oncoming infielder.
But before that, a hornet's nest awaited Utley in New York for Game 3. His family received death threats, according to people familiar with the situation. Utley did not stay at the team hotel, an occasional custom of his that coincided with the infamy.
"That was the plan prior to anything," Utley said. "It was probably better off that way."
Utley did not appear in either of the next two games at Citi Field, but his presence loomed over the proceedings. The mayor of New York denounced him. Jeers drowned out his name during introductions. As the Mets rolled in Game 3, fans screamed "We want Utley!" One sign in the crowd, eventually confiscated, declared Utley supported Islamic State.
Kershaw stood next to Utley on the field before the game. Asked how he felt about the reception, Kershaw paused for 20 seconds.
"I have a lot to say," Kershaw said. "I just don't know if I should or not."
Kershaw pondered his answer for another 17 seconds.
"Chase was playing the game the way he's always played. Obviously you never want anybody to get hurt. The game being in the playoffs, and all that stuff, magnified everything. But there's been a whole lot of slides a lot worse than that over the course of baseball [history] . . . Some of the stuff he had to go through, it wasn't fair."
The tension from October has faded. The Mets released Tejada in March. No Met retaliated during a series at Dodger Stadium earlier this month. That may change in Queens.
Utley insists he does not dream of silencing the Citi Field faithful.
"I enjoy winning," Utley said. "So whatever that does, I'm all for."
MORE DODGERS NEWS
Puig's lineup absence isn't a punishment
Dodgers need a healthy and productive Adrian Gonzalez to have any shot this season
From internment camp to Dodgers and Cubs clubhouses, these brothers became part of baseball history
Twitter: @McCulloughTimes
Get our Dodgers Dugout newsletter for insights, news and much more.
You may occasionally receive promotional content from the Los Angeles Times.