Clayton Kershaw faces a year unlike any other in his Dodgers career
Reporting from Phoenix —
The colors of the rainbow flickered across the lobby at Camelback Ranch. Green to blue to red to yellow to green again — the light filtered through an L.A. logo carved from bronze and reflected off portraits commemorating Dodgers history.
In a leather chair near the entrance sat a living, breathing connection to that history, an emblem of the sweetness and bitterness entwined in franchise lore, a man who pitched his team to the pennant in 2017 but couldn't protect seven runs of support in the pivotal Game 5 of the World Series.
What do you do when your dream crumbles? Clayton Kershaw packed up his family early last November and returned to Texas. He did not permit himself to wallow. "It's not like life just stops, and I just sat around," Kershaw said. "I don't sit. I don't do that. Ever."
Two weeks after Game 7, he resumed workouts at the gym he built in his home in the suburbs of Dallas. A month after Game 7, he visited Los Angeles on the day of his wedding anniversary to recruit Japanese phenom Shohei Ohtani. "If we get this guy," he told Ellen Kershaw, his wife and the mother of their two children, "it'll be worth it." Six weeks after Game 7, he went to his old high school and picked up a baseball again.
"What's the alternative?" Kershaw said. "Not getting over it, and just literally stewing on it day after day, and just sitting on it and thinking about 'What if? What if? What could I have done differently?' Is that any way to go about it?"
His friend and former catcher, A.J. Ellis, often remarks how Kershaw tunnels into five-day cycles. He does not luxuriate in success or dwell on failure. Three days after collapsing at Minute Maid Park, Kershaw blanked the Houston Astros for four innings in a futile attempt at a comeback in Game 7. Kershaw does not look back and does not indulge in nostalgia. That same logic applied this winter, even after finishing one victory short of a title, even as he prepared for what might be his final campaign as a Dodger.
"I understand the fans' frustration," Kershaw said. "I've been a fan. I've seen the Cowboys lose. I've seen the Mavericks lose. I understand you're frustrated. But you'd be even more frustrated if the team didn't show up the next year, either. You've got to go play. We've got to go compete.
"I mean, the alternative isn't great. To just sit there and be depressed?"
Kershaw does not traffic in half-measures. When the free-agent market stalled this offseason, Kershaw emerged as a budding leader of the labor force. He follows a rigid schedule at the ballpark and loathes detours from it.
While playing catch during the winter, "if he makes a bad throw, the next throw is right at your chest," workout partner Chris Young said. On the mound, "there's not a single person on this friggin' planet he's scared to face," teammate Alex Wood said.
They will hang a portrait of him in this lobby some day. They will hang No. 22 along the third deck of Dodger Stadium. They will call him onto a stage in Cooperstown. His teammates will tell their kids they knew the greatest pitcher of their generation — and, maybe they will say, the greatest who ever lived.
In a game that involves much uncertainty, these things feel inevitable.
But what about next year?
He could leave.
Dodgers fans should remember that when they regard Kershaw this summer, when they watch him holster his right leg as he makes his windup, when they see him raise his hands skyward before delivering the baseball from the stretch: His 11th season in Los Angeles could be his last.
When Kershaw signed a seven-year, $215-million extension in January 2014, the contract contained an opt-out clause which can be exercised after the 2018 season. Kershaw has not revealed his intention, but common sense suggests he will elect free agency for the first time in his career, joining a class which could include Washington slugger Bryce Harper and Baltimore star Manny Machado.
Interviews with current and former Dodgers, team officials, rival executives and agents form a consensus about Kershaw's potential free agency: No one knows what will happen. Further inspection reveals a tangled web involving the status of Kershaw's back, the zeal of owner Mark Walter to make Kershaw a Dodger for life, the readiness of rival teams to pay for a pitcher entering his 30s and Kershaw's willingness to leave Los Angeles.
Asked about the situation this spring, Kershaw defaulted to mentioning his ongoing dialogue with president of baseball operations Andrew Friedman and general manager Farhan Zaidi. Team president Stan Kasten echoed that sentiment.
"We have all agreed not to talk about the process," Kasten said. "So whatever is going on, or not going on, we just don't want to talk about it. So I don't want to characterize it. It is fair to say we have a great, open relationship, and a lot of communication."
The sides have not engaged in significant discussions this spring, according to people familiar with the situation. That could change even as you read this paragraph — nothing is stopping the necessary parties from hammering out an extension. But in the most likely scenario, the Dodgers will negotiate with Kershaw until he officially opts out of his deal. One of the few scenarios in which the Dodgers might not pursue Kershaw with full-pocketed gusto would be if he opts out after suffering a significant injury.
It's not like life just stops, and I just sat around. I don't sit. I don't do that. Ever.
— Clayton Kershaw
The uncertainty only sharpens Kershaw's focus. He wants to take the baseball every fifth day. He has made more than 27 starts only once in the past four years. He had a strained upper back muscle in 2014. He had a herniated disk in his lower back in 2016, and a strained muscle in the same region last year.
After Kershaw sat out most of the summer of 2016, Friedman suggested, many players would have missed the rest of the season. Kershaw returned to pitch in five postseason games, and recorded a save on one day of rest in the first round. He has little interest in revealing the depth of his discomfort that season.
"There's no point in that," he said. "Because the only reason you would publicly share that is to get sympathy or to want people to care about it. That's exactly the reason I will not be doing that."
Kershaw made 27 starts last season. His fastball velocity sagged slightly in the second half. He fell beneath a slugging wave powered by improved technique from hitters and possibly juiced baseballs. He permitted 23 home runs, more than any other season in his career.
As a flyball revolution took hold of the sport, teams pondered how to counter. This winter offered a hint. Relief pitchers such as Wade Davis, Brandon Morrow and Bryan Shaw cashed in while quality starters such as Yu Darvish, Jake Arrieta, Lance Lynn and Alex Cobb sat in the cold. In this climate of thrift and tanking, fewer and fewer teams appear willing to gamble on starting pitchers with heavy mileage on their odometers.
If Kershaw is beginning to decline, his results are still sublime. He led the National League last season with 18 victories. His 2.31 earned-run average was the second-best among starters in baseball. He pitched more innings (175) than he allowed hits and walks (166). Since 2014, he leads all pitchers in FanGraphs' version of wins above replacement. He remains elite.
Where would he go? Texas holds obvious appeal. Kershaw no longer would have to uproot his family each summer. He could pitch in front of his friends. But while the Rangers won the American League West in 2015 and 2016, their core pales when compared to their rivals in Houston.
Would Kershaw choose the comfort of home over the allure of playing on a perennial contender? Would he consider the East Coast? Boston already may regret the $217-million contract given to David Price after the 2015 season. The New York Yankees watched CC Sabathia struggle throughout the $122-million deal he signed after 2011. Would Houston consider a $200-million commitment? Would Philadelphia be emboldened after signing Arrieta this month? Could the Chicago Cubs reunite Kershaw with Darvish?
The history of nine-figure contracts for pitchers entering their 30s is checkered, at best. The dilemma with free agency is teams pay athletes for their performance in the past, rather than what the future holds. For the Dodgers, Kershaw's past means more. The organization can market his upcoming milestones — 200 victories, 2,500 strikeouts — in ways other franchises cannot. And Kershaw can maintain the level of comfort to which he has grown accustomed.
At this point in his career, Kershaw lacks individual goals to achieve. Three Cy Young Awards. The MVP in 2014. Seven All-Star teams. The only missing box on his career checklist involves a World Series.
"In all my years of knowing him, he has never one time talked about his legacy or the Hall of Fame or anything," Ellis said. "It's not about that. It's about being a part of a group of guys who do something really special."
This winter, Kershaw welcomed Dodgers pitching prospect Walker Buehler to his home gym in Dallas. Brandon McDaniel, the team's strength and conditioning coach, thought it would benefit Buehler to see how Kershaw conditions himself. The rookie was struck by Kershaw's "attention to detail, and the time that goes into the simplest of things," Buehler said. Kershaw took the group to lunch at his favorite restaurant, a Tex-Mex joint called Bandito's in University Park that serves brisket tacos and Shiner Bock on draft.
His dedication extended beyond hosting prospects. Kershaw led the fruitless brigade to convince Ohtani to join the Dodgers. At Joc Pederson's wedding in Santa Barbara, Kershaw hailed an Uber to take a group of teammates to a local gym. He texted Matt Kemp before the start of spring training to welcome him back to the team. "It's just good to be back around guys who compete like he does," Kemp said.
Inside the Dodgers' failed, frustrating bid for two-way sensation Shohei Ohtani »
Could Kershaw wield this influence on another team? Of course. This winter will determine how vital the Dodgers consider him to the culture and roster they have constructed — and whether there is another team capable of persuading him to go elsewhere.
"He certainly understands how special his situation is in L.A.," Young said. "It's not lost on him, at all."
::
During the winter, Kershaw heaped more responsibility on his shoulders. While the free-agent market froze — leaving stars such as Darvish, Arrieta and first baseman Eric Hosmer unsigned well past January — Kershaw began to speak up about labor relations.
Kershaw had a unique vantage point on Darvish's situation. The pair played catch on a daily basis, along with Young and former Dodger Mike Bolsinger, at the indoor football facility where Kershaw attended high school. As the winter dragged on, the players talked more and more about the problems with the market, which continued even after Darvish signed a six-year, $126-million contract with the Cubs.
Kershaw has shied away from the incendiary rhetoric of some people on the players' side. But he presented a forceful, measured analysis of the problems. He believes the sport rewards teams for losing and does not do enough to incentivize winning. The teams with the worst records get the best draft picks. The team who let their free agents leave get extra picks. The teams who pony up to sign expensive players forfeit picks as a penalty.
"There has to be more of a value for winning for each franchise," Kershaw said. "I think that will clean up a lot of these problems. When you only have 12 to 15 teams really bidding for players, and really concerned about putting a winning product on the field, I think that's ultimately a problem."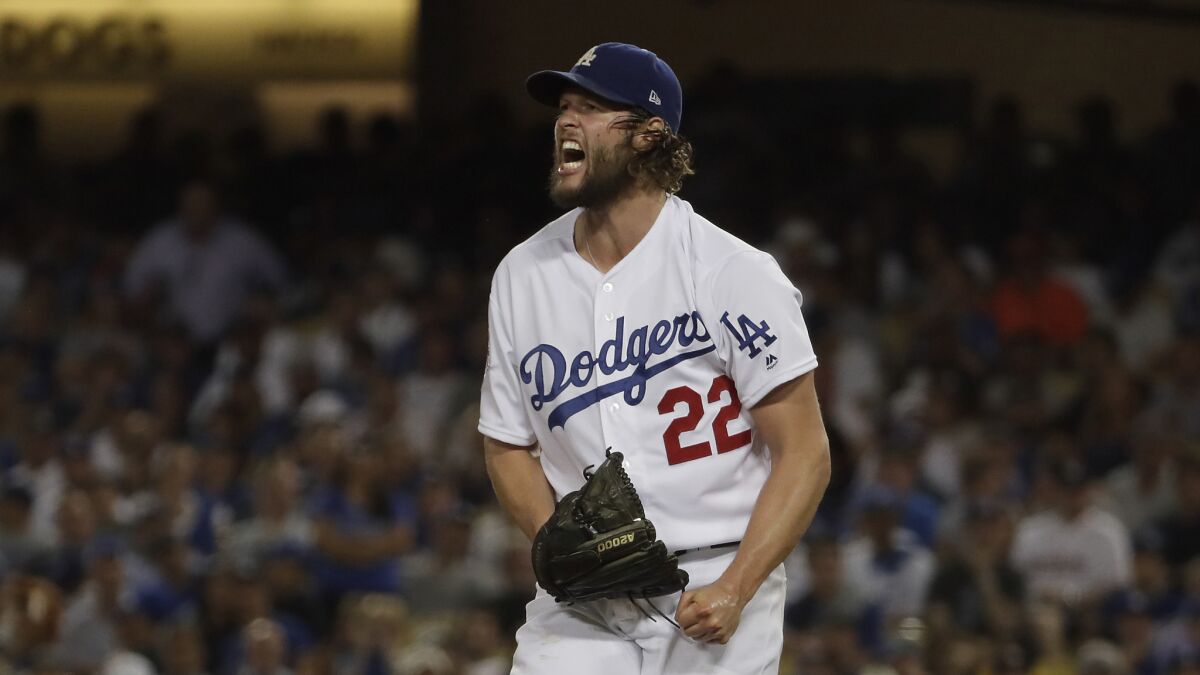 Kershaw conceded that a portion of the blame rested on the Major League Baseball Players Assn., which renegotiated a collective bargaining agreement after the 2016 season that encouraged teams to avoid spending while creating a soft salary cap. The Dodgers did not spend much this winter in order to avoid paying a luxury tax — and to maintain flexibility to pursue Kershaw and others next winter.
Kershaw believes the burden rests on each franchise to actually try to win. The situation crystallizes one of the perks of being a Dodger.
"You can say what you want about the guys here, that they have so much money that they should be able to have a good farm system and have good talent up here — but they do a good job," Kershaw said. "They figure it out.
"These teams who are losing 100 games, and they're just saying 'Hey, we'll tank and rebuild,' you're not just going to be the Cubs or the Astros. Ten out of 12 teams are probably going to fail at this. What do you tell your fan base? 'Oh, we'll rebuild. We'll be good.' You might not be. That's a problem."
::
What's it like to be Clayton Kershaw?
"Think about whatever your job is," Wood said. "Now think about going in and trying to do the absolute best you can do at your job, every single day, for your whole life.
"Who can relate to that?"
Or, Ellis said, think about it like this: "Here is what is different about me and you and every player who ever put on a uniform. Over the course of 162, we're going to cut corners. We're going to cut a little corner here — it's a tough travel day. Cut a corner here — not feeling great. Cut a corner here — a little too much to drink last night.
"Pretty soon, you're left without any paper. You've cut little corners, here and there. Clayton never cuts a corner."
Or, reliever Tony Cingrani said, maybe it's like this: "He's in the weight room, every day, constantly. It's just like, if you're not on that level, you don't belong here."
One morning in February, Kershaw grabbed a seat by his locker and stared at the day's schedule. His expression blended amusement with arsenic. Someone had pushed back the 9:15 a.m. meeting for the pitching staff.
"So the meeting is at 9:40 now?" he said. "That's great. I literally plan my whole day around this. Who can I punch in the mouth?"
He pointed at bullpen catcher Steve Cilladi.
"You? Can I punch you?"
Cilladi laughed and informed Kershaw that closer Kenley Jansen had changed the time.
"Can I punch Kenley in the mouth?"
He was joking. Sort of. Kershaw considers his time precious. He spoke to Jansen. It didn't happen again.
There's not a single person on this friggin' planet he's scared to face.
— Alex Wood
Kershaw finds comfort in routine, and the stories of his frustration with any deviation grow by the year. He bristled last April when a Colorado Rockies pitcher delayed the start of a game by walking out of the bullpen as Kershaw prepared to pitch. When a visitor's presentation to the Dodgers ran long on the morning of a Kershaw start this spring, Kershaw flopped to the floor to stretch while the visitor kept talking. Sometimes during one-on-one interviews, Kershaw will end the discussion by drifting toward an exit — he has other things to do.
The impatience derives from Kershaw's desire to have "no regrets on game day," Ellis explained. The running, the lifting, the hours spent sifting through scouting reports, analyzing video and conferring with pitching coach Rick Honeycutt? Every little piece matters. So does every discussion with McDaniel, every subtle tweak to the routine as Kershaw tries to maintain his health while navigating his second decade in the majors.
"Before he never had to worry about it," McDaniel said. "He was young and dominant, never had an issue. As he's piled up innings and appearances and years and all that, he's been so awesome at taking in information."
Because he follows his schedule with such regularity, Kershaw usually appears at his locker at Dodger Stadium around 3:45 p.m. for night games. In doing so, he is the rare star pitcher who makes himself available to the media on a daily basis. He is willing to pose for pictures and appear in advertisements. In return, he expects precise instructions.
"If the P.R. guys say 'Hey, there's a guy who needs 15 minutes today,' well, I can do that." Kershaw said. "But if it's 15 minutes and he shows up and sets up for 10 minutes, well, you've got five minutes left. You have to get good at saying no."
The constant motion extends beyond baseball. A couple years ago, Kershaw was at Cowboy Stadium when Dallas lost a playoff game to Green Bay. The night was not an entire bust: Through Young, he met the owner of Bandito's and pocketed his business card. No longer would he have to wait for a table. "It's my favorite spot," Kershaw told Young. "And sometimes there will be a 45-minute wait."
::
Four days before he turned 30, Kershaw strode toward a quintet of mounds behind the clubhouse at Camelback Ranch. Dozens of fans peered through a chain-link fence, jazzed for some baseball, calling out to Orel Hershiser as reporters finished up a session with manager Dave Roberts. The chatter quieted as Kershaw climbed atop the mound for a bullpen session.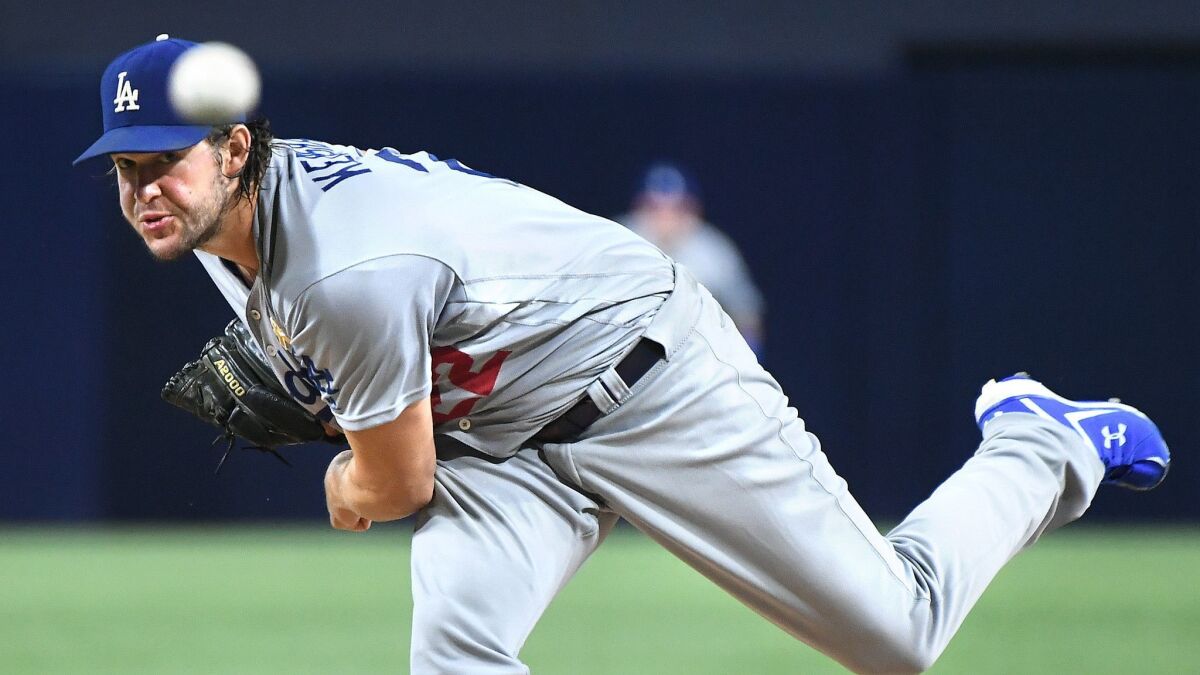 After a decade in the majors, Kershaw still utilizes the same trio of pitches: a four-seam, 93-mph fastball, a 12-to-6 curveball that first invited comparisons to Sandy Koufax, and a hard slider he embraced in 2010. For years he has tinkered with a changeup; the pitch does not meet his standards, so he rarely throws it. He challenges hitters and does not abide free passes. Since 2014, he has struck out eight batters for each one he has walked, the best mark in the sport.
"My favorite thing about Kersh is there's nothing with a baseball that he doesn't think he can do," Wood said. "It doesn't matter: Slider back door, slider back foot, breaking ball, any time, any place, in and out with the fastball, up, down. There isn't anything he thinks he can't do. And most of the time he's pretty much right."
The crowd maintained a respectful silence as Kershaw threw. The pitches whistled toward catcher Kyle Farmer, occasionally hissing as the seams spun through the dry morning haze. After a few, Kershaw invited first baseman Cody Bellinger to stand in the batter's box. Bellinger was there to observe, not to swing.
A slider buzzed into Farmer's glove.
"How was that, Cody?" Roberts asked.
"Sharp," Bellinger replied.
Another slider arrived, this one humming toward the heart of the plate before diving to Bellinger's feet.
"Whoa," Bellinger said.
"Damn," Farmer said.
Bellinger looked at Bill Haselman, manager of the Dodgers' triple-A franchise at Oklahoma City. "I'm swinging over that every single time," Bellinger said.
Here came a curveball. Bellinger winced as the baseball passed him. He sported a dazed smile. "I just got buckled while standing in," he said.
The session drew to a close. The crowd burst into applause. Kershaw bumped fists with Farmer, then conferred with Roberts, who remarked a few days later that this spring is "the best I've seen him spin the baseball consistently." Bellinger trotted back toward the clubhouse.
"Kershaw!" Bellinger called out. "Thank you."
::
Seated inside the lobby, Kershaw beamed as Pederson walked by. The sun had set on Camelback Ranch, and Pederson wondered why Kershaw was still in the building.
"I'm sharing my soul," Kershaw said. When Pederson looked puzzled, Kershaw assured him, "I'm not."
Kershaw insisted he doesn't consider himself a private person but his standards for transparency do not align with the social-media era. He measures his words before he speaks and often makes clear he is self-editing. He has not written a message on his personal Twitter page since the 2017 playoffs.
Earlier this spring, Kershaw was talking with his wife and her sister about their foundation, which aids children in Los Angeles, Dallas, the Dominican Republic and Zambia. Kershaw was reminded that if he was more active on social media, he could draw more attention to the charity. Except … he didn't want to share his opinions with the world, at least not in that forum.
"Instagram is so powerful," he said. "It's crazy. And I just don't like it. I just don't. You go to a sporting event, and people are filming it. I'm like 'Just watch it! It's right there.' I don't understand. Maybe it's just I'm old."
The prospect of turning 30 did not invigorate Kershaw, but to celebrate the milestone as a Dodger felt fitting. He debuted with the team two months after his 20th birthday. He grew up in the clubhouse, weathering the early hazing and sky-high expectations. He blossomed into the class of his profession, the leader of his team and one of the strongest voices among his peers.
His place in Dodgers lore — his contributions to the heights and the heartbreak — is secure. It was Kershaw who earned the victory over the Cubs which gave the Dodgers their first pennant since 1988. It was Kershaw who won the first World Series game at Dodger Stadium since the days of Hershiser. It was Kershaw who wilted beneath the relentless assault of the Astros in Game 5. And it was Kershaw who rose up on two days of rest for Game 7.
In the aftermath of defeat, Kershaw stowed those memories. He packed up his family and returned to Texas. He reset his internal clock to prepare for another season, one which could be unlike any other. As he finished up his interview in the lobby, he asked a pertinent question: What, exactly, was this story about?
This might be your last year in Los Angeles, Kershaw was reminded. The colors of the rainbow flickered across the portraits. He wore a weary grin as he opened a door into the night.
"Oh yeah?" he said. "What's your hunch?"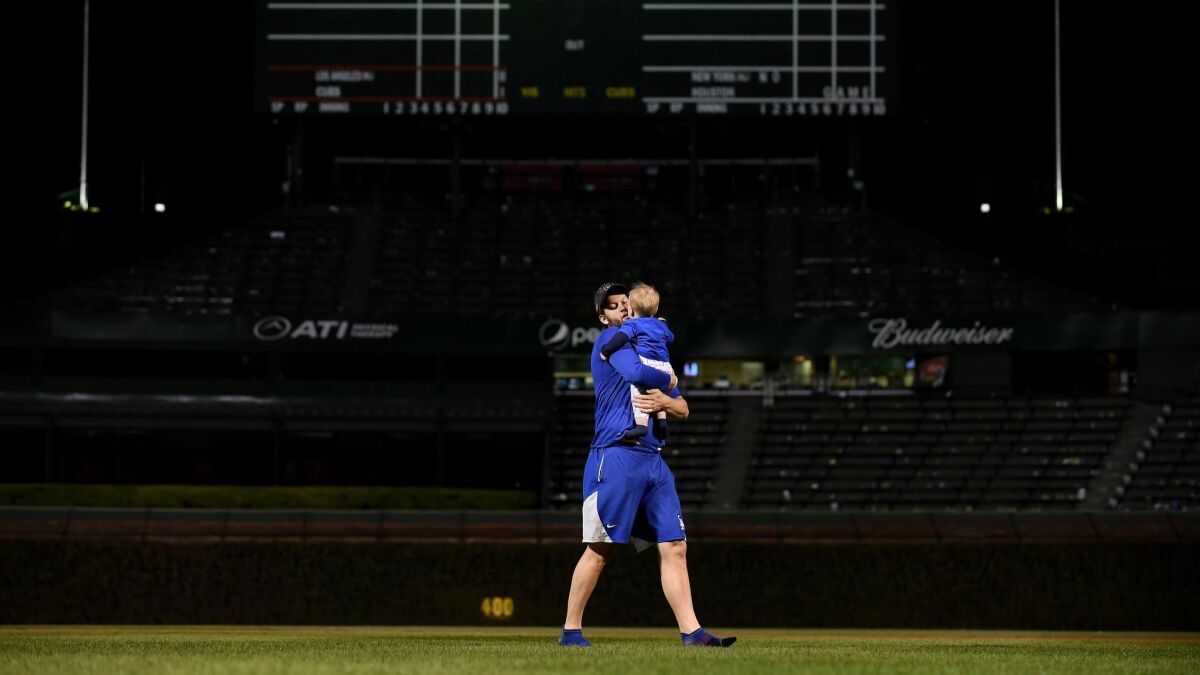 Twitter: @McCulloughTimes
---
Get our Dodgers Dugout newsletter for insights, news and much more.
You may occasionally receive promotional content from the Los Angeles Times.