Dodgers All-Star Cody Bellinger plans to avoid a sophomore slump
Reporting from Phoenix —
Cody Bellinger slipped through the netting of a Camelback Ranch batting cage and gazed at a pitching machine. Dodgers hitting coach Turner Ward manned the contraption, which dolloped late spin onto each offering. Bellinger slashed a pair of line drives before whacking a few foul and others into the ground. "That's a big-league knock," third baseman Justin Turner crowed after Bellinger pounded one into the green turf.
Bellinger shook his head and looked sheepish. A year earlier, he had been a 21-year-old swimming upstream at his second round of big-league spring training. He spent 2017 as the toast of Los Angeles, swatting home runs and pounding ice cream as the cleanup hitter for the pennant winner. The agony of the ending, in which he struck out three times in the final game of the World Series, tormented and motivated him all winter. Two weeks after Game 7, Bellinger began revamping his physique for his sophomore season.
"That was just me knowing that one good year doesn't mean ...," Bellinger said, using an expletive. "I know there's going to be a lot of guys coming after not just me, but our team this year."
Spring offers renewal for all, and baseball players are not immune to its spell. The offseason allows a player to correct his flaws. They box. They do yoga. They punish themselves with Pilates. They stretch more. They eat less.
Frustrated by his inability to retain weight as a rookie, Bellinger developed an affinity for weightlifting. He sculpted his upper half at his agency's training facility in Newport Beach. He weighed 212 pounds when he arrived here, a four-pound gain from the previous year, he said. Both manager Dave Roberts and strength and conditioning coach Brandon McDaniel used the same phrase to describe the alterations: "Man strength."
As a rookie, Bellinger did not lack power. He led the Dodgers in home runs (39) and slugging percentage (.581). He trailed only Turner in on-base-plus-slugging percentage (.933). He was the unanimous choice for the National League Rookie of the Year and finished ninth in the MVP voting.
From the outset, he looked like a natural. One day last week, a few hitters were talking with recent addition Matt Kemp about splits, how right-handed hitters can struggle against right-handed pitchers, and vice versa for left-handed hitters. Someone brought up Bellinger, and outfielder Chris Taylor mentioned how comfortable Bellinger looks when facing sliders from southpaws.
To explain things to Kemp, the others referenced a game in Cleveland last June. On the mound stood Andrew Miller, a left-hander with a pterodactyl's wingspan and a hellacious slider. Bellinger looked unbowed as Miller spun one over the plate. Bellinger lifted the pitch beyond the fence in right field for his 16th home run of the season.
"A 22-year-old is not supposed to do that, when you're left-handed, on the road, and you're facing Andrew Miller," Turner said.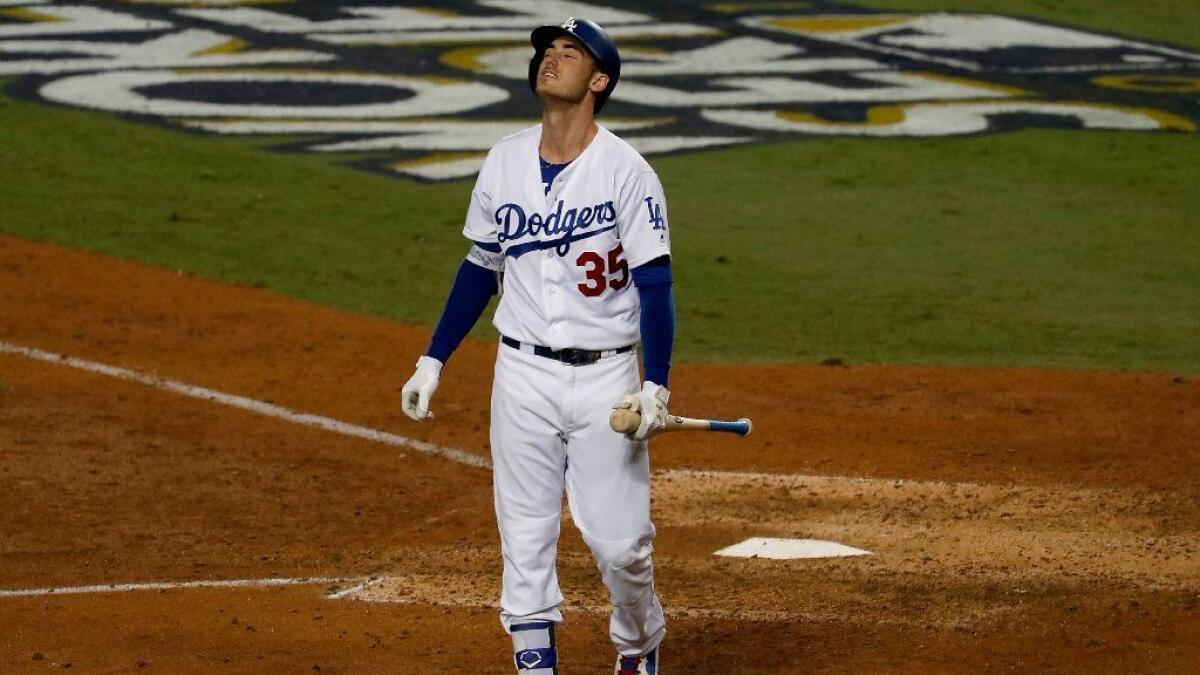 Bellinger provided moments like that throughout the summer. His production dipped, ever so slightly, in the second half. The regression displayed how explosive Bellinger was at the start. After the All-Star break, he hit 14 home runs with a .901 OPS. He adjusted to pitchers attacking first with elevated fastballs and then with offspeed pitches in the dirt.
Along the way, he learned to manage the fatigue of big-league life. His weight was always considered an issue. A slender teen, Bellinger homered only once as a senior in high school. As a professional, he struggled to maintain mass during the season. The flaw followed him to the majors.
In August, Bellinger sprained his ankle while playing the outfield. The injury was "almost a blessing in disguise," McDaniel said. With a couple days off, the training staff had time to reset Bellinger's diet, ply him with calories and keep him from shedding pounds.
"He gets the weight on, and it's hard to keep on," McDaniel said. "And Cody's like 'I did all this work, I ate all this food, I put on all this weight, and now I'm losing it again.' It's the natural progression: Your first year in the big leagues, you're figuring things out."
By the postseason, Bellinger admitted he felt drained. The Astros handcuffed him with sliders in the World Series. He batted .143 and struck out 17 times in 28 at-bats. "The pressure of the World Series and the playoffs, it gets to you," Bellinger said. "But I hope I feel like that every year. Because hopefully we're playing into November every year."
Bellinger returned to his home outside Phoenix. He did not remain idle for long. Bored by inactivity, frustrated by how the season ended, he started his offseason program before Thanksgiving. In January, he moved to California to work out at a facility run by his agent, Scott Boras.
Boras convenes his clients each winter so they can mingle. Bellinger traded hitting tips with Texas first baseman Joey Gallo. He offered advice to prospects such as the 2017 No. 1 overall pick Royce Lewis. He pushed himself against players including Mets pitcher Matt Harvey, San Diego catcher Austin Hedges and Oakland third baseman Matt Chapman. For the first time in his life, Bellinger said, he actually enjoyed lifting weights.
"What athletes do when they're around one another, they could be playing marbles, and they're competing," Boras said. "And that creates that intensity in their conditioning that I think really brings athletes to a different level in their training."
The agency recorded the workouts and sent clips to McDaniel, who felt encouraged by Bellinger's technique. Bellinger visited Dodger Stadium once or twice a week to join sessions with Turner, Chase Utley, Enrique Hernandez and Joc Pederson. He tinkered with his diet, listening as McDaniel counseled him about wasteful calories from foods such as ice cream.
This season will test him once more. Bellinger will not surprise opposing pitchers this year. The challenge excites him. The pain of Game 7 galvanizes him.
"I think we want it more," Bellinger said. "Just because we were so close to it, and we know how it … feels to lose in Game 7 of the World Series. I think the atmosphere in here is legit. Everyone is ready to.get after it again."
SHORT HOPS: The Dodgers recorded only one absence as the full squad reported to camp on Sunday. Ross Stripling was excused so he could attend a wedding, Roberts said. The first official workout is set to take place on Monday at Camelback Ranch.
Follow Andy McCullough on Twitter @McCulloughTimes
Get our Dodgers Dugout newsletter for insights, news and much more.
You may occasionally receive promotional content from the Los Angeles Times.