Column: It's a different kind of season for the Dodgers' Ned Colletti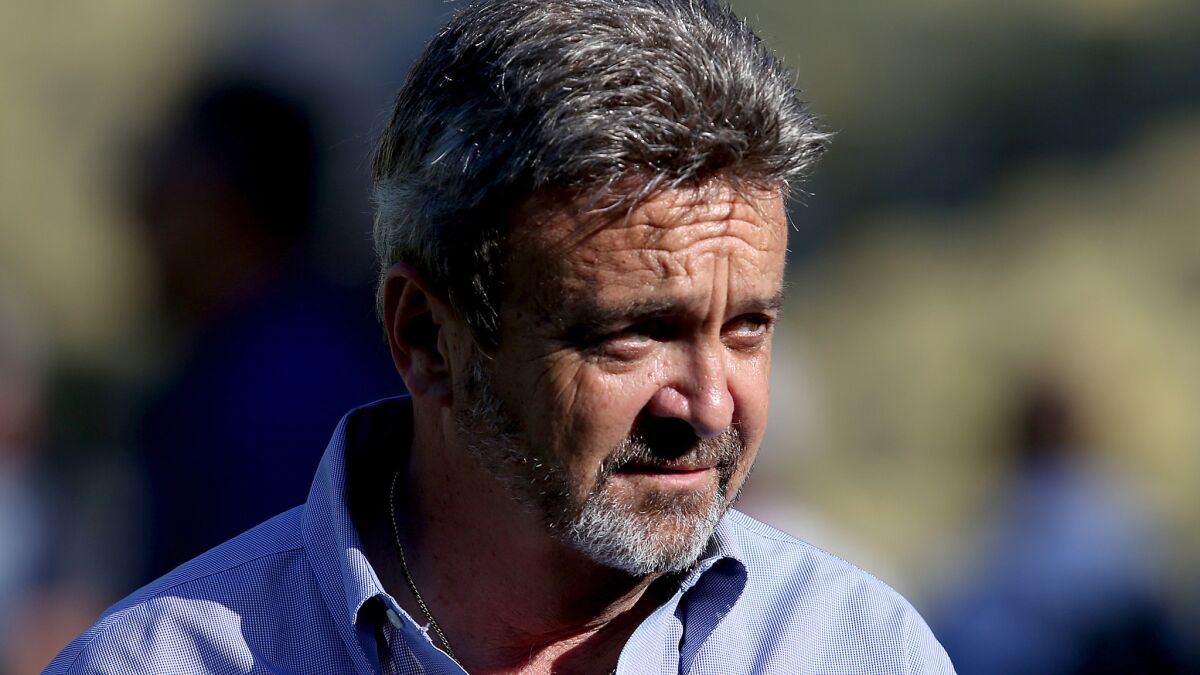 He is the man most responsible for a Dodgers team on the verge of booking a third consecutive trip to October.
Yet Ned Colletti has no magic number. He has no magic anywhere, really, except that while still working for a team he once built, he has completely disappeared.
Fired as Dodgers general manager last October but retained as a senior advisor, Colletti hovers over his creation like a ghost.
He is a commentator for a Dodgers television network that much of Los Angeles cannot access. He has been a scout at college and minor league games that few attended.
If you've seen him, he's probably wearing a suit and walking around the Dodgers dugout in the early evening when SportsNet LA broadcasts the pregame show from Dodger Stadium. He's right in the middle of everything, but nowhere near anything.
"It's been a different kind of year, there's no debating that," Colletti said Thursday. "But I feel humbled to have had a chance to be part of this organization, and honored that I can still be involved."
A part of it? That's an understatement. Colletti might be virtually gone, but his fingerprints have never been more indelible on a team whose championship hopes were built around his nine-year tenure.
His tumultuous Dodgers career, marked by both elation and despair, could end in irony. In the season after he was fired because he couldn't take them to a World Series, Colletti will be given much of the credit if they reach the World Series.
In building a team that reached the postseason five times in his nine seasons, Colletti didn't always make all the decisions, and he was always only as good as his scouting and minor league staff. But he was still the boss, and as the boss his effect on the current Dodgers roster was, well, boss.
In Colletti's first trade, the Dodgers acquired Andre Ethier. With the first pick of his first draft, the Dodgers selected Clayton Kershaw.
One of the biggest trades in his tenure brought Adrian Gonzalez. The biggest free-agent signing during his time was Zack Greinke.
Under Colletti, the Dodgers' front office folks did the little things that became big things. They signed Justin Turner when he was a mediocre utility guy. They promoted A.J. Ellis to become the full-time catcher even though he was already 29. They smartly snatched reliever J.P. Howell out of Tampa.
Under Colletti, the Dodgers' front office also did little things that became enormous things, like converting Kenley Jansen from catcher to reliever.
Under Colletti, the Dodgers created the future by drafting Joc Pederson in the 11th round in 2010 and Corey Seager in the first round in 2012. Under Colletti, the Dodgers also maintained that future by refusing to trade them for established stars despite constant whining from columnists like this one. And, OK, if Yasiel Puig ever shows up again, well, Colletti's group signed him too.
Yes, Colletti gave a huge contract to Matt Kemp that caused problems. But his group also gave a chance to Dee Gordon that caused much joy. Both guys have since disappeared in trades by Colletti's replacement, Andrew Friedman. Gone too is the madness that was once created by Colletti in trades for Manny Ramirez and Hanley Ramirez.
When he couldn't build a bullpen to protect Kershaw and Greinke, when his administration was deemed to have run its course, Colletti was finally gone himself. He was fired by Dodgers President Stan Kasten in October, when the team had a chance to acquire the celebrated Friedman and needed to act fast.
It remains to seen whether baseball boss Friedman and General Manager Farhan Zaidi have reshaped this roster enough for the team to take the next step. They will be given much credit if they do. But in the meantime, Colletti's impact remains visible on the field every day, so much that when he was at Dodger Stadium for a TV appearance, he shared a sentimental moment with an old friend in the dugout. According to Colletti, when he sat down with Ethier, they just looked at each other.
"We've been through a lot together," Ethier said.
"Yes, we have," said Colletti.
Colletti said any awkwardness in his new role ends with every first pitch.
"I've got a lot invested in this club, and every night I'm rooting for them as hard as I've ever rooted for them," he said.
Colletti said he has been treated with dignity and respect by Friedman's front office — he recently spent several hours with Friedman sharing some of his views of the farm system — and that he has squelched any regrets at watching his players win without him.
"I buried my dad when I was a young man; I know the difference between what is hard and what is just life," he said. "I miss it, I do miss it, but I also learn in life you get to look out different windows."
Some of those windows now resemble TV screens. He watches the Dodgers every night from either the SportsNet LA studios or his Manhattan Beach home. Unlike the last nine years when he watched from a suite in stadiums filled with thousands, he often watches alone.
"The people at the studio ask me if I need anything. I tell them a television and a pencil and I'm good," he said. "I don't miss many innings."
Baseball misses him. Here's guessing he will soon be back in the game as a front-office decision maker somewhere. While he's fine on the tube, he's not a TV guy, he's a baseball guy. Yes, there's an opening in Anaheim. And, yes, having worked for Frank McCourt, Colletti is perfectly suited to handle Arte Moreno.
"I love to compete, it's the thing I miss the most," Colletti said. "Whether I come back, it's not up to me, but some owner who paid attention to how it went here."
All in all, it went pretty well.
Twitter: @billplaschke
Get our Dodgers Dugout newsletter for insights, news and much more.
You may occasionally receive promotional content from the Los Angeles Times.