The Dodgers' Corey Seager doesn't act like baseball's top prospect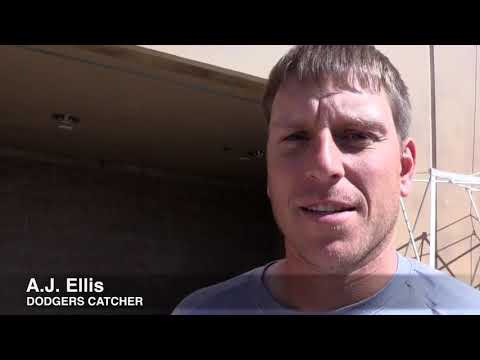 Andy McCullough and Lindsey Thiry discsus the potential of Dodgers shortstop Corey Seager this season, plus Manager Dave Roberts, catcher A.J. Ellis and first baseman Adrian Gonzalez explain what makes Seager a top talent.
Reporting from Phoenix —
The crowd of autograph seekers parted as the cart rattled across a pebble-strewn walkway. A member of the Dodgers' training staff was driving and another trainer rode shotgun. Seated on the flat bed was the most precious asset in the organization not named Kershaw or Scully.
"That's Corey Seager!" a woman shouted.
His eyes locked on his feet, his legs nearly long enough to scrape the sun-baked earth, he rode toward a minor league field at Camelback Ranch. A cloud of dust kicked up in his ride's wake. Fans jogged through the light yellow haze in search of a signature. The Dodgers are not the only party investing in Seager.
He is the prince of the franchise, the jewel of the farm system, the consensus No. 1 prospect in the sport. At 21, he hit .337 in his big league debut and batted third in a playoff game. He is too shy to dominate group settings but too precocious at the plate to ignore, too composed to reveal his nerves but too vital to ponder a future without.
Adrian Gonzalez has suggested he could reach the Hall of Fame. Don Mattingly compared him to Derek Jeter. His size recalls Cal Ripken Jr. All this for a young man less than four years removed from his high school graduation, one who moved out of his parents' house only this winter, one who resembles an overgrown refugee from a boy band.
He operates with a low pulse and a high aptitude. Scouts discuss his swing with reverence; teammates opt for envy. The veterans on the Dodgers see in him a preternatural calm. He performs at his own pace, and "he looks the part," said his older brother, Kyle, an All-Star third baseman for Seattle.
"If you're going to come up when you're like 20 years old, you can't really rattle," Clayton Kershaw said. "And his talent speaks for itself. It's just impressive to see. When I was 20, I wasn't like that."
The cart snaked on a field past a sign that read "FACILITY CLOSED BEYOND THIS POINT" and parked along the right-field line. Seager unfurled his 6-foot-4 frame to loosen up. A sprained knee forced him here, into the minor league complex he graduated from last September. The youngest of the three Seager boys pumped his knees and twisted his hips before loping toward an indoor cage.
Seager pulled on a pair of white gloves and clutched a bat. His stance exemplified elegance. There was no wasted movement. There was barely any movement, just his right heel tapping and his right knee bending as pitches approached.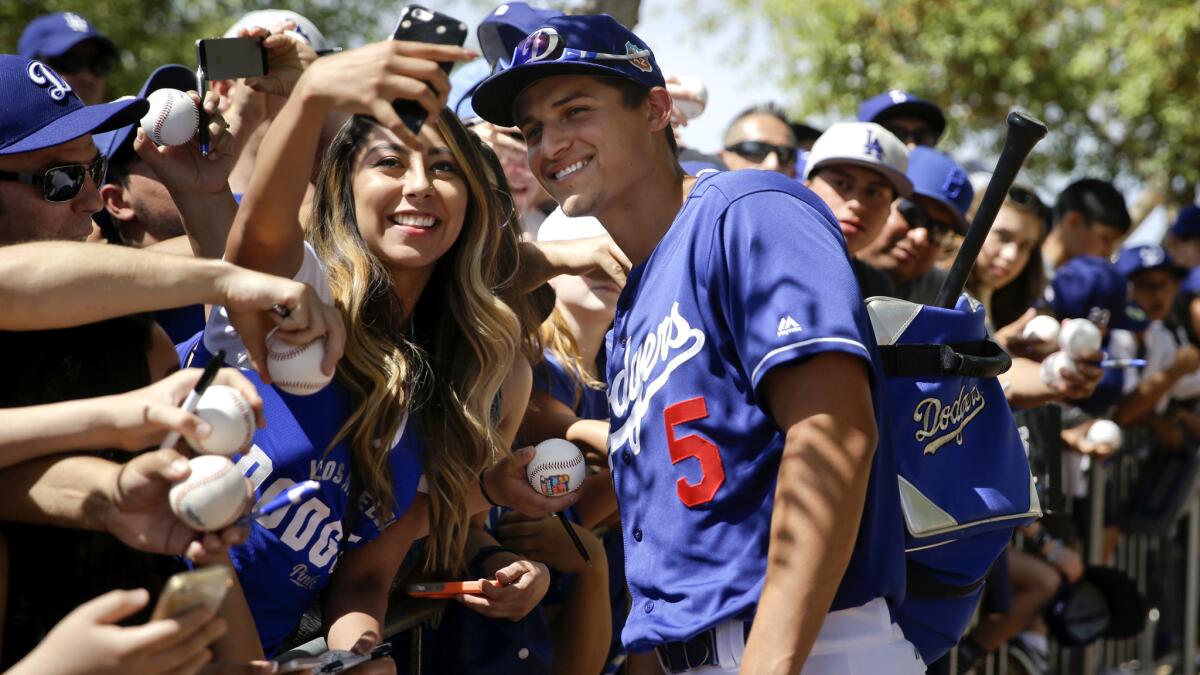 The loudest sound inside the complex was the echo of a barrel connecting with a baseball, the song his family, his teammates and his employers expect him to play every summer for the next decade.
::
On the last day of February, weeks before his knee was injured, Seager cocked his cap halfway on his head as he walked off Field 1. Manager Dave Roberts spotted him huffing in the heat.
"Corey, how we doing?" Roberts said. "You tired?"
Seager answered with a shrug and a laugh. Roberts beamed as he headed toward another field. "You're too young to be tired."
He won't turn 22 until later this month, but Seager's demeanor belies his age. It has always been this way. Trayce Thompson crossed paths with him in 2014 in the double-A Southern League. Seager was the best hitter on the Chattanooga Lookouts and the only member of the team still unable to drink.
"He was the youngest guy on the field," Thompson said. "Had the most simple, most quiet, most beautiful swing. His demeanor never changed. If he struck out or grounded out, it was the same if he hit a double or a home run."
A couple of months later, shortly after he took over the Dodgers' baseball operations department, Andrew Friedman studied Seager in the Arizona Fall League. His former team in Tampa Bay scouted Seager extensively in the 2012 draft only to see the Dodgers intercept with the 18th pick. Friedman understood Seager's talent, but now he saw the consistency. The kid never panicked, not when grounders took funny hops toward short, not when he fell behind in the count.
Aware of Seager's potential, the Dodgers still sought improvement in 2015. The team hoped he would reduce his strikeouts and improve his consistency on defense. Seager erased any doubt by clobbering double-A pitching for three weeks and recovering from a slow start in triple A to debut with the Dodgers in September.
"We were as confident as we could be that he would be unfazed by the moment," Friedman said. "And he certainly demonstrated that throughout his brief stint with us."
The team thought Seager would split time with veteran shortstop Jimmy Rollins. But when a jammed finger sidelined Rollins, Seager never relinquished the position. He smacked a pair of hits in his big league debut, roped two more the next day and hit his first homer in his second week. He belonged.
In a pennant race, Gonzalez explained, a rookie might bounce in his chair, unable to cage his anxiety. Seager looked serene. "People always want emotional players to look at," Gonzalez said. "But organizations always want calm players to have."
A.J. Ellis recalled how often a young player might try to turn a bullpen session or a round of batting practice into a show. Seager rifled line drives to all fields before games, a display notable for cleanliness, not excess.
"Nothing was moving very fast for him," six-time All-Star infielder Chase Utley said. "It was at his tempo. He was in control of his emotions."
Seager reminded Justin Turner of players such as Gonzalez and his former New York Mets teammate Carlos Beltran, veterans who maintained composure in critical moments. He hit .294 with two outs and runners in scoring position, .333 in what FanGraphs classifies as "high leverage" situations and .357 in what Baseball-Reference classifies as "late and close" situations.
"You're like, 'OK, this guy's got ice in his veins,' " Turner said.
Inside a clubhouse stocked with characters — Turner cranking the stereo, Kershaw coordinating ping-pong tournaments, Enrique Hernandez showing up in the dugout dressed as a banana — Seager's voice barely registers. He defers to his elders in conversation. He desires assimilation, even if his talent promises to set him apart.
"His desire to be one of the guys, and not The Guy, is what's going to make him The Guy," Ellis said.
::
Beneath an unforgiving sun at Camelback Ranch, Jeff Seager pressed his tan ball cap into the backstop and peered between the links of chain. His eyes locked on his youngest son, studying the movement of his hands, the pace of his rhythm, as Corey batted in a minor league game last month.
After Corey popped up a first-pitch fastball, Jeff sought refuge in the shade.
"Corey didn't waste no time, did he?" a man in a Seattle Mariners T-shirt said as Jeff walked past.
Jeff chuckled. "No, he didn't. It was right down the middle. The timing's going to take a little while."
No talent evaluator in either hemisphere understands that swing better. Jeff played some college ball at Fairleigh Dickinson, but his legacy in the game stems from hours spent throwing his boys batting practice. The eldest, Kyle, is thriving in Seattle. The middle brother, Justin, is a Mariners farmhand. Corey is the youngest, the tallest, the owner of both the highest ceiling and the sweetest stroke.
One day last spring, then-Dodgers hitting coach Mark McGwire flipped balls toward Seager inside a batting cage. After half a dozen cuts, McGwire stopped the drill.
"Hey," McGwire asked, "who taught you that swing?
Seager was cautious. "Um … my dad?"
"Go inside and call him," McGwire said, "and say, 'Thank you.'"
Jeff preached simplicity to his children. The message sharpened as it passed down from Kyle, 28, to Justin, 23, to Corey. The two younger boys idolized Kyle, chasing down his high school home runs as they cleared the fence.
Corey learned stoicism as a child. Kyle loved to provoke him verbally. Justin challenged him physically.
"Having two older brothers, you get messed with," Corey said. "You don't want to show them you're [ticked] off or anything. I've got that going for me."
By the time Kyle enrolled at North Carolina, his siblings were approaching athletic maturity, teaming together at Northwest Cabarrus High in Kannapolis, N.C., about 25 miles north from Charlotte.
Jeff developed trust with Joe Hubbard, the school's baseball coach. During the winter, Hubbard opened the facility so Jeff could pitch to Justin and Corey after they finished basketball practice. Jeff instilled in his boys the value of situational hitting. If a pitch is inside, turn and drive it. If it is outside, take it the other way.
"Corey was a natural at it right from the beginning," Jeff said. "It was pretty amazing. Even as a little kid, he could do it."
Added Kyle, "He made the game look easier than it is."
The rare criticism of Seager involved his body language. He played at such a steady pace that some scouts questioned his motor. Did he lack energy? Did he love to compete? The charge is not unique — his brother wondered the same thing when they played basketball.
"I would be hooting and hollering, and trying to get everybody excited," Justin said. "And no matter the situation, he was mellow. [I would say] 'Come on, dude!'"
As he matured, Justin came to covet his brother's poise. The quality served Corey well. By his senior year, hordes of scouts "would just engulf the cage" to watch him hit, Hubbard said.
"Does this stuff bother you?" Hubbard asked him after one well-attended session of batting practice.
"No," Corey replied. "It's just a game. I'm going to go play."
Seager signed a letter of intent with South Carolina, because he did not want to follow Kyle's path to Chapel Hill. But he never made it to college. The Dodgers offered him $2.35 million as a bonus after choosing him one selection before future St. Louis starter Michael Wacha.
On the night he was drafted, three weeks before he signed and a month before he debuted as a professional, Seager did not know how to celebrate. He slipped on a jersey, hopped in his car and drove to pinch-hit in an American Legion game. He arrived in time to stand in the on-deck circle as a teammate hit a walkoff homer.
"I don't want to say that he wasn't excited about being a first-round pick, because he was," former Dodgers scouting director Logan White said. "And it wasn't arrogance at all. It was just something that he expected to happen."
::
As his brother's guest at the 2014 All-Star game, Seager met his favorite baseball player. Jeter shook his hand and dozens of others. Seager marveled at how Jeter handled the spotlight, how gracious he was with strangers.
"With all his fame and all his other stuff, he seemed like he was the same guy the entire time," Seager said.
Seager does not seek the level of celebrity of his idol. Jeter dated Mariah Carey and Minka Kelly, endorsed colognes and credit cards, and fashioned himself as a publishing mogul upon retirement. Seager just moved into a two-bedroom place in Charlotte with Justin. Jeff still throws the boys batting practice during the winter. The family gathers for dinner on Sundays.
One Sunday this winter, when the group convened at Corey and Justin's place, Kyle found a new way to irk his brother. He ignored a stack of drink coasters and plopped a bottle of water across a dining room table.
The sight unnerved Corey. He looked at Kyle and looked back at the bottle. He slid a coaster underneath the offending liquid.
"Really?" Kyle said. "It was on the table mat. It wasn't even on the table."
"There's a coaster right there!" Corey said.
His family keeps him grounded. Little else in his life can. As he walked off the field one day in late March, he bisected a group of about 100 fans. Kids screeched his name as he approached.
Seager ducked his head until he reached the front of the group. Then he started to sign.
"He does joke that it's really nice to be the No. 1 prospect," Justin said. "But he doesn't want to be considered a prospect any more."
Follow Andy McCullough on Twitter: @McCulloughTimes
ALSO
Dodgers closer Kenley Jansen won't discuss a new contract during the season
Dodgers pitcher Jamey Wright calls it a career, and a quirky career it was
Fifty years ago, Dodgers' Sandy Koufax and Don Drysdale engaged in a salary holdout that would help change baseball forever
Get our Dodgers Dugout newsletter for insights, news and much more.
You may occasionally receive promotional content from the Los Angeles Times.