Dodgers do little against Jake Arrieta, but beat up Cubs relievers in 5-0 win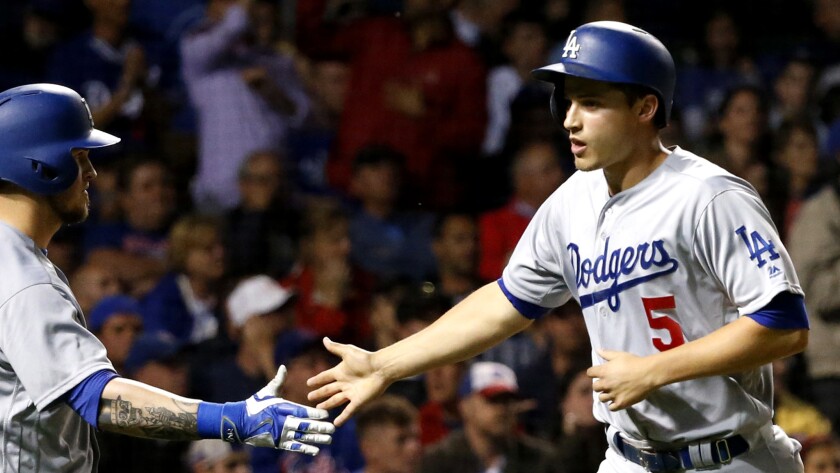 Reporting from Chicago —
On the day he turned 44, Dodgers Manager Dave Roberts received a bevy of presents, all of them unwanted.
One of his starting pitchers, Alex Wood, reported a bout of elbow soreness that forced him onto the disabled list. Kenta Maeda dealt with residual swelling in his pitching hand, which rendered his start on Thursday in doubt. Yasiel Puig felt soreness in his left hamstring and was scratched just before the game started.
Oh, and as a bonus? His team faced Jake Arrieta, Chicago's right-handed answer to Clayton Kershaw, and Arrieta blanked the Dodgers for seven innings.
Yet Roberts' players found a way to present him with a gift, scratching out a 5-0 victory thanks to a sturdy effort from Scott Kazmir, two scoreless innings in relief from Joe Blanton and a spotless ninth from Adam Lieberatore. The trio retired 19 Cubs in a row to end the game. A day after being one-hit, the Dodgers returned the favor.
"Whenever you can keep the team to zero runs, you're going to win most of the games," first baseman Adrian Gonzalez said. "So when our pitching staff does what they did today, I like our chances."
After Arrieta left the premises, the Dodgers (28-25) pounced on reliever Clayton Richard. Gonzalez capped a three-single flurry with a run-scoring hit to score Chase Utley. Howie Kendrick added a sacrifice fly. Corey Seager walloped a three-run homer off of Trevor Cahill as insurance in the ninth.
"That's why you play nine innings, 162 games," Roberts said. "Because you never know what's going to happen. You've got to go out there and lay it out there on the line. To beat Arrieta was a huge lift for us."
They didn't beat Arrieta, but they won the game he started, an accomplishment in itself. The Cubs had won 23 consecutive games started by their ace before Tuesday.
The afternoon started in distressing fashion for the Dodgers, with consequences that will extend beyond Tuesday. The team afforded Wood an extra three days of rest before he pitched on Monday. His elbow barked a day later, and the initial diagnosis was posterior elbow soreness.
Wood left the team to fly back to Los Angeles to undergo an MRI exam. He underwent Tommy John surgery in college.
To replace him the team recalled 19-year-old Julio Urias, who debuted over the weekend against the Mets in New York. Urias could either start Thursday against the Cubs or during the weekend at Dodger Stadium against Atlanta.
The club may be leaning toward sending Urias into the series finale at Wrigley. Maeda could use extra rest for his swollen hand. Roberts indicated the team would decide the pitching schedule by Wednesday.
Puig informed the training staff his hamstring declined to cooperate when he tried to loosen up before the game. So the Dodgers faced Arrieta without their starting right fielder.
Arrieta snatched the National League Cy Young Award away from Kershaw and Zack Greinke last season. He won the trophy after going 13-1 with an 0.77 earned-run average in the second half. He has not lost a decision since July 25, 2015. His dominance has not been interrupted thus far in 2016.
The only Dodger to reach second base in the first six innings was catcher Yasmani Grandal. He was stranded when Carl Crawford struck out on a curveball in the dirt. The ball bounced away from Montero, but Crawford did not notice. He walked toward his dugout as Montero jogged over to tag him out. Crawford stopped when he noticed Montero approaching and obliged the tag.
"He didn't know the catcher didn't catch it," Roberts said. "So he was a little confused."
Kazmir matched Arrieta with six scoreless innings of his own. He limited the Cubs to a walk in the first inning and a single in the third. He struck out seven.
Grandal complimented Kazmir for his pace. From Grandal's perspective behind the plate, Kazmir raced from pitch to pitch, finding a brisk rhythm that upset the timing of the Cubs.
"I was able to get ahead of guys," Kazmir said. "My changeup was working really well."
Kazmir departed for pinch-hitter Justin Turner in the top of the seventh. Arrieta walked three Dodgers in a row, loading the bases for Turner. Arrieta responded by striking him out with three fastballs to strand the runners.
But Arrieta's night was done, and the Dodgers' offense soon came alive. Gonzalez collected his second hit of the night to give his team the lead. An inning later, Seager destroyed a belt-high sinker from Cahill, the fourth Cubs pitcher.
Roberts' 44th birthday started with reasons for gloom. Two hurt pitchers. A moribund offense. Little hope against Arrieta. And still the Dodgers gave him reasons for cheer.
"I'm proud of the way Kaz went about it and competed," Roberts said. "And our offensive group, the way they competed and hung in there."
Follow Andy McCullough on Twitter: @McCulloughTimes
---
Get our Dodgers Dugout newsletter for insights, news and much more.
You may occasionally receive promotional content from the Los Angeles Times.