Kenta Maeda dominates the Cubs over seven innings in 2-1 win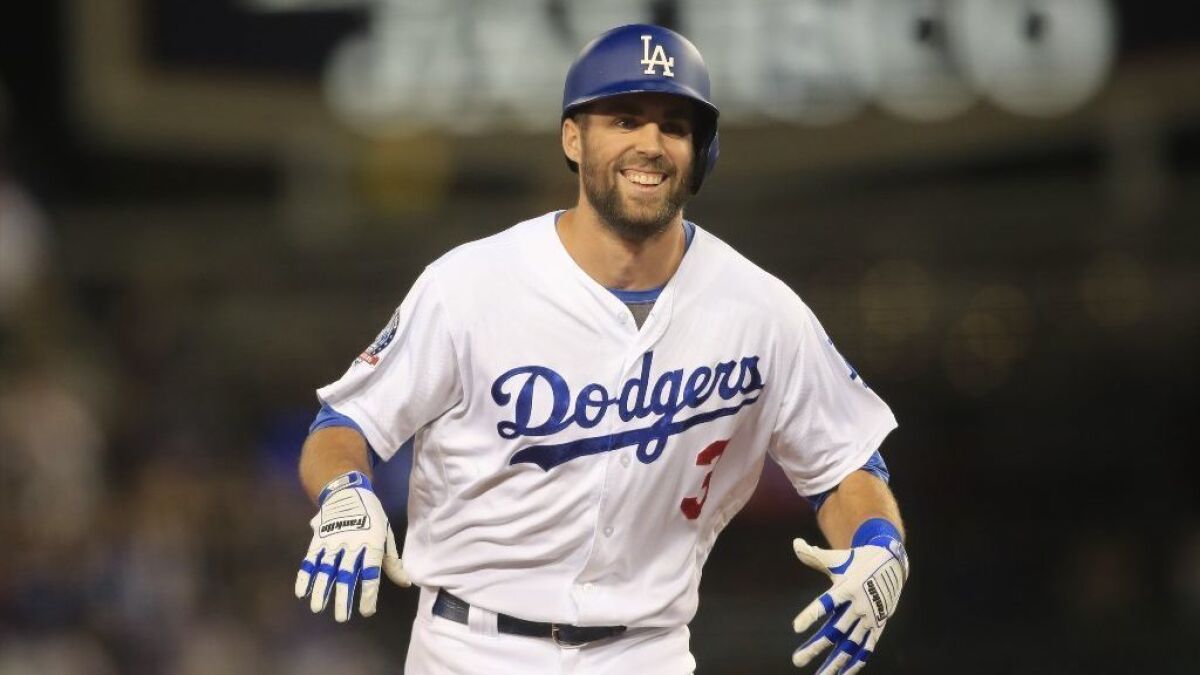 The booming bats of the Dodgers were relatively quiet Monday night, save for a home run by Enrique Hernandez to lead off the second inning and a pinch-hit home run by Chris Taylor to open the eighth. It was a good night for Dodgers pitchers to muzzle the bats of the Chicago Cubs.
Right-hander Kenta Maeda was brilliant, giving up three singles in seven scoreless innings, left-hander Scott Alexander escaped an eighth-inning jam, and Kenley Jansen survived some drama in the ninth to close out a 2-1 victory in front of 41,750 in Dodger Stadium.
Jansen gave up a one-out single to Ben Zobrist and balked Zobrist to second base. Anthony Rizzo singled, advancing Zobrist to third. Javier Baez's sacrifice fly to center field cut the lead to 2-1, but Jansen got Kyle Schwarber on a tapper in front of the plate to notch his 20th save.
The Dodgers have won four games in a row and 26 of 35 since May 17 to move to within 11/2 games of first-place Arizona in the National League West. The Cubs lost their fifth game in a row.
"We've been the last two teams standing at the end of the year in the National League the past two years, and it's for a reason," said Hernandez, the shortstop who, in addition to his homer, started a key double play to end the eighth.
"They're one of the better teams in this league, and when you play teams like that … you have to take your game to the next level. If you don't do things right, it's going to cost you."
Maeda (5-4) was at the top of his game, striking out nine batters, walking one and allowing one runner to reach second base. The right-hander, mixing a fastball that topped out at 93 mph with a slider, changeup and occasional slow curve, needed only 84 pitches to record 21 outs and lower his earned-run average to 3.44.
"He was synced up with his delivery, and he was executing pitches all night long," manager Dave Roberts said. "I thought he attacked the way that he needs to with his fastball. The changeup was really good and the slider was there when he needed it."
That didn't earn Maeda a chance to pitch the eighth inning. With a 1-0 lead, Roberts went to Alexander, who got into immediate trouble when he gave up singles to Ian Happ and pinch-hitter Willson Contreras.
Pinch-hitter Addison Russell grounded into a fielder's choice, Hernandez making a difficult catch on an in-between hop before flipping to second.
With runners on first and third, Albert Almora grounded to Hernandez, who threw to second baseman Max Muncy to start an inning-ending double play that ended with first baseman Cody Bellinger scooping Muncy's one-hop throw.
Hernandez jump-started the offense with his homer against right-hander Duane Underwood (0-1) in the second inning, his 13th of the season and third in two games.
"It's hard to get him out of the lineup now," Roberts said of Hernandez. "His defense has never been in question. He's always hit left-handed pitching, but the mechanical adjustment, the approach adjustment against right-handers, for me has been a game-changer.
"He's hitting good right-handers, he's hitting homers, he's going the other way when he needs to, he's staying away from the punch-out. ... On this run, [he] has been as valuable, if not more valuable, than anyone on our club, and those defensive plays he made in eighth inning were game-changers."
The Dodgers have hit a major league-high 48 home runs in 21 games in June, including seven solo shots in Sunday's 8-7 win over the New York Mets, a power surge that challenged the scouting acumen of Ross Stripling when the Dodgers right-hander was asked how he would pitch to his lineup right now.
"Man, that's a good question," said Stripling, who will start against the Cubs on Tuesday night. "It's all about limiting slug, right? We're living and dying by the home run. So with that, it would be no free passes, because a solo homer is less than a two- or three-run homer.
"After that, I would dive into, maybe, not where they hit for average, but where they hit for slug, and avoiding those hot spots. A guy may hit .100 against sliders, but all those hits are homers. Do you throw a slider because he's hitting .100, or do you risk giving up a home run?"
Compounding the challenge for opposing pitchers is that the homers have come organically, and not because the Dodgers are swinging for the fences. They have struck out 174 times and drawn 90 walks this month, including Matt Kemp's 12-pitch walk in the first inning Monday night. They entered Monday with a .341 on-base percentage this month.
"Each night we have six, seven, eight guys in our lineup who can hit a homer at any point in time," Roberts said. "When you have a teamwide approach where guys are taking their walks and swinging at strikes, there's slug. Guys are taking walks, and when they get an opportunity to capitalize on a mistake, they're hitting it for slug. That's kind of our formula."
Twitter: @MikeDiGiovanna
---
Get our Dodgers Dugout newsletter for insights, news and much more.
You may occasionally receive promotional content from the Los Angeles Times.