Rich Hill snaps out of early funk to lead Dodgers in win over Cubs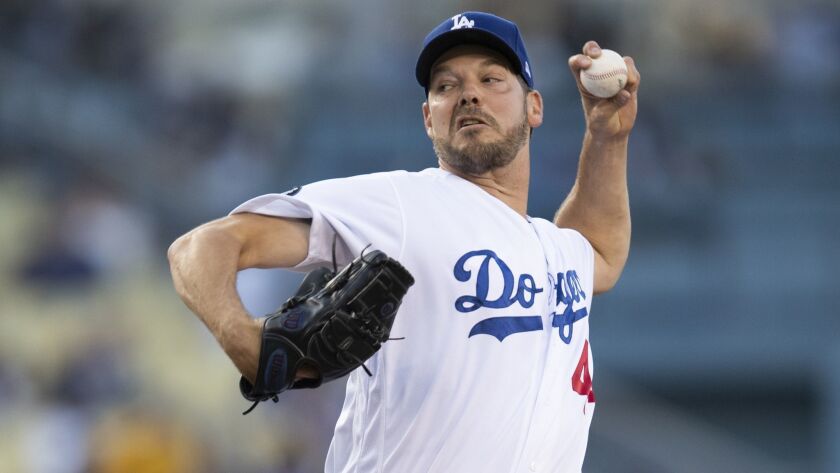 Dodgers first baseman Matt Beaty hit the first home run of his major league career, a two-run shot in the second inning, and third baseman Justin Turner hit career homer No. 100, a 430-foot solo blast in the third inning, on Friday night.
Neither hit nor run batted in played a starring role in a 5-3 victory over the Chicago Cubs.
That honor belonged to Rich Hill, the long-in-the-tooth left-hander who delivered the game-winning hit and RBI in the fourth inning of a 5-3 victory before a crowd of 46,631 in Dodger Stadium.
"I'll take any hits I can get," said Hill, who notched the 25th hit and 13th RBI of his career with an opposite-field single that left the bat at 62.1 mph. "I just stuck the bat out there and fortunately got a hit and we got a run out of it."
Hill, who at 39 is the oldest active pitcher in the major leagues, survived a rocky start to allow three runs on seven hits in seven innings, striking out seven and walking one. He extended a stretch of rotation brilliance in which the Dodgers have posted quality starts in 25 of 30 games and gone 20-3 with a 2.04 ERA and 198 strikeouts against 28 walks since May 10.
Fourteen batters in, Hill had allowed three runs on six hits — two of them home runs and four that left Cubs bats at 104 mph or faster — while recording eight outs. Then he started locating and changing the shape of his slow curve, and he retired 11 in a row and 13 of the last 14 batters he faced.
Pedro Baez threw a scoreless eighth and closer Kenley Jansen pitched around Beaty's two-base error in the ninth, striking out three to extend his scoreless streak to 101/3 innings over 10 games and earn his 20th save.
The teams were tied 3-3 through three innings with all six runs scoring on homers — Hill allowed Anthony Rizzo's two-run shot in the first and Kris Bryant's solo shot in the third, and Cubs starter Kyle Hendricks allowed Beaty's two-run shot in the second and Turner's solo shot in the third.
This was no surprise. Hitters are on pace to break the major league record of 6,105 homers set in 2017, and the Cubs (112 homers) and Dodgers (110) rank second and third, respectively, in the National League behind Milwaukee in homers.
But the Dodgers scored the tiebreaking run in the fourth and an insurance run in the fifth without hitting the ball out of the park.
Beaty doubled to left-center field with one out in the fourth and scored when Hill — whose at-bats, according to teammate Max Muncy said, are among "the most entertaining in baseball" — slapped a changeup into left field for a two-out single and a 4-3 lead.
Hill's first RBI of the season snapped a Dodgers' streak of 13 runs scored via the homer and made the 39-year-old the oldest Dodgers pitcher to drive in a run since 42-year-old Greg Maddux in 2008.
"There's a lot of compete," Dodgers manager Dave Roberts said when asked to describe Hill's skill set as a hitter. "He's a good trier at the plate. So we'll leave it at that. Tonight he got enough of the bat."
Roberts was asked if seeing a clutch hit from Hill is like finding a $20 bill on the ground.
"More like a $100 bill," he said.
Asked if it was his first game-winning RBI, Hill, a career .106 hitter, said, "I don't know. I'm not 100% sure. You'd have to go back to the 1920s and 1930s."
Alex Verdugo opened the fifth with a single to right and took third on Cody Bellinger's one-out single to right. Muncy smashed a hard grounder to first base. Rizzo looked Verdugo back at third before firing to second for a forceout.
Verdugo broke for home as Rizzo threw to second. Cubs shortstop Javier Baez threw home, but Verdugo got his foot into the plate before catcher Willson Contreras' tag for a 5-3 lead.
The Dodgers nearly blew the game open in the seventh when Chicago reliever Mike Montgomery walked three batters to load the bases with two outs.
Chris Taylor sent a drive to deep center, where Albert Almora made a leaping catch near the top of the wall. The ball did not appear high enough to clear the wall, but Almora saved three runs.
The Cubs took a 2-0 lead in the first on Rizzo's two-run homer to right that barely cleared the glove of Bellinger, who attempted to make a leaping catch above the short wall.
The two-run cushion was gone by the second. Muncy doubled to right center and Beaty cranked an 80-mph changeup into the right-center field pavilion for a two-run homer and a 2-2 tie.
Chicago went ahead 3-2 in the third when Bryant smashed a solo homer 425 feet into the left-center field pavilion.
The Dodgers response? Anything you can do, I can do better. Or farther. Turner crushed a two-out solo homer in the bottom of the third into almost the exact same spot in left-center, only his score-tying shot traveled 430 feet.
Sign up for our daily sports newsletter »
---
Get our Dodgers Dugout newsletter for insights, news and much more.
You may occasionally receive promotional content from the Los Angeles Times.