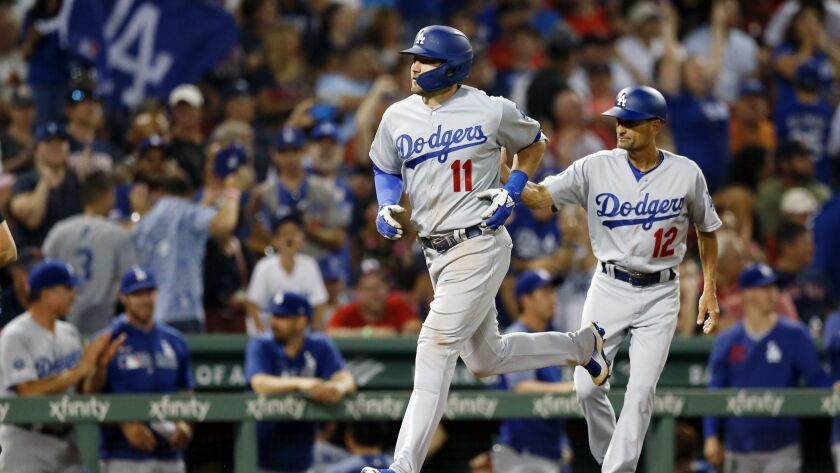 Reporting from BOSTON —
The best left-handed pitcher east of the Mississippi since the start of the decade walked off the mound Saturday with his head down. Boos from the home crowd initially rained before a merciful chorus of applause and cheers drowned them out. There were two out in the fifth inning at Fenway Park, and the Boston Red Sox ace's outing was over.
The Dodgers' recent offensive slump, which propelled their four-game losing streak, had been pronounced against left-handed pitching. Snapping out of it so emphatically against Chris Sale (3-9), even as he wades through a relatively disappointing season, seemed improbable. But the Dodgers knocked Sale around in an 11-2 win to halt their skid.
"It's a matter of time," Dodgers manager Dave Roberts said. "We're too good."
Fair or not, this weekend's series — along with every other one against premier American League competition this season, including next month's encounter with the New York Yankees — was slated for use as fodder to measure the Dodgers' standing among the elite. Yes, they have been, by far, the best team in the National League, and four-game, midseason blips are not sufficient sample sizes. But the consensus is the AL features more top-tier clubs. Boston's convincing five-game triumph over the Dodgers in the World Series in October only stoked the widespread opinion.
"I think it's fun to debate and to see a team that you don't see very often," Roberts said before the game. "And, obviously, that's a team that we lost to in the World Series. But we know the talent that we have, and if there is an opportunity to go through Boston or New York down the road, I don't think that we're too concerned about that right now."
The Dodgers, Roberts added, just needed to win against anybody from any league. They hadn't won a game since the Fourth of July. They began their march to a victory Saturday immediately with Ross Stripling on the mound.
The right-hander recorded his best outing since returning to the starting rotation last month, allowing one run, striking out seven and walking none over five innings against an offense averaging eight runs per game over the last two weeks. The only costly mistake he made was the fastball Xander Bogaerts drove over the Green Monster in the fourth inning.
"I felt like I threw the ball well the last few starts and just didn't have much to show for it," Stripling said. "I definitely had kind of everything firing today and felt like, with the mix, I was able to keep them off balance a bit."
Joe Kelly relieved Stripling (4-3) in the sixth inning to make his first appearance against his former club since signing with the Dodgers. He ignited a familiar blaze — this one was sparked by two hits, a walk, an error, a 99-mph wild pitch and a couple of broken bats — but extinguished it with a strikeout of Christian Vazquez on a 3-and-2 fastball to strand two runners and limit the Red Sox to one run. Julio Urias recorded two perfect innings before JT Chargois secured the final outs to give Los Angeles its first win at this New England relic since June 2004, ending a seven-game losing streak.
Justin Turner, Cody Bellinger, A.J. Pollock and Max Muncy each supplied a solo home run. Turner slugged his homer off Sale in the third inning. Bellinger and Pollock went back-to-back against Steven Wright in the Dodgers' four-run seventh.
Bellinger, celebrating his 24th birthday, hit a 433-foot blast for his 31st this season. Pollock, playing in his second game since coming off the injured list, hit his just over the Green Monster, his first homer since April 17. Muncy's missile to straightaway center field capped off the scoring in the ninth inning as the Dodgers tallied their first double-digit scoring output outside of Denver's thin air since May 26.
But it was Bellinger's two-out infield hit in the first inning, Roberts insisted, that changed the game's trajectory. The combination of speed and hustle brought Pollock to the plate with two runners on base. He lined an RBI single to initiate the scoring.
Sign up for our Dodgers newsletter »
"What he can do, capability-wise, and then the effort, is something that obviously feeds throughout our clubhouse," Roberts said of Bellinger.
The Dodgers completed their work against Sale in the fifth. Enrique Hernandez singled and Austin Barnes was hit by a pitch to begin the inning. Two batters later, Turner smacked a line drive down the left-field line to score Hernandez. David Freese followed with another double to drive in two more.
Sale got Bellinger to fly out before he was removed. He surrendered the five runs on seven hits and threw 92 pitches across 4 2/3 innings. It was his shortest outing since April 9 and the first time the Dodgers chased a starting pitcher before he logged five innings since July 2. The Red Sox, grasping for answers, would use six relievers, emptying out their bullpen without success to combat an offense that again resembled the relentless machine that has terrorized pitchers for much of the season.
Twitter: @jorgecastillo
---