Dodgers return from Down Under with a few nagging concerns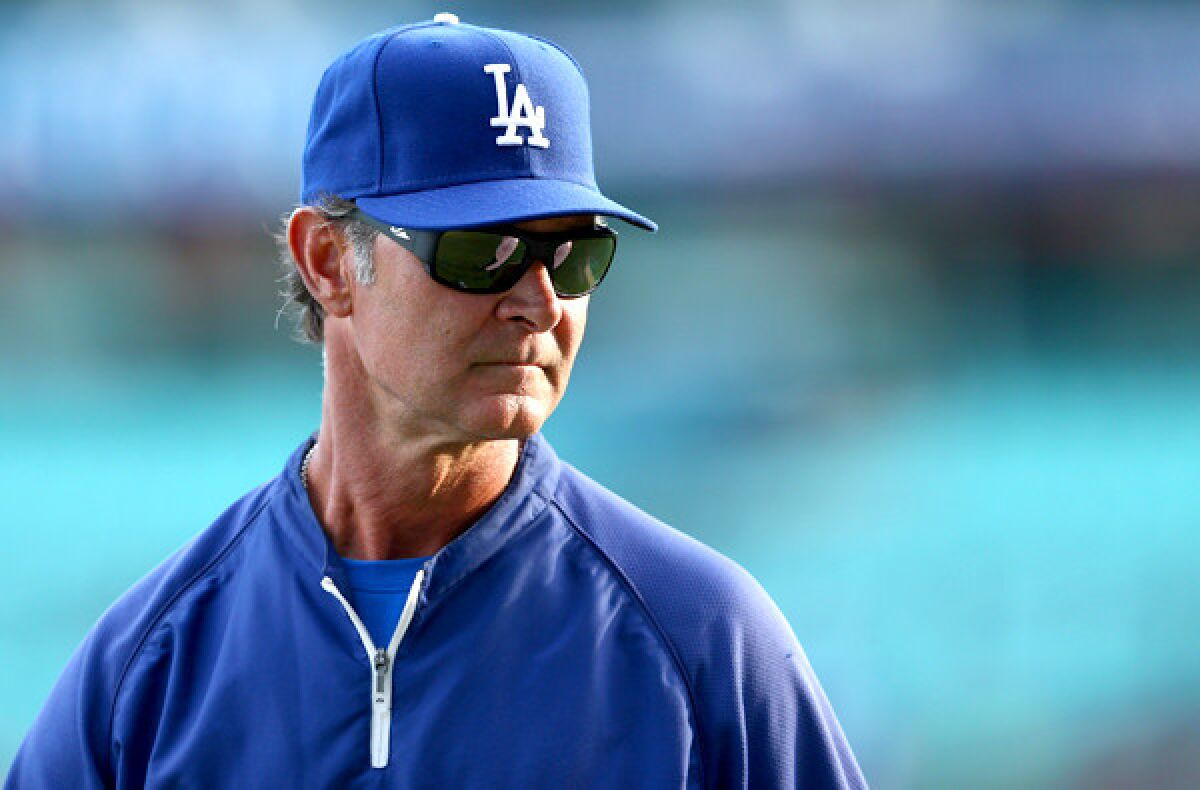 SYDNEY, Australia — The Dodgers won their two games in Australia. Now comes the fallout.
When they departed Australia on Sunday, Hyun-Jin Ryu had a loose toenail and Yasiel Puig a tight back.
While Ryu's problem could force the Dodgers to make short-term changes to the rotation — Ryu said it wouldn't — Puig's pointed to a larger issue, in particular because Manager Don Mattingly sounded as if he didn't completely believe what Puig told the team's trainers.
Puig had to be removed in the ninth inning of the Dodgers' 7-5 victory over the Arizona Diamondbacks in the second game of their two-game, season-opening series. Asked what was wrong with Puig, Mattingly said, "I guess his back."
Mattingly continued, "Shoulder yesterday, back today, so I'm not sure if we're going to get him tests or get him to the MRI on Monday or Tuesday or bone scan Tuesday. I'm not quite sure what we'll do."
If Mattingly was exasperated, it's probably because this was nothing new. Dating to last season, it's been suspected the attention-seeking Puig overdramatizes minor discomforts.
Coincidentally, Mattingly touched on the subject before the game. When Mattingly talked about it then, he did so with a sense of amusement.
"He seems to grab something every time he takes a swing and misses," Mattingly said with a laugh. "At this point, it's like the little boy that cried wolf. At some point, you don't really ever think he's hurt. So one of these days he's going to be hurt and we won't know."
Puig was unavailable for comment.
Whatever the reality, the Dodgers have a problem. If Mattingly's implied suspicions are correct, Puig isn't nearly as tough as the manager would like him to be. The alternative is even worse: Puig is injured.
For Mattingly, there were other annoyances.
His team was leading, 7-0, through seven innings, only to let the Diamondbacks back into the game.
Puig ran into a couple of outs. Second baseman Dee Gordon made an error in the fourth inning. An apparent miscommunication between shortstop Hanley Ramirez and Gordon later in the inning cost them a double play. Relievers Chris Withrow, Paco Rodriguez, Jamey Wright, J.P. Howell and Jose Dominguez combined to walk seven batters over the last four innings.
"We don't play like this and win," Mattingly said. "We may win or get to the playoffs or whatever, but you don't win like this. It's a frustrating game."
The Dodgers will look to attempt to remedy these issues before they start the domestic portion of their season in San Diego on March 30. They'll have to do this as they reacclimate their bodies to a time zone that is 18 hours behind where they spent the previous week.
The Dodgers landed in Los Angeles on Sunday afternoon but won't resume working out until Tuesday. They will play an intrasquad game Wednesday and face the Angels in exhibition games from Thursday to Saturday.
Mattingly is concerned of how the Dodgers will have to play exhibition games after already having started their regular season. He fears his players will let down, which could result in bad habits.
Mattingly was a coach with the New York Yankees in 2004, when the team started its regular season in Japan. Those Yankees lost 10 of the first 17 regular-season games they played on North American soil.
Nonetheless, Mattingly said the trip to Australia was worth taking.
"It's something you don't really forget," he said.
Also, there were some positive developments in Australia, starting with Puig's turnaround at the plate. Puig, who hit .122 in spring training, struck out three times in five hitless at-bats in the first game of the series. He returned the next day to collect three hits, including a double, and drive in two runs.
Gordon started the second game at second base and was three for four with a double and two runs scored.
The starting pitchers did what was expected of them, with Clayton Kershaw limiting the Diamondbacks to one run over 62/3 innings in the first game and Ryu tossing five shutout innings in the second.
Twitter: @dylanohernandez
Get our Dodgers Dugout newsletter for insights, news and much more.
You may occasionally receive promotional content from the Los Angeles Times.