J.D. Martinez hits four homers as the Diamondbacks rout the Dodgers, 13-0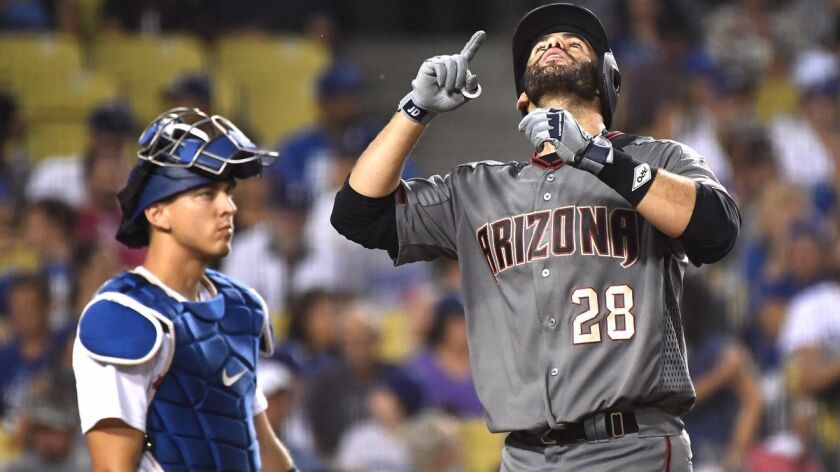 So let's say the Dodgers win the National League West. They will, right?
And let's say the Arizona Diamondbacks win the NL wild-card game, behind Zack Greinke.
That would set up a five-game division series between the Dodgers and Diamondbacks, with Arizona set up to deploy Robbie Ray twice in the series. He'd start Game 1 and, yeah, that World Series might look pretty distant for the Dodgers.
Ray took a perfect game into the sixth inning and struck out 14 in 7 2/3 shutout innings Monday, and the Diamondbacks rode him to a 13-0 rout. He joined Clayton Kershaw and Sandy Koufax as the only pitchers to strike out 14 and walk none in a game at Dodger Stadium.
That wasn't even the most historic element of Monday's Dodgers debacle. J.D. Martinez tied the major league record by hitting four home runs in a game, joining Scooter Gennett of the Cincinnati Reds this season and becoming the 18th player in MLB history to do so.
"We got our butts kicked, all around," Dodgers manager Dave Roberts said.
Martinez, the most impactful of any trade deadline acquisition this season, has 18 home runs in 40 games since the Diamondbacks acquired him from the Detroit Tigers, and 34 for the season, in only 395 plate appearances.
Ray has made five starts against the Dodgers this season, striking out at least 10 in four of them. He is 3-0 with a 2.27 earned-run average in those starts, with 53 strikeouts in 31 2/3 innings.
No pitcher has struck out so many Dodgers in a season in 109 years. Ray became the first pitcher in major league history to put up four 10-strikeout games against the Dodgers in the same season.
Dodgers, meet Game 1.
"You've just to go out there and compete," Manager Dave Roberts said. "That's why you play the game. If that weren't the case, then we would already book a loss in the column if we face him again."
He added: "This guy is an elite pitcher in all of baseball. He has our number. If we do get that opportunity, yeah, we're going to compete our tails off."
Ray, who had not driven in a run all season, singled home two runs in the seventh inning, when the Diamondbacks collected six consecutive hits to turn the game into a laugher.
Arizona extended its winning streak to 11 games. The Diamondbacks have not trailed in their last 88 innings.
"They're playing really well," Roberts said. "Us, not so well."
The Dodgers lost for the ninth time in 10 games. In the last 10 days, they have lost 8½ games of their NL West lead, which has shrunk to 12½ games over Arizona.
"We're in a little bit of a rut," Dodgers starter Rich Hill said.
Hill matched Ray in the no-hit department through the first three innings. Then again, as Hill found out in Pittsburgh a couple weeks ago, even nine no-hit innings might not get you a win the way the Dodgers are playing these days.
Martinez hit a two-run homer off Hill in the fourth, a solo shot off Pedro Baez in the seventh, a solo shot off Josh Fields in the eighth, and a two-run shot off Wilmer Font in the ninth.
And he is the right-handed bat the Diamondbacks can use to complement MVP candidate Paul Goldschmidt against the left-handers the Dodgers figure to start in October: Clayton Kershaw, Hill and Alex Wood.
Position players were scarce in the home clubhouse after the game, leaving Hill to field the question of how the Dodgers would be able to beat Ray in October when he has beaten up on them all season.
"I can't really speak to that right now," Hill said. "It's still too early. He did a great job tonight."
Hill did too, giving up two hits and striking out nine in six innings. Baez did not, giving up four hits without getting an out. He was booed off the mound, loudly, and his spot as a late-inning reliever could soon be taken by Walker Buehler.
Buehler arrives Wednesday. The next pitch he makes in the major leagues will be his first.
Follow Bill Shaikin on Twitter @BillShaikin
---
Get our high school sports newsletter
Prep Rally is devoted to the SoCal high school sports experience, bringing you scores, stories and a behind-the-scenes look at what makes prep sports so popular.
You may occasionally receive promotional content from the Los Angeles Times.