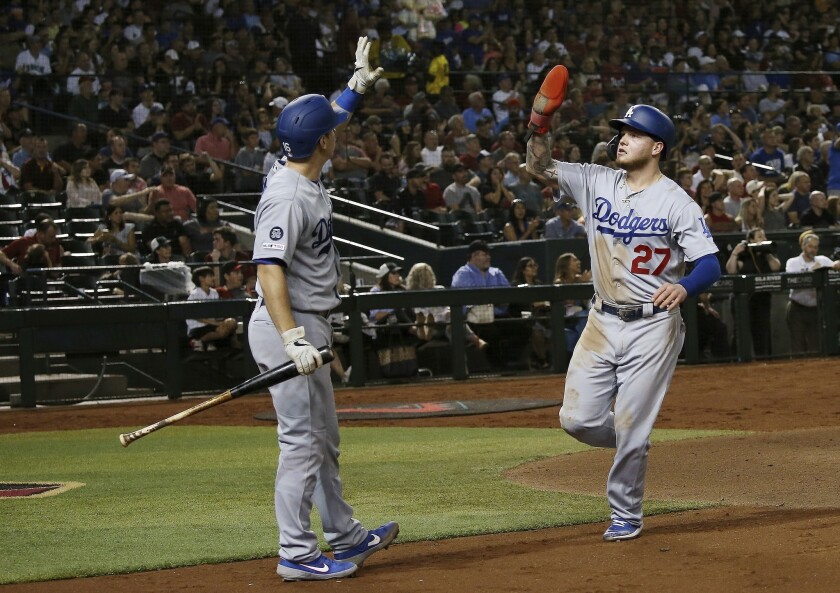 Reporting from PHOENIX —
For three months, the Dodgers have plowed through their competition, constructing a double-digit lead in the National League West with the best record in the majors before Tuesday. They've done it with an elite starting rotation and a relentless offense despite an average bullpen that constitutes a prominent flaw in context. They did not do it with the team that took the diamond for their 3-2 victory over the Arizona Diamondbacks on Tuesday night at Chase Field.
The lineup Dodgers manager Dave Roberts fielded featured three rookies who have spent the bulk of the season at triple-A Oklahoma City, a catcher making his season debut at second base and a .214 hitter in the leadoff spot. It did not include Cody Bellinger, Max Muncy or Joc Pederson, the club's three leading sluggers, or the injured Corey Seager and David Freese.
"I think we have the strongest bench in baseball tonight," Roberts said.
Those luxuries exist for a club with a 13-game division lead in late June.
Ross Stripling got his first start in two months in what amounted to a bullpen game. Four relievers pitched six scoreless innings and afforded the lineup's few regulars enough leeway to peck away at Robbie Ray, a nemesis they've often failed to defeat. The Dodgers concluded the first half of the 162-game season with the best record in the NL by 7 1/2 games.
"We're checking off all the boxes," third baseman Justin Turner said, "and we're not content."
After Stripling gave up two runs in three innings in his first start since April 25, Joe Kelly entered the game with the Dodgers trailing 2-1 and completed his fifth 1-2-3 inning this season despite dropping a foul popup for an error. Julio Urias followed with three innings on 40 pitches to keep a 0.00 ERA over his last 15 2/3 innings. Pedro Baez, the Dodgers' most reliable reliever, recorded a perfect eighth inning before Kenley Jansen was summoned to shut the door one night after Dylan Floro gave up four runs to break open a tie score in Monday's defeat.
"Every part of the team is going great and one part is not, yeah, it's fair to kind of criticize," Jansen said. "But I take it as a positive. It's going to keep making me push to get better because at the end of the day all we try to do is just try to bring back a championship back to this organization."
Jansen had just finished the game when a familiar scene played out as the Dodgers were celebrating their victory. A young boy ran out onto the field, to center field, where the Dodgers' outfielders were convened. He was tackled before he reached the players and escorted off the field. That marks the third consecutive game in which a spectator ran onto the field to approach a Dodgers player. This time, however, Bellinger wasn't the target.
"It's getting ridiculous," Turner said. "It's just not safe and it seems like they're getting younger and younger and it's going around now that nothing's happening to these young kids. They just kind of get a slap on the wrist. So baseball's going to have to do something to make it hurt enough to keep fans in the stands and not running out on the field."
Sign up for our Dodgers newsletter »
Enrique Hernandez, the .214 hitter in the leadoff spot, opened the game with a home run. Ray (5-5) then limited the damage, stifling the Dodgers until the sixth inning.
First, Turner pounced on a first-pitch curveball, hitting it on a line to the seats beyond the left-field wall for his first home run in 11 days and second since May 11. Two batters later, after Alex Verdugo, the fourth rookie in the lineup, hit a double, Chris Taylor followed with a double to give the Dodgers a lead that was bridged to Jansen.
The right-hander emerged throwing as hard as he has this season, beginning his outing by striking out Christian Walker with a 95-mph cutter.
"As far as Kenley's stuff," Roberts said, "ball out of hand was as good as I've seen it in a while."
Jarrod Dyson flied out and Nick Ahmed was down to the Diamondbacks' last strike when he singled to right field.
A nine-pitch battle between Jansen and Carson Kelly ensued. The final pitch, a slider, bounced in front of the plate. Kelly hit it on the ricochet. The dribbler traveled a few feet, where catcher Will Smith corralled it and fired to first base to seal Jansen's 23rd save and a rebound for the bullpen.
"We just continue battling," Jansen said. "Keep taking the criticism and use it as motivation. We all know at the end of the day, it's going to be those 11 wins that we try to get at the end of October. That's the most important part."
Twitter: @jorgecastillo
---