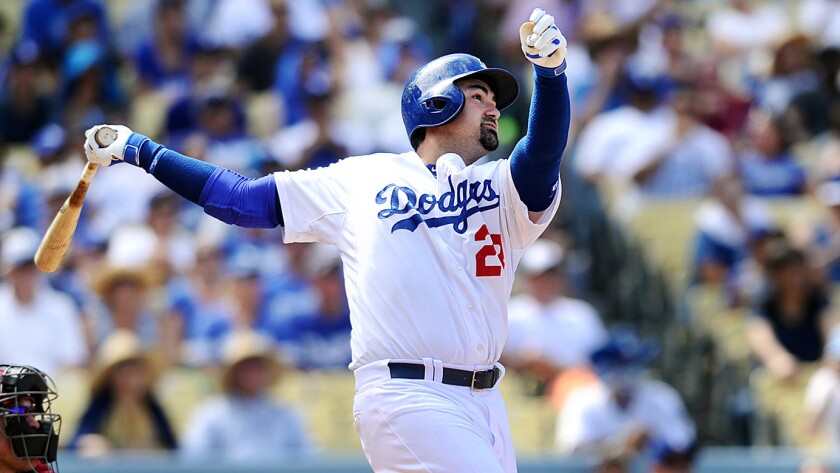 KEY MOMENT: Arizona starter Trevor Cahill took a no-hitter into the sixth inning, with a 2-0 lead. He got the first out, then lost the no-hitter, shutout and lead within a span of three batters — a double by Dee Gordon, a walk to Hanley Ramirez and a home run by Adrian Gonzalez.
AT THE PLATE: Gonzalez hit two home runs and tied his career high by driving in six runs. He has had six RBIs twice — once against the Dodgers, and now once for the Dodgers. Gonzalez against Arizona this season: .413 with seven home runs and 25 RBIs in 19 games. Gonzalez against the rest of the league: .262 with 15 home runs and 75 RBIs in 124 games.
ON THE MOUND: Zack Greinke (14-8) gave up two runs in six innings for the victory. The Dodgers turned to rookie Carlos Frias to protect a one-run lead in the seventh inning, and Frias responded with two perfect innings. "We've been kind of searching to clean those innings up," said Manager Don Mattingly. Frias, making his case for a postseason roster spot, has a 3.63 earned-run average in 10 games, with three walks and 16 strikeouts in 22 innings.
PUIG DOWN: The Dodgers dropped Yasiel Puig to seventh in the lineup, the first time he has started a game so low in the batting order. "Who do you want the extra at-bat going to?" Mattingly said. "Right now, it's not necessarily Yasiel." Puig has not hit a home run since July 31, a span of 113 at-bats. He is batting .204 since then, with a .230 slugging percentage. He had two at-bats Sunday and failed to get the ball out of the infield.
PEDERSON SUBS FOR PUIG: As the Dodgers took the field for the seventh inning, with a one-run lead, Mattingly removed Puig from center field in favor of rookie Joc Pederson, whom the manager has said is the best defensive center fielder in the organization. Pederson struck out as a pinch-hitter with the bases loaded, then lined out in his other at-bat. In 14 at-bats, he has two hits and seven strikeouts.
UP NEXT: The Dodgers' Clayton Kershaw (17-3, 1.70 ERA) faces the Padres' Odrisamer Despaigne (3-5, 3.06) on Monday at 7 p.m. at Dodger Stadium. TV: SportsNet LA. Radio: 570, 1020.
---