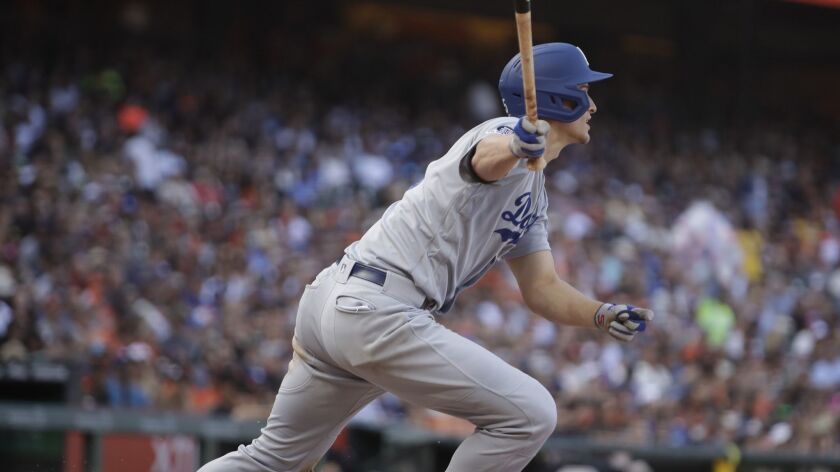 Hi, and welcome to another edition of Dodgers Dugout. My name is Houston Mitchell I'm getting my arm in shape in case I am needed in September.
Who goes down?
The Dodgers are going to get three players back pretty quickly now. David Freese is expected to be back this weekend, perhaps Friday, and Corey Seager and A.J. Pollock are both scheduled back right after the All-Star break.
Of course, when you activate three players you have to send three players down to the minors, or put them on the IL, so what will the Dodgers do? What should they do?
Let's look at the roster as of Thursday:
Position players (12)
Austin Barnes
Matt Beaty
Cody Bellinger
Kyle Garlick
Kiké Hernandez
Russell Martin
Max Muncy
Joc Pederson
Edwin Rios
Chris Taylor
Justin Turner
Alex Verdugo
Pitchers (13)
Pedro Baez
Walker Buehler
JT Chargois
Dylan Floro
Yimi Garcia
Kenley Jansen
Joe Kelly
Clayton Kershaw
Kenta Maeda
Zac Rosscup
Hyun-Jin Ryu
Ross Stripling
Julio Urias
So, who do you get rid of? The easy solution is to send Beaty, Garlick and Rios down. I would expect Rios to be sent down when Freese is activated.
The intriguing duo here is Beaty and Garlick. Garlick is hitting .258/.324/.516/117 OPS+, though it is admittedly an extremely small sample size of 34 plate appearances. He's 27, which is well past "prospect" stage and moving into "suspect" area, so the odds are he goes when Pollock returns.
It's also likely that the Dodgers will send Beaty down when Seager is back. But I like Beaty. He's not going to be a superstar by any means, but he delivers quality at-bats.
He is hitting .287/.308/.416/89 OPS+ in 104 plate appearances, with seven doubles, two homers and 16 RBIs. He is hitting .310/.333/.460/110 OPS+ against right-handers and provides the Dodgers with a quality left-handed bat off the bench (he's hitting .400 as a pinch-hitter). The Dodgers don't really have a good lefty off the bench, and even if Pederson spends more time on the bench when everyone comes back, he has hit .159 as a pinch-hitter in 101 plate appearances. Yikes.
If it were me, I'd keep Beaty and send either Rosscup or Chargois down, my theory being that neither of those guys is an improvement over whoever is pitching at the time anyway, so why have them? I mean, when you get outpitched by Russell Martin, perhaps it's a sign. Of course, I have always thought an eight-man bullpen is overkill, but then again I haven't guided the Dodgers to any World Series appearances.
Of course, now that I have written this, Beaty will go 0 for 12 and the decision will be made easy.
And, no, I'm not even going to get started on Austin Barnes. Except to say some games the Dodgers play with basically a seven-man lineup.
All-Star break
Since this is the last newsletter before the All-Star break, let's take a look at the best Dodgers never to make an All-Star team.
Batters
1. Wes Parker (1964-72), 22.9 WAR
2. Willie Crawford (1964-75), 19.8
3. Steve Yeager (1972-85), 17.9
4. Joe Ferguson (1970-76, 78-81), 14.2
5. Eric Karros (1991-2002), 11.9
6. Chris Taylor (2016-current), 10.0
7. Kirk Gibson (1988-90), 9.8
8. Gene Hermanski (1943-51), 9.7
9. Casey Blake (2008-11), 9.2
10. James Loney (2006-12), 8.7
Pitchers
1. Ismael Valdez (1994-2000), 19.1
2. Pedro Astacio (1992-97), 15.5
3. Luke Hamlin (1937-41), 15.0
4. Ron Perranoski (1961-67, 1972), 14.8
5. Tom Candiotti (1992-97), 14.6
6. Tim Belcher (1987-91), 13.2
7. Hugh Casey (1939-48), 12.9
8. Alejandro Pena (1981-89), 12.8
9. Doug Rau (1972-79), 12.7
10. Freddie Fitzsimmons (1937-43), 11.2.
And which Dodgers had the best season in a year they didn't make the All-Star team?
Batters
1. Kirk Gibson, 1988, 6.5
2. Willie Crawford, 1973, 5.3
3. Wes Parker, 1970, 5.2
4. Joe Ferguson, 1973, 5.0
5. Len Koenecke, 1934, 5.0
6. Chris Taylor, 2017, 4.8
7. Casey Blake, 2009, 4.6
8. Kal Daniels, 1990, 4.3
9. Sam Leslie, 1934, 4.3
10. Max Muncy, 2018, 4.3
Pitchers
1. Ismael Valdez, 1997, 5.3
2. Hugh Casey, 1939, 5.3
3. Ed Brandt, 1936, 5.2
4. Alejandro Pena, 1984, 5.0
5. Tom Candiotti, 1993, 4.9
6. Roger Craig, 1959, 4.9
7. Luke Hamlin, 1939, 4.9
8. Ismael Valdez, 1996, 4.7
9. Pedro Astacio, 1996, 4.6
10. Ron Perranoski, 1963, 4.5
Ask Ross Porter
Ross Porter will once again answer reader questions this season. All you have to do is email me your question at houston.mitchell@latimes.com. I will forward the email to Ross, and he will answer some each week. Take it away, Ross.
Marty Miller of Encino asks: The Dodgers won 55 games in the first half of this season. Where does that place them in team history?
Ross: In 1952, the Brooklyn Dodgers won 59; the 1942 and 1955 clubs had 58; the 1974 squad 56; the 1941, 1977, and this year's team 55. Of those seven, the 2019 Dodgers hit the most home runs in a first half--104. Source: baseball-reference
Doug Brown of Thousand Oaks asks: Ross, What made Maury Wills such a great base stealer?
Ross: Doug, let's hear from Maury. "In running bases, there are no straight lines. You don't have to have blinding speed. What's most important is knowing how to get a good lead and good jump on the pitcher. Speed is simply overrated. Know all the pitchers and their moves. I knew their mannerisms thoroughly, watching a pitcher for at least 15 minutes as he took his warmup tosses. Fear of failure has to be eliminated. A good base stealer must force himself to be aggressive. Slowing down before a slide is fatal. I never slid into a base touching more than the outside corner. I would always hurl my body low to the ground to the outfield side of second base. A fastball is usually not a stealing pitch. A good stealing count is 2-and-1 or 3-and-1. Whenever I was picked off by the pitcher, it was important that the next time I got on base, I try to steal immediately. The toughest pitcher for me to run against was Warren Spahn because his moves were so deceptive."
Ross: Surprisingly, Maury, now 86, ranks only 20th on the all-time stolen base list with 586. His 490 as a Dodger is a team record. Maury was successful on 74% of his attempts and should be in the Hall of Fame because he revolutionized base stealing.
Andrew Hernandez of Monterey Park asks: Of all the father-son combinations to play in the majors, which set do you consider the best, and how many have played?
Ross: I would say Bobby and Barry Bonds. Between them they slugged the most home runs, 1,094. Cecil and Prince Fielder each hit 50 homers in a season. The Bagbys, Borbons, and Stottlemyres went to World Series. There have been 237 father-son combos, and of those, 14 fathers are in the Hall of Fame and two sons--Alomar and Griffey.
David Friend of San Anselmo asks: When did infielders stop leaving their gloves on the field during their offensive half of the inning?
Ross: In 1954, a rule went into effect prohibiting It. A glove might affect a batted ball and also cause an injury to fielders on the other team.
You can follow Ross on Twitter: @therossporter
Up next
All times Pacific
Tonight: San Diego (TBA) at Dodgers (*Clayton Kershaw), 7 p.m.
Saturday: San Diego (TBA) at Dodgers (TBA), 7 p.m.
Sunday: San Diego (TBA) at Dodgers (TBA), 1 p.m.
*-left-handed
And finally
Fernando Valenzuela throws a no-hitter. Watch it here.
Have a comment or something you'd like to see in a future Dodgers newsletter? Email me and follow me on Twitter: @latimeshouston.
---