Dodgers Dugout: Who will replace Brett Anderson, and why won't it be Julio Urias?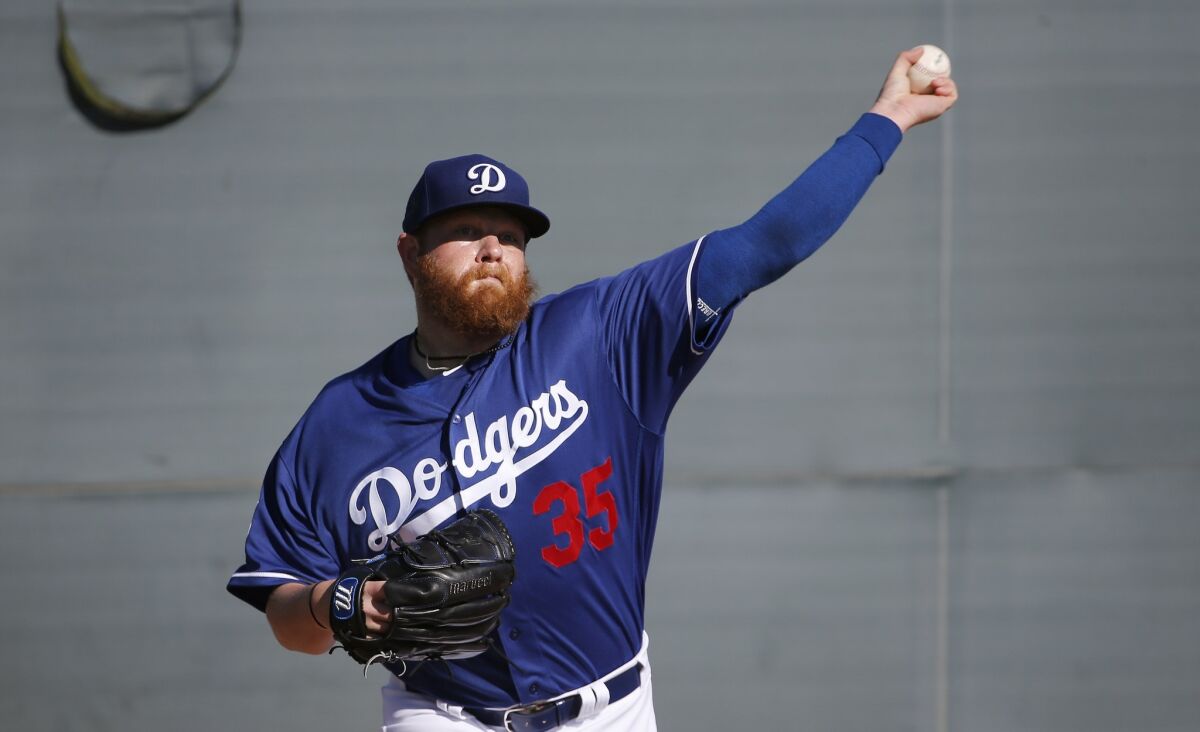 Hi, and welcome to another edition of Dodgers Dugout. My name is Houston Mitchell, and I'm happy there's baseball being played again, even if it is only exhibition games.
Ouch, my back!
Remember how the Dodgers gave pitcher Brett Anderson a $15.8-million qualifying offer so they could get a draft pick when he signed somewhere else? And remember how Anderson surprised some by accepting the offer and coming back to the Dodgers, believing he could make even more money after he put together a strong 2016 season and proving concerns about his durability were a thing of the past?
Then, remember how Anderson said at spring training this year that he had been working on his core, thinking it would prevent a relapse of his old back injuries?
Well, forget all that.
A couple of days ago, Anderson had some minor back pain that he thought would subside. Not quite. On Thursday, the Dodgers announced that Anderson would be undergoing back surgery for a bulging disk, and will probably be out until August or September.
"I was shocked because, in talking to him two days ago and yesterday, he thought it was a couple-of-days thing that would subside," Manager Dave Roberts told Times reporter Mike DiGiovanna on Thursday. "We didn't expect our depth to be challenged so early, but you can't plan for everything in baseball."
Here's a list of Anderson's injuries since his major league career began in 2009:
--Elbow ligament-replacement surgery
--A stress fracture in his right foot
--A broken finger
--Back surgery in 2014
--Back surgery in 2016.
And he's only 28.
Who replaces him?
With Anderson out, it pretty much opens up the No. 4 spot in the rotation for Alex Wood, and the No. 5 spot will come down to Mike Bolsinger, Brandon Beachy and Carlos Frias. Long shots are Ross Stripling and Jose DeLeon. Whoever pitches best among the first three on the list in spring training will get the job.
If I had to make a decision today, I would go with Bolsinger, but there's still plenty of time left for Roberts to decide. Plus, Hyun-Jin Ryu is due back in May, so he will grab the No. 5 spot at that time.
What about Julio?
You don't see Julio Urias' name as a candidate for the rotation, because the Dodgers are going to be very cautious about how much he pitches. Urias is only 19, and pitched only 80 innings last year and 87 the year before that.
Mindful he is now the age of a pitcher who was drafted out of high school, General Manager Farhan Zaidi told Dylan Hernandez of The Times that Urias will "definitely" pitch more than 100 innings this year.
"His innings are clearly going to be trending upwards for the next couple of seasons as we try to build him up to a full workload," Zaidi said.
So don't look for Urias to join the rotation any time this season. Is it a smart move by the Dodgers? I think in this case, yes. Urias came to the Dodgers when he was 16, and the years from ages 16 to 20 are very important in building up arm strength. It's not easy to throw 200-plus innings a year, especially when your body is maturing into adulthood. Don't ruin what could be eight years (or more) of great pitching from Urias for a quick fix to the rotation now. Sure, they could bring him along slowly and he could still end up injured. But you are minimizing the risk with the way the Dodgers are approaching this. It's a tough balance.
TV situation
Just a reminder that Vin Scully is heading into his final season, and most of us still can't watch the Dodgers on TV. I'm going to repeat this in every newsletter until someone important — either with Time Warner Cable, the cable/satellite providers or the Dodgers — decides to do something, or at least act like they care. Sure, they will all say they care, but actions speak far louder than words.
A lot of people have emailed me to ask how they can contact the Dodgers or Time Warner or their local cable/satellite provider so they can give their opinion of the TV debacle. Here you go:
For the Dodgers, click here or call 866-DODGERS (866-363-4377)
For Time Warner, click here.
For your local cable or satellite provider, consult your bill for the customer service number and for the website.
And finally
Kenta Maeda reminds Dodgers catcher Yasmani Grandal of ….. Zack Greinke. Read all about it here.
Have a comment or something you'd like to see in a future Dodgers newsletter? Email me and follow me on Twitter: @latimeshouston
---
Get our Dodgers Dugout newsletter for insights, news and much more.
You may occasionally receive promotional content from the Los Angeles Times.