Kenta Maeda reminds Dodgers catcher Yasmani Grandal of a certain someone -- Zack Greinke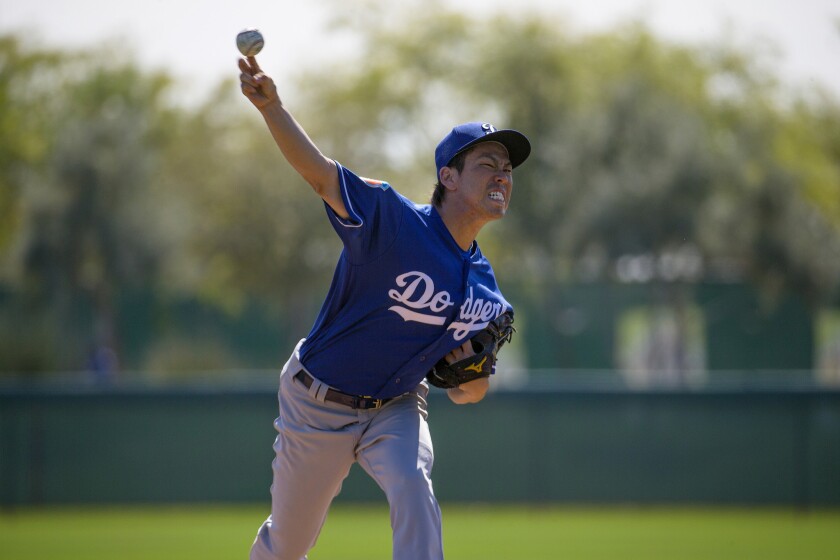 Reporting from PHOENIX —
Kenta Maeda trotted off the mound Monday afternoon after his first session of live batting practice on American soil. Walking with him was Dodgers catcher Yasmani Grandal. The duo huddled with pitching coach Rick Honeycutt to analyze Maeda's two innings of work.
During the 2015 season, Grandal developed a bond with Zack Greinke. He relished the options created by Greinke's fastball, changeup, curveball and slider. After spending the last two weeks catching Maeda — the slighter, more physically questionable addition to the Dodgers rotation — Grandal sees similarities.
"He's a four-pitch guy," Grandal said. "You don't get too many of those guys here. So for me, it's going to be fun to work with him, getting creative back there and knowing what we can do. Which is one of the things I liked about Greinke last year."
Grandal stopped short of describing Maeda as a one-person antidote for Greinke's departure. But he referenced Maeda's lengthy history in Japan and the recent success of other transplants from Nippon Professional Baseball. The Dodgers demonstrated similar faith in Maeda when they signed him to an eight-year contract.
Maeda cannot answer the questions about his ability to remain healthy or transition into the majors during this spring training. He has just begun the shift to a five-day schedule, slotted into the No. 3 position in the rotation. He will make his Cactus League debut Saturday, and said he was excited about the opportunity.
"I feel like overall I've been able to adjust very well," Maeda said through his interpreter. "There's nothing specific that's given me any trouble. I'm more concerned about getting into actual game situations."
Maeda threw 38 pitches Monday during two innings. Greg Maddux, the newly hired special assistant to president of baseball operations Andrew Friedman, watched from behind the mound. Friedman stood near the first-base line. Manager Dave Roberts offered encouragement from behind the batters' cage.
Dodgers starting pitcher Clayton Kershaw works with Hall of Famer Greg Maddux and pitches to batters during a spring training workout at Camelback Ranch.
Maeda faced a slate of Dodgers regulars. The first was Chase Utley. He tracked the first four pitches he saw before fouling back the last one.
"It seemed fairly deceptive," Utley said. "Obviously, we're still early in camp, from his standpoint and the hitters' standpoint. So it was exceptionally deceptive at this point."
Charlie Culberson whiffed on a fastball, as did Adrian Gonzalez. Clad in a sweatshirt with cut-off sleeves, Yasiel Puig saw just one pitch from Maeda. He hammered a fly ball to the warning track and departed the batter's box. Utley hit a fly to end the first inning.
Between frames, Maeda raised his right arm above his head and simulated his delivery. He shook his right hand to stimulate blood flow and stay loose.
Back on the mound, Maeda induced weak grounders off the bats of Andre Ethier and Carl Crawford. Howie Kendrick swung late on a fastball and fouled it into the screen. Standing on the other side of the structure, minor league catcher Shawn Zarraga recoiled.
"Atta boy, Kenta!" Roberts said.
Said Kendrick, after the workout: "I liked the fastball. It has a lot of life on it."
Maeda admitted he felt somewhat uncomfortable throwing inside during a low-intensity session. Grandal called for the two-seam fastball against right-handed hitters and the four-seam fastball against left-handed hitters.
The lone hiccup involved Maeda's slider. He failed to command it, losing it in the dirt on a few occasions. Grandal chalked this up to the elements.
"It's known through the whole league that once you come to spring training in Arizona, your breaking ball doesn't break much," Grandal said. "I think that's one of the things that he might have been working on. His slider wasn't breaking as much, but his curveball was. You could tell every time he was trying to throw a slider, he was doing too much."
Even so, as Grandal looked toward the season ahead, he felt excited. Maeda possesses an arsenal that would allow a catcher to experiment. Maeda cannot, realistically, be expected to replace Greinke. But his new catcher still sees a similar weapon.
"The good thing about him is he can throw all his pitches either in or out," Grandal said. "He's not afraid to throw it. And whenever he wants to pump it up, he does."
Twitter: @McCulloughTimes
---
Get our high school sports newsletter
Prep Rally is devoted to the SoCal high school sports experience, bringing you scores, stories and a behind-the-scenes look at what makes prep sports so popular.
You may occasionally receive promotional content from the Los Angeles Times.