Dodgers Dugout: A closer look at the puzzling decision-making by Dave Roberts about Clayton Kershaw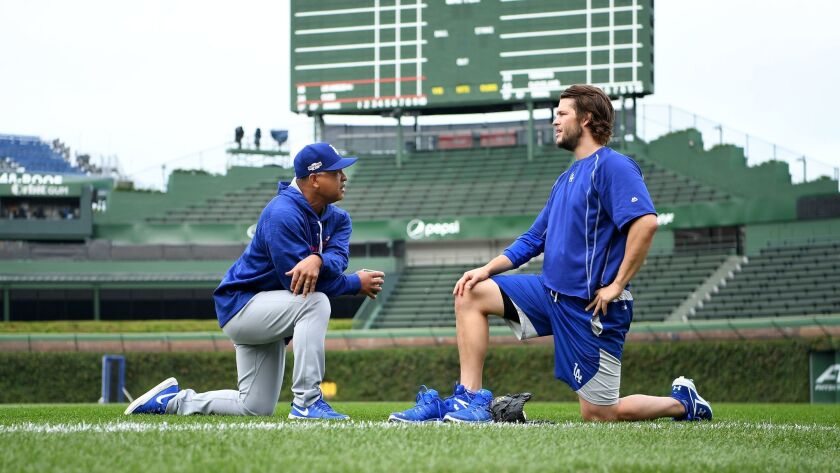 Hi, and welcome to another edition of Dodgers Dugout. My name is Houston Mitchell and at no time has Donald Trump pressured me to drop my investigation of Chris Hatcher.
What was he thinking?
I was going to write about Dave Roberts' decision to pull Clayton Kershaw during Wednesday's 2-1 win over Washington, but Dylan Hernandez wrote that already and so did Bill Plaschke. All I will say is I would hope my ace pitcher would want to stay in the game, so I have no problem with him being mad. And Roberts' job is to do what he thinks is best for the team, so I have no problem there. But I do want to focus on a strange aspect of that whole decision.
First, let's revisit the sequence of events.
The Dodgers led 2-1 in the bottom of the seventh inning with Kershaw's spot up. Roberts let Kershaw hit for himself. He had thrown only 95 pitches and had retired nine of the last 10 batters, so it seemed like a good idea. Let him pitch the eighth, bring Kenley Jansen in to pitch the ninth and salvage the last game of the series. Kershaw struck out and returned to the dugout to prepare to pitch the eighth. And that's when the strange part happened: Roberts took him out of the game and brought in Pedro Baez.
What? Then why let Kershaw bat in the bottom of the seventh?
"I basically changed my mind," Roberts said, later adding that he preferred Kershaw to any of the right-handed pinch-hitting options on the bench.
Neither of those answers is really great. And when Baez gave up a leadoff triple to Trea Turner, the decision looked even worse. But to Baez's credit, he retired the next two batters, and Jansen came in to finish the eighth without Washington's scoring.
The whole time, Kershaw seemed to be fuming on the bench. After the game, he said, "I'm going to say something cliché, but it is what it is. So there you go." Asked whether he wanted to remain in the game, Kershaw said, "I think I've kind of answered it as best as I'm going to."
But let's go back to Roberts' reasoning for letting Kershaw hit and then pulling him.
"I basically changed my mind."
What happened in the 30 seconds between Kershaw's hitting and sending Baez into the game that caused Roberts to change his mind? What insight was gained that made him think he needed to reverse his decision? Without an answer to those questions, Roberts is left looking indecisive, not a good look for a manager.
Roberts did say that he was set on staying with Kershaw in the eighth until he reflected on the previous seven innings. Which makes me wonder, why wait until after he hits to reflect on the previous seven innings? Shouldn't you sort of be paying attention to that stuff as it is happening?
"I think the easy thing for me to do was send him back out there. But I think the responsible thing, and for me, the right thing, either way it played out, was to go to the 'pen."
Roberts is absolutely correct there. Again though, it is all about the timing.
Roberts also said he preferred Kershaw to any of the right-handed pinch-hitting options on the bench, which is basically telling Enrique Hernandez, Brett Eibner, Austin Barnes and Franklin Gutierrez that they are worse hitters than Kershaw against right-handers. Which means that the next time the Dodgers face a right-hander and have only right-handers on the bench, Kershaw should be the top pinch-hitter.
Perhaps the four guys on the bench had nagging injuries and needed the day off. I can see not wanting to burn your backup catcher by using him as a hitter, so that gets Barnes off the hook. But saying your pitcher is a better hitting option than four guys who get paid to hit is a strange explanation.
The Dodgers won, so the heat is off the decision. And Roberts has more than earned the benefit of the doubt from Dodgers fans. As long as he understands that the whole incident makes many Dodgers fans flash back to the worst parts of Don Mattingly's tenure with the team, when he stood on the top step of the dugout and launched a thousand indecisions.
Comparison
The Dodgers are trying to win their fifth consecutive division title. Let's take a look at this year's record and how it compares through the same point in the last four seasons.
2017: 36-25, second place, 2 ½ games behind Colorado
2016: 32-29, second place, 3 games behind San Francisco
2015: 36-25, first place, 2 1/2 games ahead of San Francisco
2014: 31-30, second place, 8 1/2 games behind San Francisco
2013: 27-34, fifth place, 7 1/2 games behind Arizona
Ask Ross Porter
Once again, former Dodgers announcer Ross Porter is back to answer select reader questions. Email me a question for Ross, and I will pass it on. Here's this week's answers, a special four-bagger in honor of Monday's draft:
Ron Wheat asks: Ross, I know the major league draft is Monday. Have the Dodgers ever had the No. 1 pick?
Ross: No, they haven't, Ron. Neither have the Giants, Rockies, Cardinals, Reds, Red Sox, Indians, Blue Jays and Oakland. The Padres and Mets each have had the first pick five times.
Harriette Spero asks: Have most No. 1 draft choices been college or high school players?
Ross: Of the 52 chosen first, Harriette, 26 have been high schoolers, 25 collegians and one from an independent league.
Spencer Shiffman asks: How many drafted players make the major leagues?
Ross: Only 5[%] to 6%. Of first-round draft choices, 34% never get to the big leagues, Spencer, and 51% of second-rounders and 68% of third- to fifth-round selections are unsuccessful in realizing their dream.
Barbara Heimburger asks: How many big leaguers have college degrees?
Ross: Barbara, the latest study in 2012 showed only 39 of 917 active players, or 4.3%, had obtained four-year college degrees.
Next series
Friday, 7 p.m. PT, Cincinnati (Amir Garrett, 3-4, 7.17) at Dodgers (Rich Hill, 2-2, 4.15)
Saturday, 7 p.m. PT, Cincinnati (Asher Wojciechowski, 1-0, 4.50) at Dodgers (Alex Wood, 6-0, 1.69)
Sunday, 1 p.m. PT, Cincinnati (Tim Adleman, 4-2, 4.42) at Dodgers (Hyun-jin Ryu, 2-6, 4.08)
Note: Pitchers are subject to change
And finally
The Dodgers move Kenta Maeda to the bullpen and expect more from rehabbing center fielder Joc Pederson.
Have a comment or something you'd like to see in a future Dodgers newsletter? Email me and follow me on Twitter:@latimeshouston.
Twitter: @latimeshouston
---
Get our high school sports newsletter
Prep Rally is devoted to the SoCal high school sports experience, bringing you scores, stories and a behind-the-scenes look at what makes prep sports so popular.
You may occasionally receive promotional content from the Los Angeles Times.