Dodgers Dugout: Dodgers, Giants will battle for NL West title this season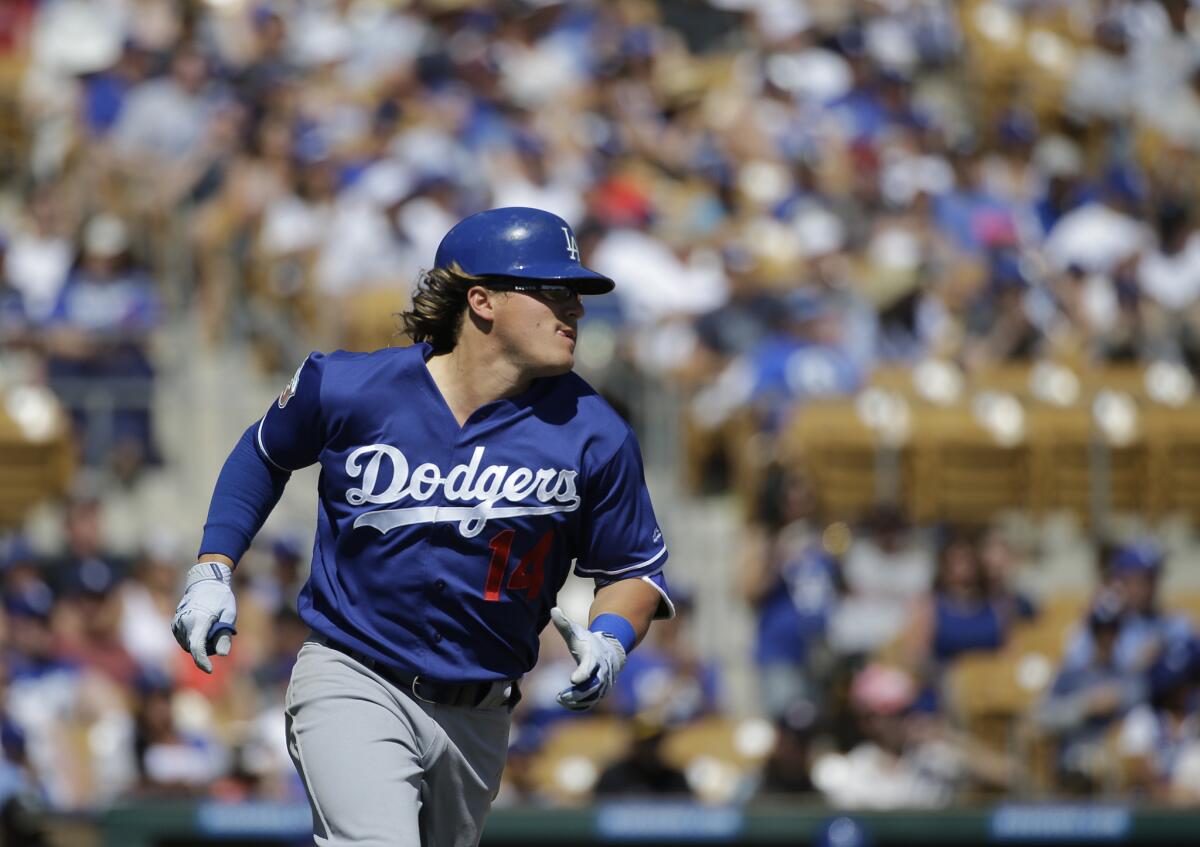 Hi, and welcome to another edition of Dodgers Dugout. My name is Houston Mitchell, and I'm wondering why spring training has to be as long as it is. Can we get to some real games, please?
The bench
Finishing our rankings of the NL West teams at various positions, let's turn to the bench. If you want to see the infield comparison, go here; outfield, go here; starting rotation, go here, closer, go here and bullpen, go here.
For the bench, I will be looking at the entire bench, but will list the stats for what will probably be the main three contributors.
1. San Francisco Giants
Gregor Blanco
Last three seasons: .270 AVG/.346 OB%/.375 SLG%/4.7 WAR
Kelby Tomlinson
Last season: .303/.358/.404/1.0
Jarrett Parker
Last season: .347/.407/.755/0.5
Blanco is one of the best fourth outfielders and could start for most teams. Add in guys like Tomlinson, Parker and Andrew Susac, and you can see why the Giants usually outperform the predictions of the so-called experts. The Giants and Dodgers have the best benches in the NL West, but the Giants' bench is slightly deeper and better offensively, so they get the edge.
2. Dodgers
Kiké Hernandez
Last season: .307/.346/.490/1.4
Scott Van Slyke
Last three seasons: .261/.349/.455/4.8
Chase Utley
Last season: .202/.291/.363/0.9
One of the keys to the Dodgers winning the West the last three seasons has been a solid bench, and it should be solid again in 2016. A lot of people were down on Van Slyke, but he is still a good player and has a better WAR than Carl Crawford. And while Hernandez may not repeat his 2015 breakout year (then again, he might), he still figures to be one of the most valuable utility players in baseball.
3. Arizona Diamondbacks
Yasmany Tomas
Last season: .273/.305/.401/-1.3
Brandon Drury
Last season: .214/.254/.375/-0.2
Phil Gosselin
Last season: .303/.382/.545/0.6
The Achilles' heel of the Diamondbacks is their lack of depth. They have a bunch of guys who are there in case of emergency, and you hope they don't have to play more than a couple of times a week.
4. Colorado Rockies
Daniel Descalso
Last season: .205/.283/.324/-0.6
Brandon Barnes
Last two seasons: .254/.303/.386/-0.4
Mark Reynolds
Last season: .230/.315/.398/-0.6
The Rockies have guys who like to strike out a lot on their bench, which is OK, because when they do make contact they usually make an out. As you can see, it's tough to build a good bench in baseball. But it shouldn't be this tough.
5. San Diego Padres
Alexi Amarista
Last three seasons: .228/.276/.314/1.5
Travis Janikowski
Last season: .211/.245/.344/0.1
Christian Bethancourt
Last season: .200/.225/.290/-0.1
Wow, are the Padres going to be bad this year.
So, using the same system as before, seven points for finishing first, five for second, three for third, two for fourth and one for last, the rankings are (yeah, I know you can figure it out yourself):
San Francisco, 7 points
Dodgers, 5
Arizona, 3
Colorado, 2
San Diego, 1
Which means, after comparing the position players, the rotation, the closers, the bullpen and the bench, the final tally is:
1. San Francisco, 78 points
2. Dodgers, 77
3. Arizona, 58
4. Colorado, 48
5. San Diego, 27
And that's pretty much how I expect the NL West to finish. The Dodgers and Giants will finish 1-2, and either one of them could win the division, though I would give the edge to the Giants right now. I will give full prediction the week before the season starts.
Is the No. 5 spot cursed?
When spring training began, the Dodgers seemed to have too many starting pitchers. Clayton Kershaw, Scott Kazmir, Kenta Maeda and Brett Anderson seemed to have rotation spots sewed up, leaving the No. 5 spot open to either Alex Wood, Hyun-jin Ryu, Mike Bolsinger, Zach Lee, Julio Urias,Jose DeLeon and Brandon Beachy.
Then, Anderson got hurt and Wood took the No. 4 spot. Ryu was the betting favorite for the No. 5 spot, but he had setbacks in his rehab from surgery, and his timetable for return is unknown. Then the Dodgers sent Urias and DeLeon to the minors. The next day they sent Lee down. That left Bolsinger and Beachy to vie for No. 5. But Bolsinger was scratched from his start Sunday because of abdominal tightness and Beachy had inflammation is his surgically repaired right elbow.
The guess here is that Bolsinger bounces back quickly and gets the job. He pitched well last season, going 6-6 with a 3.62 ERA in 21 starts.
And I wouldn't look for Urias or DeLeon to be up too quickly. The Dodgers want to maintain contract control over them for as long as possible, so they want to delay their major league debuts until absolutely necessary. It's all a bit complicated, but former player CJ Nitkowski explains it all nicely here.
TV situation
Just a reminder that Vin Scully is heading into his final season, and most of us still can't watch the Dodgers on TV. A lot of people have emailed me to ask how they can contact the Dodgers or Time Warner or their local cable/satellite provider so they can give their opinion of the TV debacle. Here you go:
For the Dodgers, click here or call (866) DODGERS (866-363-4377)
For Time Warner, click here.
For your local cable or satellite provider, consult your bill for the customer service number and for the website.
Keep sending me the responses you get, and I'll print a few in the next newsletter. I was going to do it this newsletter, but the responses are so amazing I wanted to get a few more before running them.
And finally
Ross Porter has been a frequent contributor to this newsletter, and will be answering your questions again this season (so email me your questions for Ross). In the meantime, take a look at what he is doing now.
Have a comment or something you'd like to see in a future Dodgers newsletter? Email me and follow me on Twitter: @latimeshouston
Get our Dodgers Dugout newsletter for insights, news and much more.
You may occasionally receive promotional content from the Los Angeles Times.