Dodgers Dugout: Who has the best outfield in the NL West?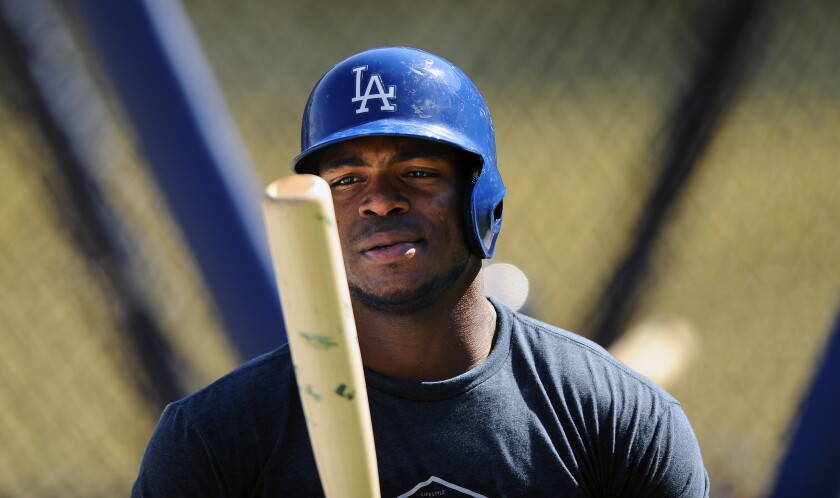 Hi, and welcome to another edition of Dodgers Dugout. My name is Houston Mitchell, and I'm dreaming of a world where we can all watch the Dodgers on TV.
Rating the outfielders
Continuing our rankings of the NL West teams at various positions, I turn to the starting outfielders. If you want to see the infield comparison, go here. Also, if you see a stat your don't recognize, such as WAR or FRAA, just click on it and you will be taken to the explainer of it. All stats are courtesy of baseball-reference.com.
Left field
1. Denard Span, San Francisco
Last three seasons: .292 avg/.345 ob%/.404 slg%/6.8 WAR
The only thing that could hold him back are if the hip and back injuries that limited him to 275 plate appearances last season come back. He has hit. over .300 the last two years, and is penciled in to play left for the Giants, which should take less of a toll on his body than playing center. Either way, he is strong defensively, has good strike-zone judgment and stole all 11 bases he attempted last season.
2. Andre Ethier, Dodgers
Last three seasons: .273/.351/.429/5.3
The Dodgers keep trying to get rid of him, and Ethier keeps bailing them out when an outfielder goes down. He can't hit lefties, but let's hope they start him over Carl Crawford against righties. Last season, Ethier slugged .517 against right-handed pitchers.
3. David Peralta, Arizona
Last two seasons: .301./351/.492/4.4
Once a pitcher, Peralta just gets better every season. Last season he hit .301 with 17 homers and 78 RBIs and had a solid 4.4 FRAA in left field. He's one of the more underrated players in the game. It's a close call between him and Ethier for No. 2 on this list.
4. Gerardo Parra, Colorado
Last three seasons: .273/.320/.408/6.8
Parra has been traded twice in the last two seasons, each time the team getting him hoping he will finally reach the potential most scouts predict. This season, it is Colorado's turn. How is his defense? Well, the sooner the NL adds a DH, the better.
5. Jon Jay, San Diego
Last three seasons: .273/.350/353/3.9
Jay had his worst season last year with St. Louis, hitting .210. He will slide over from center to left with the Padres as he starts the decline phase of his career, which could be hastened by multiple wrist injuries suffered last year.
Center field
1. A.J. Pollock, Arizona
Last three seasons: .297/.349/.468/14.8
Pollock can flat out play and is probably the best center fielder in the NL not named Andrew McCutchen. I'd like to point out a flaw, but he doesn't really have any. He's only the second-best center fielder named after a fish.
2. Charlie Blackmon, Colorado
Last three seasons: .291/.340/.449/5.2
He was third in the NL last season with 43 stolen bases, to go with his 17 homers. His one drawback is he is just average defensively.
3. Joc Pederson, Dodgers
Last two seasons: .207/.347/.402/2.2
He has a world of potential (he turns 24 in April), but I can't rank players based on potential, just on what they have done. As good as he was in the first half last season (.230/.364/.487) is as bad as he was in the second half (.178/.317/.300). Hopefully he spent the off-season working to control his big, looping swing and his tendency to swing for the fences on every pitch. Despite popular opinion, he started slumping before he competed in the Home Run Derby, so don't blame it on that. He still had a better WAR than the next two guys on the list.
4. Angel Pagan, San Francisco
Last three seasons: .279/.323/.370/0.4
At least the Dodgers had the good sense to not start Pederson every day down the stretch. The Giants kept trotting Pagan out there despite his -10.6 FRAA and his -0.7 WAR. And you know that statue of Willie Mays outside the Giants' ballpark? It had more range than Pagan last year.
5. Melvin Upton, Jr., San Diego
Last three seasons: .209/.287/.335/-0.6
Hey, at least Pederson was only bad for half a season. Upton has been bad for two and a half of the last three seasons. It's quite a feat to have a negative WAR and still remain a starter, so he must have some pictures of someone in the Padres' front office.
Right fielders
1. Carlos Gonzalez, Colorado
Last three seasons: .274/.332/.533/7.3
Gonzalez rebounded from an injury-plagued 2014 and a poor first half of 2015 by batting .285 and hitting 27 homers over the second half of last season, so he appears to be back on track. He is one of those players who is helped by Coors Field, as in his career his numbers are .324/.382/.604 at home and .255/.310/.441 on the road.
2. Hunter Pence, San Francisco
Last three seasons: .279/.334/.476/8.5
Last season was ruined by injury, but when he played, he was the same guy as always: 20 homers, 70-90 RBIs and 90-100 runs scored to go with good defense.
3. Yasiel Puig, Dodgers
Last three seasons: .294/.371/.487/11.3
The curse of great expectations. Despite what many rightfully consider a disappointing 2015, he still had an OPS+ of 109, meaning he was still above average. Yet, he seems to be a constant off-the-field distraction. This season is his big chance, with a new manager who has offered him a clean slate and hopes for a slimmed down body that will lead to fewer hamstring injuries. If Puig plays like he did the first two seasons (.305/.386/.502), the Dodgers' chances of winning the West go way up.
4. Matt Kemp, San Diego
Last three seasons: .274/.328/.459/2.1
Don't let the 100 RBIs fool you. Kemp did not have a good year, and the Dodgers are better off without him. He was, by far, the worst defensive right fielder in baseball and his arthritic hips are only going to make it worse as the years go by.
5. Yasmany Tomas, Arizona
Last season: .273/.305/.401/-1.3
How does a guy with seemingly average numbers have such a negative WAR? By hitting .208 with a .228 OB% in the second half, to go along with a -4.4 FRAA. For the whole season, he struck out 110 times and walked only 17 times in 426 plate appearances. He's from Cuba, so the Diamondbacks signed him for six years, $68 million before the season. Ouch.
This concludes the look at the outfield. If we assign points based on where a player ranks at each position, giving seven points for first place, five for second, three for third, two for fourth and one for fifth, then the NL West outfield stacks up like this:
1. San Francisco and Colorado, 14 points
3. Dodgers and Arizona, 11 points
5. San Diego, 4 points
Adding that to our infield totals, so far the teams in the NL West grade out like this:
1. San Francisco, 39 points
2. Dodgers, 35 points
3. Colorado, 30 points
4. Arizona, 25 points
5. San Diego, 15 points
We still have the rotation, closer, bullpen and bench to go.
TV situation
Just a reminder that Vin Scully is heading into his final season, and most of us still can't watch the Dodgers on TV. I'm going to repeat this in every newsletter until someone important, either with Time Warner Cable, the cable/satellite providers or the Dodgers decide to do something, or at least pretend like they care. So far, none of them seem to.
And finally
Here are seven things to watch for when spring training begins on Feb. 19.
Have a comment or something you'd like to see in a future Dodgers newsletter? Email me and follow me on Twitter: @latimeshouston
---
Get our Dodgers Dugout newsletter for insights, news and much more.
You may occasionally receive promotional content from the Los Angeles Times.