Dodgers Dugout: Who are the three best first basemen in team history? (and your picks for the three best catchers)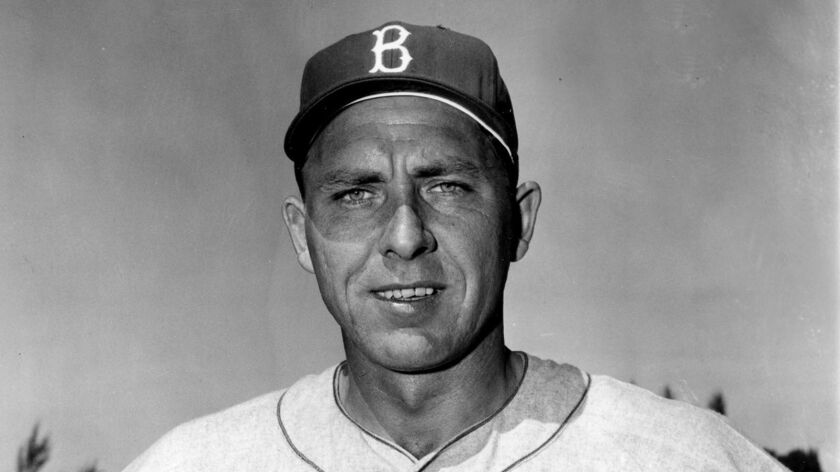 Hi, and welcome to another edition of Dodgers Dugout. My name is Houston Mitchell and it's time to continue selecting the all-time 40-man roster for the Dodgers.
The all-time team, first base
Before we get to first base, let's again lay down the ground rules as to who is eligible for the polls.
First, we are only counting what they did as a Dodger. Frank Robinson is one of the greatest players of all time, but he only played one season with the Dodgers, so he won't be appearing here.
Second, position players had to play at least 500 games with the Dodgers, or had such an iconic moment or season with the team that it wouldn't make sense to leave them off. (It's the Kirk Gibson rule.)
Third, only games played since 1901 count. My apologies to those who played before then.
Fourth, players who competed at multiple positions will be listed at the position where they played the most games for the Dodgers. For example, for those of you wondering why Ron Fairly isn't listed in today's poll, that's because he played more games in right field than first base for the Dodgers.
Finally, you can vote for three players at each position. There will be a link to a site where you can make your selections at the end of each player list.
With that, let's get to our next position, first base. There are 12 first basemen who meet the above criteria for the Dodgers. Let's look at them using two stats: OPS+ (which compares them to the league average hitter each season, making it easier for us to do cross-era comparisons. A league-average hitter will have an OPS+ of 100) and WAR (which shows career value). Those two stats don't give a complete picture, but it should give you an overall sense of how valuable each player was. I encourage you to do further research on each player if you are unsure about them.
OPS+
Jack Fournier, 157
Dolph Camilli, 143
Tim Jordan, 139
Jake Daubert, 123
Steve Garvey, 122
Gil Hodges, 120
Adrian Gonzalez, 119
Del Bissonette, 119
Wes Parker, 111
Eric Karros, 109
James Loney, 105
Franklin Stubbs, 94
WAR
Gil Hodges, 44.3
Steve Garvey, 36.7
Dolph Camilli, 29.1
Jake Daubert, 27.3
Wes Parker, 22.9
Jack Fournier, 18.7
Adrian Gonzalez, 13.3
Eric Karros, 11.9
Tim Jordan, 11.6
James Loney, 8.7
Del Bissonette, 8.6
Franklin Stubbs, -0.1
A closer look at the players (statistics are with Dodgers only):
Del Bissonette (1928-31, 1933, .305/.371/.486): Bissonette played only five seasons in the majors, all with Brooklyn. He reached double digits in doubles, triples and homers in his first four seasons, with his best year being his first, when he hit .320 with 30 doubles, 13 triples and 25 homers, to go with 106 RBIs. But he suffered a severed Achilles' tendon while playing volleyball during spring training in 1932, then developed blood poisoning after the operation. He missed the whole season and never really recovered.
Dolph Camilli (1938-43, .270/.392/.497): Camilli was an offensive machine with the Dodgers, leading the league in homers (34) and RBIs (120) in 1941, and leading in walks in 1938 (119) and 1939 (110). He won the 1941 NL MVP award and was a two-time All-Star in his six seasons with the team. In July 1943, he was traded to the Giants, but refused to play for them and instead began managing in the minors. He returned to the majors briefly in 1945 with the Boston Red Sox. When he was traded from the Dodgers, he was their all-time home run leader.
Jake Daubert (1910-18, .305/.365/.395): Daubert was named NL MVP in 1913 when he led the league with a .350 average. He also led the league with a .329 average in 1914 and led the Dodgers to their first NL pennant in 1916. He was also ahead of his time, wanting players to form a union, which is one of the reasons the Dodgers traded him to Cincinnati after the 1918 season. He was still with the Reds in 1924 when he left to have an appendectomy. He died one week after the operation.
Jack Fournier (1923-26, .337/.421/.552): If you are just going by numbers, then Fournier should be in the top three. He led the league in homers in 1924 (27) and in walks in 1925 (86). However, Fournier was really bad defensively. For what it's worth, in his "Historical Baseball Abstract" Bill James has Fournier listed as the 35th-greatest first baseman of all time, just behind Camilli (29th), Gil Hodges (30th) and Steve Garvey (31st). He also coached UCLA's baseball team from 1934 to 1936.
Steve Garvey (1969-82, .301/.337/.459): Do I really need to write a lot about Garvey? One of the most popular Dodgers in history. But history hasn't been kind to him, as many of the newer analytic numbers have downgraded him on offense. But, the importance of knowing every season that your first baseman was going to hit .300 with 100 RBIs can't be overstated. He was named NL MVP in 1974 and finished in the top six in voting five times. He also made eight All-Star teams and won four Gold Gloves.
Adrian Gonzalez (2012-17, .280/.339/.454): I wrote a lot about him the last four years, so I won't go into too much detail here. Gonzalez was a very popular Dodger who led the majors in RBIs in 2014 with 116. He was the heart of the Dodger offense for several seasons until age and injuries both seemed to catch up to him at the same time.
Gil Hodges (1943, 1947-61, .274/.360/.488): An eight-time All Star who would have won multiple Gold Gloves if they were given out when he was in his prime. Hodges drove in at least 100 runs for seven consecutive seasons and hit 30 or more homers in six seasons. His best season was probably 1954, when he hit .304 with 42 homers and 130 RBIs. He ought to be in the Hall of Fame.
Tim Jordan (1906-10, .263/.356/.384): Jordan led the NL in homers twice, hitting 12 in 1906 and 1908. There isn't a lot known about Jordan, who was out of the majors in 1910 and had a very short career. But leading the league in homers twice is nothing to sneeze at.
Eric Karros (1991-2002, .268/.325/.454): Karros had an interesting career. He is the all-time L.A. Dodgers home run leader, yet rarely gets mentioned when the subject is all-time great Dodgers. He only led the league in two categories in his career (games played in 1997 and double plays grounded into in 1996). He never made an All-Star team. He was often overshadowed by Mike Piazza. But he rarely got hurt and was good for 25-30 homers every season.
James Loney (2006-12, .284/.341/.423): It seems like Loney was with the Dodgers a million years ago, not just six. He was just sort of there. He wasn't bad at anything, but he wasn't great at anything either. He didn't have much power and didn't walk a lot. He had a key home run in the 2008 NLDS against Chicago. Otherwise, he was like one of those movies you see where, a week later, you have trouble remembering the details.
Wes Parker (1964-72, .267/.351/.375): Many who saw him play will tell you that Wes Parker was the greatest defensive first baseman in history. He won six Gold Gloves and in 2007 was voted the best defensive first baseman since the Gold Glove award was established in 1957. His numbers on offense are also better than they appear since he played in one of the greatest pitchers' eras in baseball history. He drove in 111 runs in 1970 despite hitting only 10 homers. He led the league that season with 47 doubles and also hit .319. Parker has been criminally underrated by many because of the era he played in and the fact he retired young, quitting after the 1972 seasons when he was only 32.
Franklin Stubbs (1984-89, .227/.294/.401): Stubbs played six seasons for the Dodgers despite the fact he could not hit all that well. His best season came after he was traded to the Houston Astros just before the 1990 season. He had moderate power and was a good defensive first baseman. He also started every game of the 1988 World Series, hitting .294.
Now it's time for you to vote. Remember to vote for three. You can click here to vote, or you can email me your three choices. Ties are not allowed, and you have to vote for three. Vote for more or fewer and your vote won't count.
Next week: Second base. I'm predicting a landslide win for Ted Sizemore.
Who were the best three catchers?
You voted. Here are the results, after receiving 15,957 ballots:
1. Roy Campanella (named on 94.7% of ballots)
2. Mike Piazza (80.4%)
3. Mike Scioscia (46.1%)
4. John Roseboro (44.0%)
5. Steve Yeager (25.6%)
6. Russell Martin (3%)
7. A.J. Ellis (2%)
8. Joe Ferguson (1.2%)
9. Babe Phelps (1.1%)
10. Mickey Owen (0.9%)
11. Paul Lo Duca (0.5%)
12. Yasmani Grandal (0.2%)
13. Bill Bergen (0.2%)
14. Al Lopez (.06%)
15. Otto Miller (.05%)
16. Hank DeBerry (0%)
And finally
Gil Hodges appeared on "What's My Line" in 1963. Watch it here.
Have a comment or something you'd like to see in a future Dodgers newsletter? Email me and follow me on Twitter: @latimeshouston.
---
Get our Dodgers Dugout newsletter for insights, news and much more.
You may occasionally receive promotional content from the Los Angeles Times.