Dodgers Dugout: The good and the troubling from the first half of the season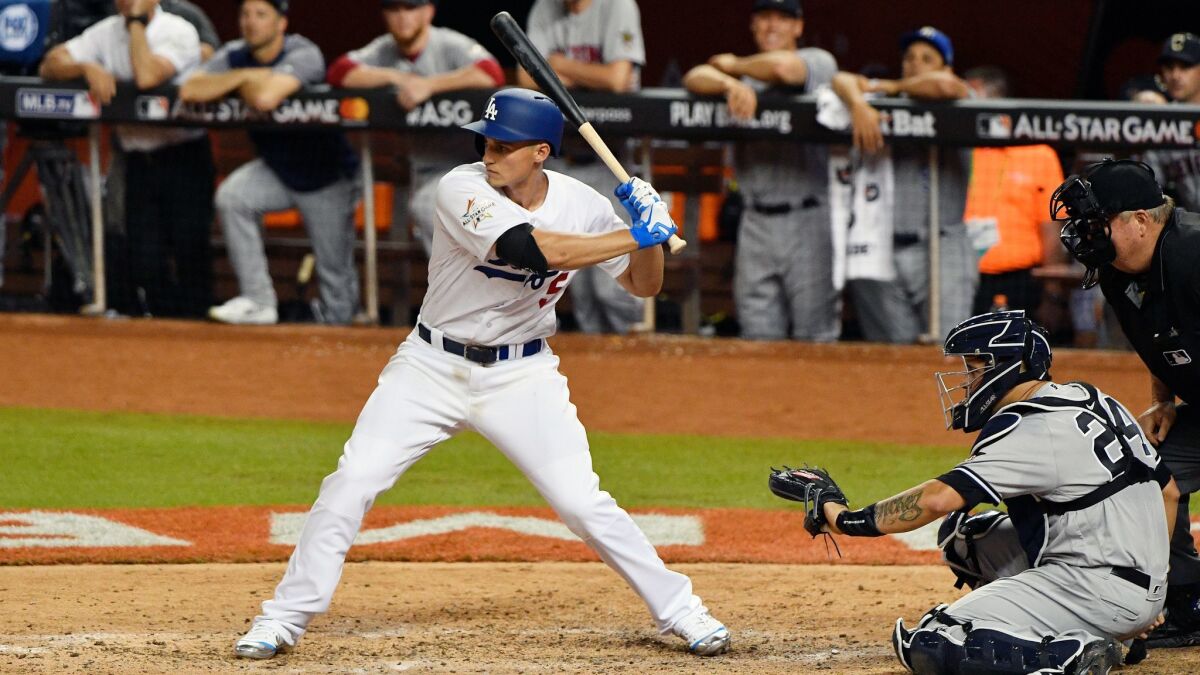 Hi, and welcome to another edition of Dodgers Dugout. My name is Houston Mitchell and I'm wondering why no one is worrying about the Home Run Derby jinxing Aaron Judge.
Looking back at the first half
The All-Star break is over, with the Dodgers playing Friday. Let's take a look at the first half, labeling items either good or troubling.
Good
The Dodgers are 61-29 and on pace to win 110 games, which would be a franchise record. They lead the NL West by 7-1/2 games.
The emergence of Cody Bellinger, who is the clear favorite for Rookie of the Year and leads the team with 25 homers and 58 RBIs.
The continued excellence of Corey Seager, who is hitting .298/.395/.502 and could become only the seventh L.A. Dodger to qualify for the batting title and hit at least .300/.400/.500.
Justin Turner, who is hitting .377/.473/.583 and could join Seager in that elite club, could also become the first Dodger to win the batting title since Tommy Davis in 1963.
Chris Taylor, who has started at least 15 games at three different positions, has given the team unexpected offense with 18 doubles and 10 homers to go along with a team-leading 11 stolen bases.
Enrique Hernandez, who may only have 40 hits this season, but 27 of them are for extra bases.
Austin Barnes, who has made everyone forget about A.J. Ellis.
Chase Utley, who followed up a disastrous April, when he hit only .122, but hitting .253/.354/.455 since then with his usual leadership on the field and in the dugout.
Clayton Kershaw, who is 14-2 with a 2.18 ERA, an 0.877 WHIP and 159 strikeouts in 132-1/3 innings. But some will try and tell you what a down year he is having.
Alex Wood, who is 10-0 with a 1.67 ERA and has become the No. 2 starter the team needed.
Brandon McCarthy, who after a horrible first two seasons with the team, has become a solid starter.
Kenley Jansen, who continues to prove why he is the best closer in baseball, with an ERA below one and an amazing 50 strikeouts and just two walks in 37-2/3 innings.
Pedro Baez, who has finally become a reliable setup man for Jansen, and seems to have defeated his problems pitching with runners on base. This season, there have been 14 runners on base when Baez has come into games. Only one of those has scored.
The bullpen overall, which not only leads the NL in ERA but is second in percentage of inherited runners who have scored, which is as important as ERA.
Dieter Ruehle, who is the best stadium organist the Dodgers have ever had (and they have had some good ones).
Joe Davis and Orel Hershiser, who have made the loss of Vin Scully more bearable.
Troubling
The horrible TV situation, which leaves 70% of Dodgers fans without a way to watch the team. Could that be why I see tons of little kids wearing Mike Trout jerseys at Angel Stadium, but comparatively fewer little kids at Dodger Stadium?
The decline of Adrian Gonzalez, who probably won't be back until mid-August, and when he did play hit .255/.304/.339 with an OPS+ of 71 and looked a lot older than 35.
Chris Hatcher is still on the team, though he is on the DL.
The inconsistency of Kenta Maeda, Hyun-jin Ryu and Rich Hill, causing some clever use of the 10-day disabled list.
The poor pitching by Sergio Romo, who has a 6.12 ERA at the break.
The lack of a shut-down left-hander in the bullpen, with Luis Avilan, Grant Dayton and Adam Liberatore all either struggling or injured.
Julio Urias having season-ending shoulder surgery.
Comparison
The Dodgers are trying to win their fifth consecutive division title. Let's take a look at this year's record and how it compares to the same point in the last four seasons.
2017: 61-29, first place in NL West, 7 1/2 games ahead of Arizona
2016: 50-40, second place, 6 1/2 games behind San Francisco
2015: 51-39, first place, 4 1/2 games ahead of Arizona and San Francisco
2014: 50-40, second place, percentage points behind San Francisco
2013: 45-45, second place, 1 1/2 games behind Arizona
Ask Ross Porter
Sid Golden asks: In Game 4 of the 1978 World Series, Reggie Jackson intentionally sticks his hip out to break up a double play. Is it your opinion that Bill Russell intentionally dropped the line drive or did the ball handcuff him?
Ross: The Dodgers led the Series, 2-1, and were in front, 3-0 after 5-1/2 innings in Game 4 behind Tommy John at Yankee Stadium. A one-out walk, a single, and Jackson's RBI single made it 3-1. Lou Piniella hit a sinking line drive to shortstop. Russell trapped it, stepped on second to force Jackson and then threw to first. The throw was wild and a run scored. But the Dodgers protested that Jackson interfered and it should have been ruled an inning-ending double play, nullifying the second run. Tommy Lasorda argued with first base umpire Frank Pulli of the National League who said Reggie did not interfere. New York went on to win, 4-3, in 10 innings, and prevailed in Games 5 and 6 to win the world title.
Sid, I asked Bill a few days ago about the play. He said: "No way did I drop the ball intentionally. It hit the heel of my glove. I picked up the ball, stepped on second and made the throw to first. Joe Brinkman was the second base umpire that night, and he asked me recently, 'Did you drop that ball on purpose?' In those days, the second base umpire stood behind the bag. Now, they position themselves in front of the bag. If he had been there in 1978, it might have been easier to see what Reggie did. But, there was no way an umpire was going to call interference at Yankee Stadium in that situation. And if that happened today, the umpires would look at the replay and might reverse the call."
Years later, Reggie Jackson told me in an interview, "I got away with one there."
Ironically, Bill Russell now works for major league baseball, and his job at every Dodgers home game is evaluating the umpires and making his report to the commissioner's office. In his words, "There are not as many arguments as there used to be because umpires can look at the TV replay and then make their decision."
Ross answers reader questions every week. Email me and I will pass your question on to him.
Next series
Friday, 4 p.m. PDT, Dodgers (Brandon McCarthy, 6-3, 3.12) at Miami (Dan Straily, 7-4, 3.31)
Saturday, 4 p.m. PDT, Dodgers (Alex Wood, 10-0, 1.67) at Miami (TBA)
Sunday, 10 a.m. PDT, Dodgers (Rich Hill, 5-4, 3.69) at Miami (TBA)
Note: Pitchers are subject to change
And finally
The commissioner of baseball says the Dodgers TV deal isn't any of his business. Read all about it here.
Have a comment or something you'd like to see in a future Dodgers newsletter? Email me and follow me on Twitter:@latimeshouston.
Twitter: @latimeshouston
Twitter: @latimeshouston
---
Get our Dodgers Dugout newsletter for insights, news and much more.
You may occasionally receive promotional content from the Los Angeles Times.