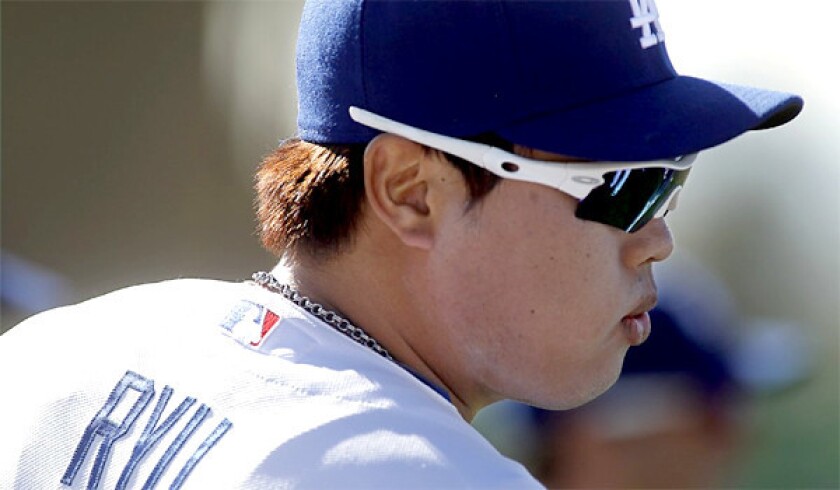 Hi, and welcome to another edition of Dodgers Dugout. My name is Houston Mitchell and April is over, so Justin Turner has started hitting with power again.
Hyun-Jin Ryu
Almost lost in all the deserved hoopla over Justin Turner's three home runs in Tuesday's 9-0 win over Atlanta was the masterful performance by Hyun-Jin Ryu.
He pitched a complete game, throwing only 93 pitches, 67 for strikes, and gave up four hits and no walks while striking out six.
And it was his mom's birthday.
"I was able to provide a good gift for her, so I'm very happy," Ryu said through an interpreter.
Ryu hasn't given up more than two earned runs in any of his seven starts this season and has walked only two batters in 44.1 innings.
When the season started, many Dodgers fans were debating whether Clayton Kershaw or Walker Buehler was the best pitcher on the Dodgers' staff. While the debate was going on, Ryu walked over and took the crown while no one was looking.
A look at the three over their last 22 starts.
ERA
Ryu: 1.99
Kershaw: 2.79
Buehler: 2.91
Hits per 9 IP
Ryu: 7.2
Kershaw: 7.4
Buehler: 6.0
Walks per 9 IP
Ryu: 1.2
Kershaw: 1.5
Buehler: 2.4
Strikeouts per 9 IP
Ryu: 9.5
Kershaw: 8.2
Buehler: 9.4
Strikeout-to-walk ratio
Ryu: 7.88
Kershaw: 5.61
Buehler: 3.91
WHIP
Ryu: 0.939
Kershaw: 0.979
Buehler: 0.941
It's close, but Ryu leads in every category but one. And yes, I know he was hurt for part of last season and has shown a tendency to be injury prone. If you want to downgrade him for that, I can understand it. But he has to be in the conversation.
Of course, now I have jinxed him.
Comparison
Comparing the Dodgers through 39 games this season through the same number of games the last two seasons:
2019: 25-14, .259/.346/.459, 5.5 runs per game, 3.90 ERA
2018: 16-23, .241/.323/.388, 4.3 runs per game, 3.97 ERA
2017: 22-17, .263/.345/.426, 5.0 runs per game, 3.43 ERA
Ask Ross Porter
Ross Porter will once again answer reader questions this season. All you have to do is email me your question at houston.mitchell@latimes.com. I will forward the email to Ross, and he will answer some each week. Take it away, Ross.
Marc Josloff asks: Given the Dodgers starting depth and the delicate health issues, what are the prospects of a six-man rotation?
Ross: Not very likely. The team's best pitchers would make 26 starts instead of 34 and throw 50 fewer innings. If you miss the playoffs by one or two games, you will be sorry. Besides, pitchers don't like to change their routines. I have never heard of an American pitcher who wants to be in a six-man rotation and have five days off between starts.
Dick Manoogian of Marina del Rey asks: Ross, do you think Mike Scioscia will manage again?
Ross: I certainly hope so, Dick. He's only 60 and has a good rapport with players. Troy Percival, the successful closer on Scioscia's 2002 World Series champion Angels, tells me he is certain Mike will return next year. The Giants will need someone with Bruce Bochy retiring, but San Francisco does not look like a contender yet, and my wish is that he finds one which is.
Cecilia Raymond of Bentonville, Ark. asks: Ross, have there been fewer Tommy John surgeries in recent years?
Ross: I am afraid not, Cecilia. Since 2016, the 30 major league organizations have had a total of 334 such operations. Cincinnati has led the way in most elbow injuries with 22, followed by Milwaukee with 19 and San Francisco 18. The Angels are sixth with 16 and the Dodgers 15th with 10. The average is 11. Boston has had rhe fewest, four, while Philadelphia and Pittsburgh have each had 5. The gloomy outlook is that no one knows how to prevent Tommy John surgeries.
Melinda Pfenning of Palm Springs asks: How long has "Take Me Out to the Ball Game" been sung in baseball parks?
Ross: It was first heard at a high school game in Los Angeles in 1934 and later that year at the World Series. It was written by Jack Norworth, a vaudeville performer and songwriter in 1908. The music was written by Albert von Tilzer. Amazingly, Norworth and Von Tilzer had never been to a professional baseball game, but while on a New York subway, Jack spotted a sign which said, "baseball today at the Polo Grounds." He scribbled verses on a scrap of paper. Von Tilzer attended his first game 20 years after writing the music and Norworth went to his first game 32 years after writing the song.
You can follow Ross on Twitter: @therossporter
TV schedule
KTLA will televise five more Dodgers games during the season. They are:
Saturday vs. Washington, 6 p.m.
Monday, May 27, vs. New York Mets, 5 p.m.
Thursday, May 30, vs. New York Mets, 6:30 p.m.
Saturday, June 1, vs. Philadelphia, 7 p.m.
Saturday, June 15, vs. Chicago Cubs, 6 p.m.
Up next
Tonight: Washington (*Patrick Corbin) at Dodgers (*Rich Hill), 7 p.m.
Friday: Washington (Anibal Sanchez) at Dodgers (Kenta Maeda), 7 p.m.
Saturday: Washington (Max Scherzer) at Dodgers (Walker Buehler), 6 p.m.
Sunday: Washington (Stephen Strasburg) at Dodgers (*Hyun-Jin Ryu), 1 p.m.
*left-handed
And finally
Wes Parker homers in Game 4 of the 1965 World Series. Watch it here.
Have a comment or something you'd like to see in a future Dodgers newsletter? Email me and follow me on Twitter: @latimeshouston.
---