Dodgers Dugout: How do the Dodgers keep winning without Clayton Kershaw? Here's how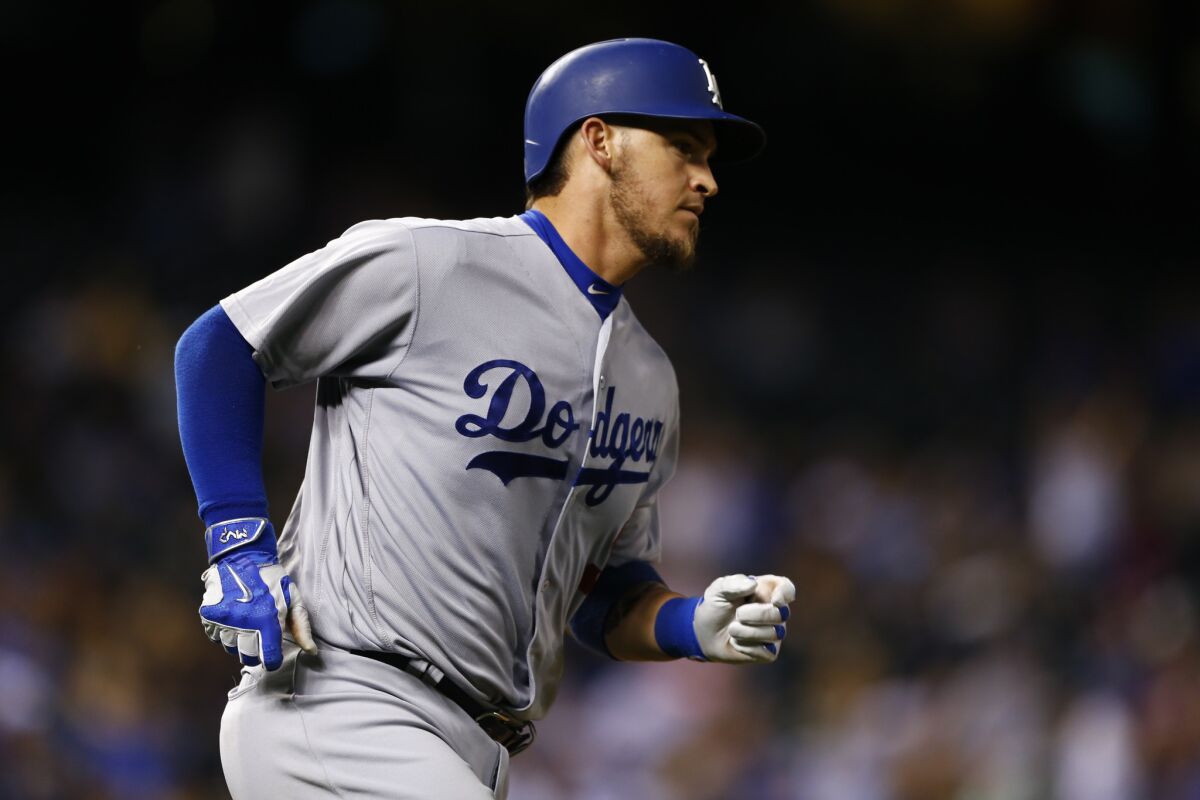 Hi, and welcome to another edition of Dodgers Dugout. My name is Houston Mitchell, and I am on strong medication to combat Olympic fever.
Stepping up
When Clayton Kershaw got injured on June 26, the Dodgers were 41-36 and eight games behind San Francisco in the NL West. For many, Kershaw's injury signaled the end of the season, since there was no possible way the Dodgers could make the playoffs without him.
Since June 26, the Dodgers have gone 21-13 (a .617 winning percentage, which is a 100-win pace for a full season) and are one game behind the Giants. How is this happening? Let's take a look at some key stats on the team since Kershaw was injured.
--Yasmani Grandal's slash line: .318/.439/.693
--Adrian Gonzalez: .355/.432/.521
--Corey Seager: .306/.359/.500
--Justin Turner: .319/.365/.615
--Howie Kendrick: .292/.362/.438
--Josh Reddick: .050/.095/.050
OK, I couldn't resist throwing that last one in there.
And some of the key pitchers since Kershaw was hurt:
--Kenta Maeda, 4-2, 3.92 ERA
--Scott Kazmir, 4-2, 4.50 ERA
--Kenley Jansen, 0-0, 0.96 ERA, 13 saves
--Joe Blanton, 1-0, 2.79 ERA, 11 holds
--Pedro Baez, 2-0, 1.00 ERA, 4 holds
--J.P Howell, 0-0, 1.29 ERA, 1 hold
As you can see, a lot of players have stepped up in Kershaw's absence. Wouldn't it be incredible if the Dodgers made the playoffs and won the World Series without him? And the best part of their strong play since the injury: It seems there is a different star in every victory. This team reminds me more and more of the 1988 Dodgers, because they seem to find a way to win despite seeming overmatched on paper against some teams. I used to get several emails a week telling me the Dodgers would finish in last place. I don't get those emails anymore. OK, except for that one guy who is still bitter that they didn't re-sign Zack Greinke.
Considering how many players have been on the disabled list this season, it's amazing they have done as well as they have. Here's a list of the players who have been or are on the DL:
Brett Anderson
Louis Coleman
Carl Crawford
Andre Ethier
Casey Fien
Yasmani Grandal
Alex Guerrero
Chris Hatcher
Kiké Hernandez
Rich Hill
Howie Kendrick
Clayton Kershaw
Adam Liberatore
Brandon McCarthy
Bud Norris
Joc Pederson
Yasiel Puig
Josh Ravin
Hyun-jin Ryu
Trayce Thompson
Chin-hui Tsao
Scott Van Slyke
Alex Wood
That's 23 players, including seven starting pitchers.
Great trade so far
Let's take a look at how the players the Dodgers acquired at the trade deadline are doing:
Josh Reddick is 1 for 20
Jesse Chavez has a 12.27 ERA
Josh Fields has thrown two scoreless innings
Rich Hill is still on the disabled list
Meanwhile, Yasiel Puig got two hits and three RBIs in his first game in the minors.
The magic number
Each week I will look at a uniform number a Dodger is wearing and go through the history of that number with the Dodgers. When I was a kid and went to games, I was always curious who wore the number of my favorite players. Then again, I was a strange kid. For "best Dodgers to wear the number," only the stats a player compiles while he was with the team and wearing that number count.
Next up is:
No. 43 (Luis Avilan)
Best Dodgers to wear No. 43: Charlie Neal (1956-61), Rick Sutcliffe (1978-81), Raul Mondesi (1993-99).
Others to wear No. 43 with the Dodgers: Johnny Van Cuyk (1947), Dan Bankhead (1950-51), Don Hoak (1954-55), Willie Crawford (1964-68), John Miller (1969), John Hale (1974-77), Jose Morales (1982-84), Ken Howell (1984-88), Mike Hartley (1989), Dave Hansen (1990-91), Kevin Elster (2000), Odalis Perez (2002), Andy Ashby (2001-03), Juan Encarnacion (2004), Yhency Brazoban (2004-08), Randy Wolf (2007-09), Will Ohman (2009), Brandon League (2013-14).
What Vin Scully means to me
I asked you to tell me your best Vin Scully memory, and I got a lot of responses. I will publish selected ones in each newsletter. And keep emailing them to me.
Jeff Jones: I became a fan of the Dodgers in 1968 at the age of eight. My parents were recently divorced at the time, and Vin became a surrogate father of sorts every night as I listened to the play by play of my favorite Dodgers, Maury Wills, Wes Parker, Claude Osteen and Willie Davis.
Because of Vin's endearing voice and commercials, I ate Farmer John hot dogs and when I became older, I made sure my first credit card was for Union 76. Of course, I had to sport the small, orange colored 76 antenna ball on my first car.
I finally had the opportunity to meet Vin Scully when I attended a night game at Dodger Stadium around 1993. Immediately after the game was over, I made my way up to the "Press Box Level" and patiently waited for him to enter the elevator. As he approached me, he saw me and I finally had the long, anticipated opportunity to express my thanks to Mr. Scully for his place in my childhood and baseball life. It was emotional for me as he was larger than life to me. Vin Scully is the Dodgers!
As we finished our very brief encounter, I noticed the elevator was filled with about eight or nine women who worked at the stadium and they were holding the door open for Vin. He graciously greeted every one of them by name and went to the very back of the elevator.
As the door closed, I was given another glimpse of the man, Vin Scully. That night, he taught me to treat everyone, no matter what their station in life or gender, with respect.
I know this: Vin Scully's legacy will live forever in the hearts of those touched by him.
The TV situation
If you would like to complain about the Dodgers' TV situation, you have three options: The Dodgers, Time Warner Cable and whatever local cable or satellite provider you have that doesn't carry the Dodgers. Here's who to contact:
For the Dodgers, click here or call (866) DODGERS ([866] 363-4377). (I hope you like form letters.)
For Time Warner, click here.
For DirecTV, call (800) 531-5000 or click here.
For your local cable or satellite provider, consult your bill for the customer service number and for the website.
And finally
David Ortiz visits Vin Scully in the press box. Watch and listen to it here.
Have a comment or something you'd like to see in a future Dodgers newsletter? Email me and follow me on Twitter: @latimeshouston
Get our Dodgers Dugout newsletter for insights, news and much more.
You may occasionally receive promotional content from the Los Angeles Times.