Yasiel Puig's first day in triple-A purgatory: three RBIs, and watching the Dodgers on television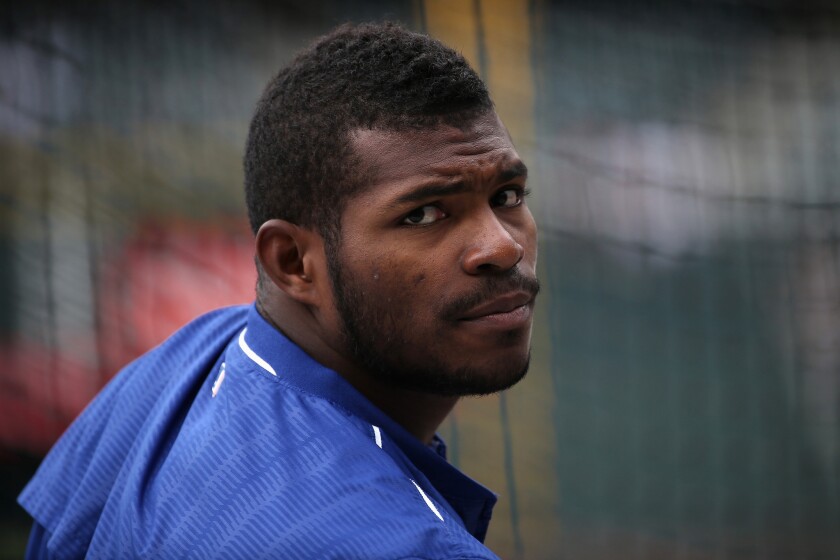 Reporting from Des Moines —
Yasiel Puig helped himself to a postgame meal from the foil trays atop a folding table. Then he sat alone, in the corner of a cramped clubhouse, on a black folding chair labeled with the words "MINOR LEAGUE BASEBALL," staring intently at the television perched above the chicken, steak, baked potatoes and green beans.
On the screen, the Dodgers were playing the Boston Red Sox. He was not there. He was here, two years removed from the All-Star Game, playing in the first triple-A game of his life. As Puig conducted a brief interview with reporters, he stopped at one point, seeing his picture on the television and having a pretty good idea what the announcers were saying about him.
Puig was not there. He said he knew why.
"He's not there because of his conduct, the way he's acting," said Luis Matos, the Oklahoma City coach who interpreted for Puig on Sunday. "That's why he's here, to get better in that part of his life and his game."
The way he's acting? What exactly did he mean by that?
"Everybody knows," Matos said, without translating the question for Puig.
Puig's performance was not at issue Sunday. In his first game in a week, Puig doubled, singled and drove in three runs in Oklahoma City's 6-4 loss to Iowa.
The Dodgers traded for Oakland Athletics right fielder Josh Reddick last Monday, then told Puig — the incumbent at the position — that he would be sent to the minor leagues. He flew here from Los Angeles on Saturday — the triple-A team took an overnight bus ride from Oklahoma after a 15-inning game — and made his debut for Oklahoma City on Sunday.
He wore No. 46, not his usual No. 66. His road-gray uniform did not include his name on the back of the jersey. Still, he was the center of attention, particularly among the handful of Dodgers fans living in the Des Moines area who were wearing a jersey with his name on the back.
Alex Carosone, 14, wore a Puig jersey that his uncle had sent from Southern California. His brother, Eddie, 10, wore a Clayton Kershaw T-shirt. His father, Tim, wore a Sandy Koufax shirt and offered a fatherly explanation of why the Dodgers had demoted Puig.
"When you're at this level, it's a little bit of a spanking, I guess," Tim Carosone said.
Armando Sierra, who was born and raised in Los Angeles before moving here two decades ago, wore his Puig jersey and brought a silver Sharpie in the hope Puig would sign it. He said he waited with about 50 other fans outside the Dodgers clubhouse before the game, but Puig arrived about 90 minutes before game time and did not stop to sign anything.
"He just rushed in," Sierra said. "He was the last one in. Everybody else was inside."
Puig did sign autographs along the first-base line, after he stretched and played catch, in the final few minutes before the game started. His first three at-bats resulted in ground balls that did not leave the infield — one an RBI single through the legs of the pitcher — and in his final at-bat he creamed a 93-mph fastball for a two-run double.
Puig's OPS has declined for a fourth consecutive year, from a sparkling .925 as a rookie to a below-league-average .706 this season. However, the Dodgers' decision to demote him was about performance in the clubhouse as well as on the field, and about accountability to teammates and coaches.
"We just want to help him become a better teammate to fit in," Oklahoma City Manager Bill Haselman said, "and to understand stuff a little better."
Puig would not say how many of his Dodgers teammates had texted him since the demotion, or whether any had.
"No comment," he said via Matos.
Puig said he had "no idea" how long he might stay at Oklahoma City but said he was well aware of what he had to do to return to the major leagues.
"Be a better teammate," he said via Matos. "Be a better performer on the field."
He declined to say what specific goals the Dodgers had communicated to him, or if he believed he had a future in Los Angeles.
"He's just coming here to be a better person," Matos said. "That's out of his hands. He just wants to play baseball.
"It doesn't matter if it's the Dodgers or with somebody else."
If he does not prosper here, after all, neither the Dodgers nor any other team might want him.
"That is what I'm trying to do here in triple-A, give all my effort," Puig said via Matos, "and then the Dodgers are going to decide what they are going to do."
Twitter: @BillShaikin
---
Get our high school sports newsletter
Prep Rally is devoted to the SoCal high school sports experience, bringing you scores, stories and a behind-the-scenes look at what makes prep sports so popular.
You may occasionally receive promotional content from the Los Angeles Times.