Dodgers Dugout: The 25 greatest Dodgers of all time, No. 8: Tommy Lasorda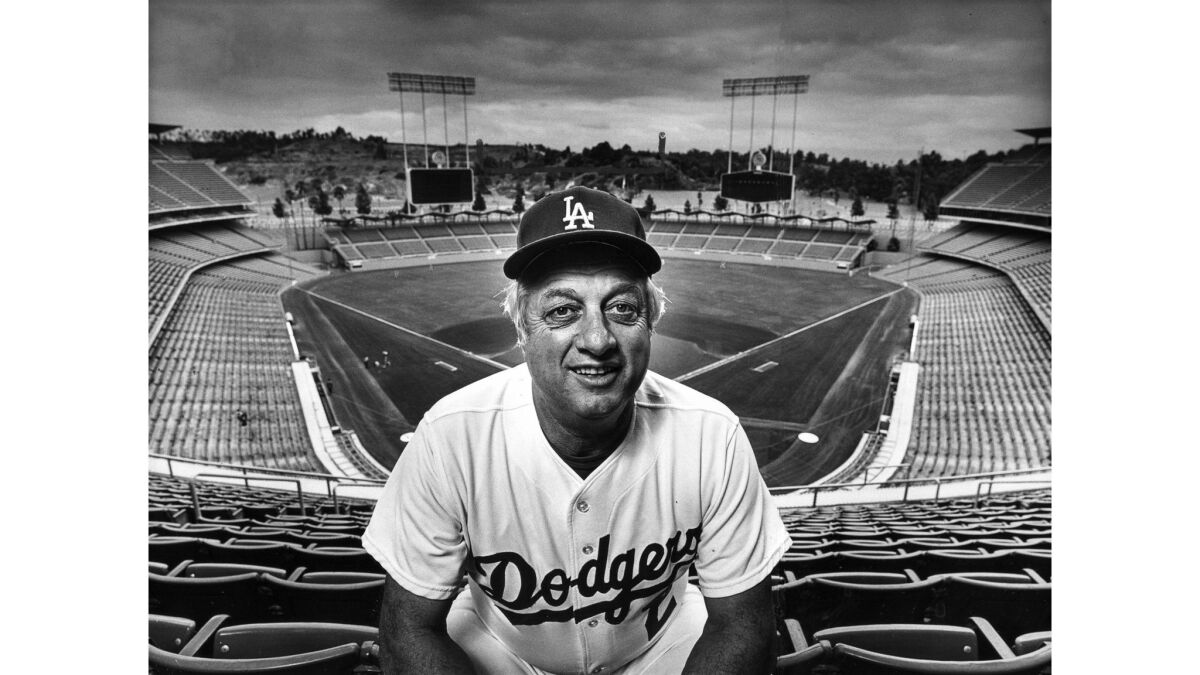 Hi, and welcome to another edition of Dodgers Dugout. My name is Houston Mitchell and let's get right to No. 8 in our countdown.
The 25 greatest Dodgers, No. 8: Tommy Lasorda (101 first-place votes, 19,256)
Tommy Lasorda began his pro baseball career in 1945 as a left-handed pitcher in the minors for the Philadelphia Phillies. After spending two years in the Army, he pitched one more season in the minors for the Phillies before the Dodgers drafted him in 1949. That began a long association with the Dodgers that continues to this day, with only a brief interruption to pitch for the Kansas City A's in 1956 and as a minor leaguer with the Yankees in 1956 and 1957 before being reacquired by the Dodgers in 1957.
Lasorda pitched in four games for the 1955 World Series champion Dodgers and has a World Series ring to show for it. He started against the St. Louis Cardinals on May 5 and had an interesting first inning. He walked Wally Moon, who took second on a wild pitch. Then he walked Bill Virdon. Another wild pitch put Virdon and Moon on second and third with Stan Musial at the plate. Musial struck out swinging. With Rip Repulski at the plate, Lasorda unleashed another wild pitch, and while Moon was sliding into home to score, he accidentally spiked Lasorda in the knee, opening up a gash deep enough to see bone. Lasorda, having waited years for this moment, covered up the injury, struck out Repulski and got Red Schoendienst to pop to first. When he limped to the dugout, manager Walter Alston saw his knee and took him out of the game. It was Lasorda's only start for the Dodgers.
The Dodgers sent Lasorda back to the minors June 8 to make room for a bonus baby they had signed: Sandy Koufax.
But Lasorda is not on this list because of his pitching; he's here because of his managing and the fact there may not have been a more colorful character in Dodgers history.
After retiring as a player in 1960, Lasorda became a scout for the Dodgers from 1961 to 1965. In 1966, he became a minor-league manager and led the Ogden Dodgers to three league championships. He became manager of triple-A Spokane in 1969 and remained their manager when they moved to Albuquerque in 1972. In 1973, he became the third-base coach for the Dodgers, who were still being managed by Alston.
Most figured Lasorda was the heir apparent to Alston, and Lasorda must have believed that too, because he turned down opportunities to interview for managing positions with the Montreal Expos and the New York Yankees.
Alston announced his retirement with four games remaining in the 1976 season and let Lasorda manage those final games. The Dodgers considered naming either Lasorda or first-base coach Jim Gilliam as the new manager but settled on Lasorda, who kept Gilliam as the first-base coach.
The rest, as they say, is history. It's hard to write a good summary for someone who has led such a public life as Lasorda. We all know he managed the team to the NL pennant in his first two seasons, losing to the Yankees in the World Series both times. He managed the Dodgers to World Series titles in 1981 and 1988.
Some people think Lasorda was all flash and no substance, considering him to be an overrated manager. But Lasorda did a very smart thing in 1981. The season had been split into two halves by a strike, and Major League Baseball decided that the teams in first place when the strike began would automatically qualify for the postseason, playing the second-half winner of their division. Lasorda, realizing he had a playoff spot sewn up, started giving his bench guys, men such as Jay Johnstone, Steve Yeager and Steve Sax, more playing time, getting them ready for the postseason. And who helped the Dodgers finally defeat the Yankees in the 1981 World Series? Guys such as Yeager and Johnstone, who had key hits in the six-game victory.
Lasorda's final game as Dodgers manager was June 23, 1996, a 4-3 victory over the Houston Astros. He went to the hospital the next morning because of stomach pains. It turned out he had actually had a heart attack. After taking time to recover, Lasorda announced his retirement on July 29, 1996. He finished with 1,599 victories, which is 20th on the all-time list. He will more than likely be passed by Mike Scioscia, who has 1,570 victories, this season.
Lasorda is 90 years old and has noticeably slowed down in recent years. He still gets a big ovation when he makes his way to his seat during home games. He was quite the talker in his prime, so what better way to end this with some Lasorda quotes:
"There are three types of baseball players: Those who make it happen, those who watch it happen and those who wonder, 'What happened?'"
"When you're not playing up to your capability, you gotta try everything, to motivate, to get them going. All of them have to be on the same end of the rope to pull together. It's playing for the name on the front of the shirt, not the back. Individualism gets you trophies and plaques. Play for the front, that wins championships. I try to remind them of that."
"I walk into the clubhouse today and it's like walking into the Mayo Clinic. We have four doctors, three therapists and five trainers. Back when I broke in, we had one trainer who carried a bottle of rubbing alcohol, and by the seventh inning he'd already drunk it."
"When you say you're a Padre, people ask when did you become a parent. When you say you're a Cardinal, they tell you to work hard because the next step is pope. But when you say you're a Dodger, everybody knows you're in the major leagues."
"I don't like the pitch count! How are you gonna develop your arm? If you're a track man, you don't say, 'Hey, you can't run too much.' Or if you're a boxer, you don't say, 'Hey, you can only box three rounds.' It's not right!"
"Listen, if you start worrying about what the people in the stands think of your decisions, before too long you're up in the stands with them."
After Pedro Guerrero had made several errors at third base: "Now I knew all Pedro needed was confidence. He had to want the ball hit to him at third base in crucial situations. So I took him for a walk around the field before the game and asked him, "Ninth inning, bases loaded, two out. We are down by a run. Who do you want batting? And Pedro said, 'I want to bat.' And I told him he was absolutely right. Now, reverse the situation. Two out, bases loaded, we are up by a run. You're playing third base. What are you thinking? And Pedro said, 'Please don't hit the ball to me.' I shook my head and said, 'Is that all you are thinking?' And Pedro responded, 'No, I'm also thinking, 'Please don't hit the ball to Steve Sax.'"
The list
Note: I received 8,382 ballots from newsletter readers who sent me their choices for the top 10 Dodgers of all time. Points were assigned based on ranking, with the first-place choice getting 12 points, second place getting 10, third place eight, down to one point for 10th place. After tabulating the ballots, I will be presenting the top 25 in points. We will be counting down Nos. 25 to 11, one each weekday, for the next three weeks. Then we will time the top 10 so No. 1 unveils March 29, the day the season opens. There will be separate newsletters for any news that comes out of spring training.
And finally
Next up (on Wednesday) is No. 7, a guy who won multiple league awards with the team.
Have a comment or something you'd like to see in a future Dodgers newsletter? Email me and follow me on Twitter: @latimeshouston.
Get our Dodgers Dugout newsletter for insights, news and much more.
You may occasionally receive promotional content from the Los Angeles Times.