Dodgers Dugout: The 25 greatest Dodgers of all time, No. 11: Orel Hershiser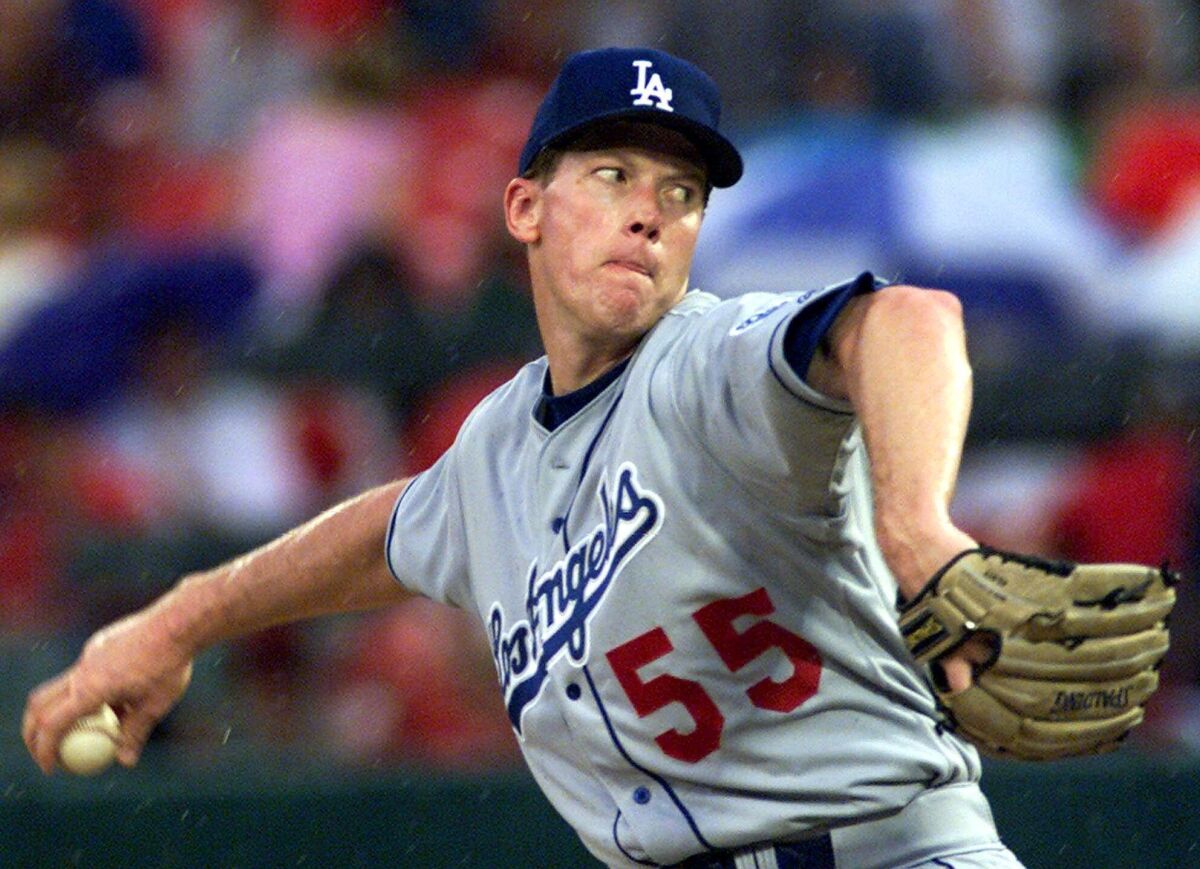 Hi, and welcome to another edition of Dodgers Dugout. My name is Houston Mitchell and let's get right to No. 11 in our countdown.
The 25 greatest Dodgers, No. 11: Orel Hershiser (19 first-place votes, 12,624 points)
Orel Hershiser finished the 1988 season by pitching 59 consecutive scoreless innings over seven starts including 10 innings of shutout ball in his final game of the season. The streak included five consecutive shutouts and, during the seven starts that encompassed the streak, Hershiser made 757 pitches, or 108 pitches per start.
It would never happen today. Sure, some great pitcher may break the streak, but not in seven starts. With today's focus on pitch counts and not facing a batter three times in a game, it would take about 10 starts to do it.
Hershiser broke the record of another great Dodgers pitcher, Don Drysdale, who was a Dodgers broadcaster that season.
"I really didn't want to break it," Hershiser said after the game. "I wanted to stop at 58. I wanted me and Don to be together at the top." But Drysdale, on hand to see his record broken, would have none of that. "I'd have kicked him right in the rear if I had known that .... I'd have told him to get his buns out there and get them."
Oh, and Hershiser also won the NL Cy Young and was named the NLCS and World Series MVPs in 1988. Pretty good year.
But the streak and the awards don't mean as much to Hershiser as winning the World Series that year.
"You can break a record or win a Cy Young and go home and celebrate with your wife and friends," Hershiser said in 1988, "but after it's over there's only a few people that really care about it. But if you win a team thing, you've got 24 guys and all their families, all their friends, a whole city celebrating."
By the way, Hershiser opened the playoffs in 1988 by pitching eight scoreless innings against the New York Mets in Game 1 of the NLCS. So, even though playoff games don't count officially, I consider it a 67-inning shutout streak.
"I hope somebody breaks the 59 scoreless. I hope we get another World Series MVP. I hope we get somebody who's dreamed about throwing the last pitch of a World Series and gets to do it," Hershiser said in a 2017 interview. "I hope that happens for somebody else. I know how good that feels and I hope somebody else gets to experience it."
Hershiser's nickname was Bulldog, a name given to him by manager Tommy Lasorda in 1984.
"I saw him pitch and I thought he didn't have much inside here," Lasorda, pointing to his heart, said in 2008. "He was a negative pitcher. Every ball he threw he threw with a negative attitude. And then I had that famous one-on-one meeting with him. I told him he was scared and that I didn't like his name .… So, I said 'You pitched yesterday like a scared dog. So, from now on your name is Bulldog. I'm going to call you Bulldog and you'll be a Bulldog and you'll act like a Bulldog.' And that's what happened. He acted like a Bulldog."
And that's how a Bulldog ended up the 11th-greatest Dodger of all time.
The list
Note: I received 8,382 ballots from newsletter readers who sent me their choices for the top 10 Dodgers of all time. Points were assigned based on ranking, with the first-place choice getting 12 points, second place getting 10, third place eight, down to one point for 10th place. After tabulating the ballots, I will be presenting the top 25 in points. We will be counting down Nos. 25 to 11, one each weekday, for the next three weeks. Then we will time the top 10 so No. 1 unveils March 29, the day the season opens. There will be separate newsletters for any news that comes out of spring training.
And finally
Next up is No. 10, another key member of the Boys of Summer Dodgers. Who is it? Find out Tuesday. On Monday, we will rank the NL West teams at catcher.
Have a comment or something you'd like to see in a future Dodgers newsletter? Email me and follow me on Twitter: @latimeshouston.
Get our Dodgers Dugout newsletter for insights, news and much more.
You may occasionally receive promotional content from the Los Angeles Times.