Dodgers Dugout: The 25 greatest Dodgers of all time, No. 9: Fernando Valenzuela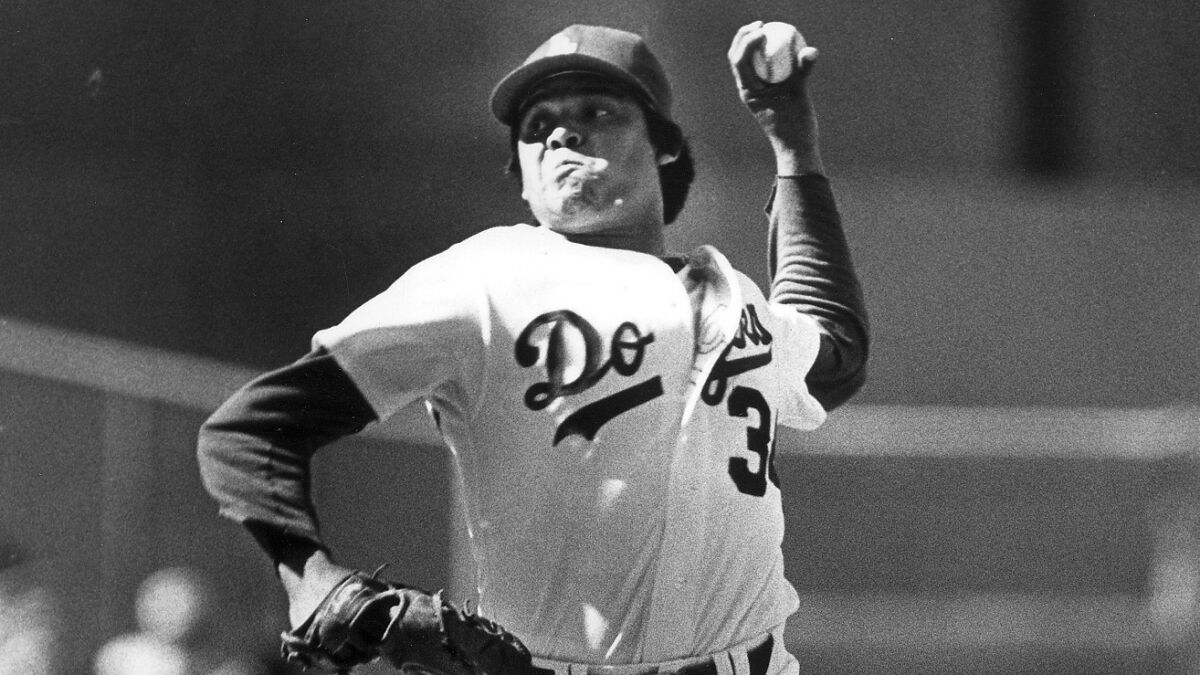 Hi, and welcome to another edition of Dodgers Dugout. My name is Houston Mitchell and let's get right to No. 9 in our countdown.
The 25 greatest Dodgers, No. 9: Fernando Valenzuela (11 first-place votes, 13,162 points)
Fernandomania. If you lived in Los Angeles in 1981, you know what that means. It was the year that a portly left-hander whom few people had heard of got the opening day start for the Dodgers because of injuries to Jerry Reuss and Burt Hooton. That left-hander, Fernando Valenzuela, shut out the Houston Astros on five hits. And Fernandomania was born.
Valenzuela went on to pitch shutouts in four of his next six games, and in the other two games, he gave up only one run. After eight starts, Valenzuela was 8-0 with seven complete games, five shutouts and an 0.50 ERA. Dodger Stadium became the place to be when he was starting. The Dodgers, already a big draw to begin with, were averaging more than 7,000 additional fans in the park when Valenzuela started at home.
He finished the season with a 13-7 record and a 2.48 ERA, winning the Rookie of the Year and Cy Young Awards.
His best season was probably 1986, when he went 21-11 with a 3.14 ERA and an amazing 20 complete games. To put that in context, the Dodgers as a team had two complete games in 2017.
It's hard to explain to those who didn't live through it what exactly Valenzuela meant to Dodgers fans, especially Latino fans, in the 1980s. Perhaps Dodgers Hall of Fame broadcaster Jaime Jarrin said it best, when he said in a 2006 interview for Dodgers magazine, "I truly believe that there is no other player in major league history who created more new fans than Valenzuela Valenzuela. Sandy Koufax, Don Drysdale, Joe DiMaggio, even Babe Ruth did not. Valenzuela turned so many people from Mexico, Central America, South America into fans. He created interest in baseball among people who did not care about baseball."
Valenzuela's legacy can still be seen at Dodger Stadium in the amazing number of fans you see wearing Valenzuela jerseys to games.
The Dodgers have not given Valenzuela's No. 34 to any other player since his departure from the team after the 1990 season. And though they have a policy of not retiring numbers of players unless they make the Hall of Fame, it's time to make their second exception to the policy (the first being Jim Gilliam) and retire Valenzuela's number. There is no one else, with the possible exception of Vin Scully, who has created more Dodgers fans than Valenzuela. The team's legacy would not be the same without him. It's time to do the right thing and recognize what Valenzuela did for the team and the community.
Quick note
I have received a few emails from readers who are tired of this series and think the newsletter should be devoted only to news from spring training. I respect your position, but this countdown is not replacing any spring training-related newsletters, it is in addition to them. The Dodgers are in the fortunate position of having almost every spot in the lineup already decided, with the exception of left field and parts of the bullpen. There simply isn't a lot of spring training news to write about or analyze. So, I ask that you bear with me through the countdown, and tomorrow there will be a newsletter on the chances of Matt Kemp making the team.
The list
Note: I received 8,382 ballots from newsletter readers who sent me their choices for the top 10 Dodgers of all time. Points were assigned based on ranking, with the first-place choice getting 12 points, second place getting 10, third place eight, down to one point for 10th place. After tabulating the ballots, I will be presenting the top 25 in points. We will be counting down Nos. 25 to 11, one each weekday, for the next three weeks. Then we will time the top 10 so No. 1 unveils March 29, the day the season opens. There will be separate newsletters for any news that comes out of spring training.
And finally
Next up (on Monday) is No. 8, another left-handed pitcher.
Have a comment or something you'd like to see in a future Dodgers newsletter? Email me and follow me on Twitter: @latimeshouston.
Get our Dodgers Dugout newsletter for insights, news and much more.
You may occasionally receive promotional content from the Los Angeles Times.