Dodgers Dugout: A closer look at the Manny Machado trade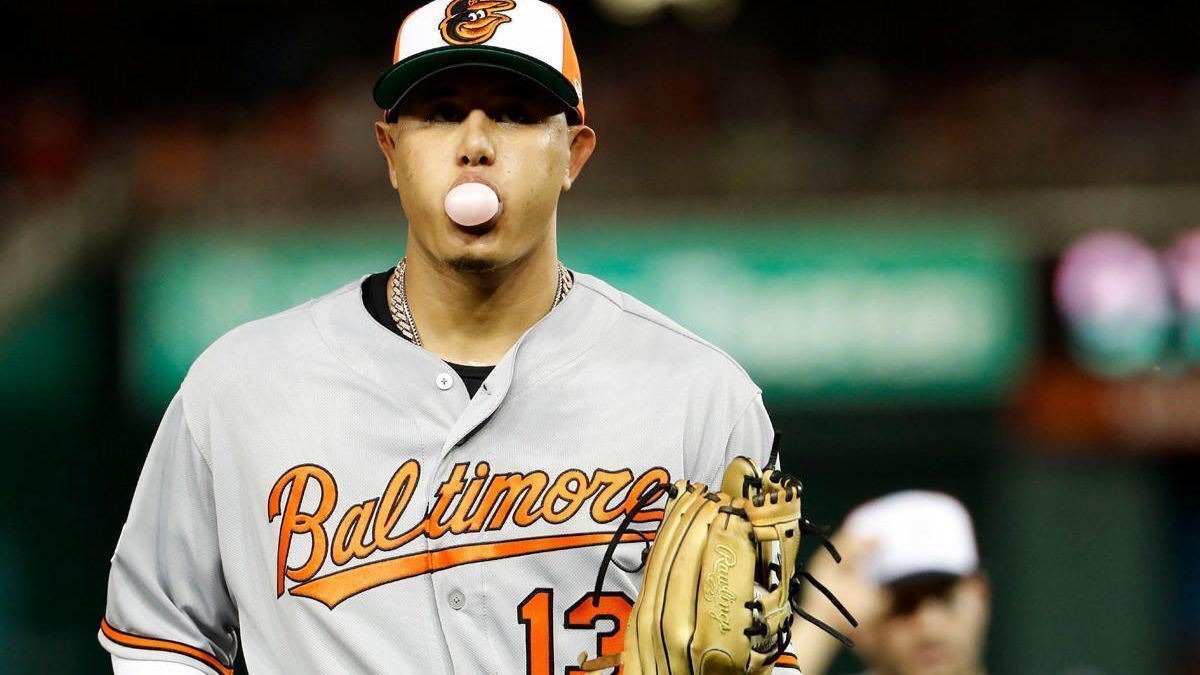 Hi, and welcome to another edition of Dodgers Dugout. My name is Houston Mitchell, and I hope I didn't miss anything important during the All-Star break.
Dodgers get Machado
The big news, of course, is the Dodgers getting Manny Machado from the Baltimore Orioles for five minor leaguers. Machado will play either short or third for the Dodgers (but mostly short) and becomes the big bat in the lineup.
With Machado on board, the Dodgers are expected to move Chris Taylor to second base, making Max Muncy the main first baseman, with Cody Bellinger moving to the outfield. Here's a look at a possible Dodgers starting lineup:
Joc Pederson, LF
Max Muncy, 1B
Justin Turner, 3B
Manny Machado, SS
Matt Kemp, RF
Cody Bellinger, CF
Chris Taylor, 2B
Yasmani Grandal, C
Or they could move Taylor back to leadoff and drop Pederson down, or have Turner bat second and Machado third or … there are endless possibilities. The main point is it's a very impressive lineup.
By most metrics, Machado is a below-average defensive shortstop, and Taylor, who has played only 35 games in the majors at second, probably won't be winning a Gold Glove there, so the only drawback to the move is it weakens the team defensively. However, the Dodgers are excellent at positioning their fielders, so that will make up for some of it. Overall, getting Machado's bat in the lineup far outweighs the damage to the defense.
And the Dodgers probably aren't done yet. They still could acquire a couple of relievers and a starting pitcher. Doing so would mean trading a major leaguer because the Dodgers want to keep their payroll under the luxury tax threshold. The names most often mentioned in potential deals are Yasiel Puig, Alex Wood and Logan Forsythe. We'll just have to wait and see what happens. But I'd be very surprised if this is the only trade.
By the way, Machado will wear No. 8 with the Dodgers. The last player to wear No. 8 with the team was Shane Victorino in 2012. No. 8 was also worn by John Roseboro and Reggie Smith, among others.
A closer look at Machado
Born: July 6, 1992, in Hialeah, Fla.
Drafted by Baltimore as the third overall pick of the 2010 draft.
Contract status: Free agent after this season.
Injury history
Sept. 23, 2013: Dislocated his left knee. Had reconstructive surgery and was activated from the disabled list on April 30, 2014.
Aug. 11, 2014: Tore a ligament in his right knee and had season-ending surgery, but returned to play all 162 games in 2015.
Statistics
2012: .262/.295/.445/98 OPS+, 7 homers, 26 RBIs in 51 games
2013: .283/.314/.432/102, 51 doubles, 14 homers in 156 games.
2014: .278/.324/.431/110, 14 doubles, 12 homers, 32 RBIs in 82 games.
2015: .286/.359/.502/132, 30 doubles, 35 homers, 86 RBIs in 162 games.
2016: .294/.343/.533/130, 40 doubles, 37 homers, 96 RBIs in 157 games.
2017: .259/.310/.471/107, 33 doubles, 33 homers, 95 RBIs in 156 games.
2018: .315/.387/.575/164, 21 doubles, 24 homers, 65 RBIs in 96 games.
Won Gold Glove at third base in 2013 and 2015. Finished in the top 10 in MVP voting in 2013, 2015 and 2016. Four-time All-Star.
A closer look at the five guys the Dodgers gave up
Yusniel Diaz, OF
Age: 21
This season with double-A Tulsa: .314/.428/.477 with 10 doubles, 4 triples and 6 homers in 264 plate appearances.
Prospect rank: The Dodgers' No. 4 prospect as ranked by MLB.com. Ranked 84th overall.
Comment: The centerpiece of the deal, Diaz signed with the Dodgers in 2015 and has quickly moved up the minor league ladder. He hit two homers in the All-Star Futures.
Game last weekend. Good on-base skills, but there's some question whether his power will continue to develop.
Rylan Bannon, 3B/2B
Age: 22
This season with Class A Rancho Cucamonga: .296/.402/.559 with 17 doubles, 6 triples and 20 homers in 403 plate appearances.
Prospect rank: The Dodgers' No. 27 prospect as ranked by MLB.com.
Comment: Drafted by the Dodgers in eighth round of the 2017 draft, Bannon is considered a bit undersized (5-foot-10, 180 pounds), but if his power holds up in the upper levels of the minors, he could be the steal of the deal.
Dean Kremer, RHP
Age: 22
This season with double-A Tulsa and Class A Rancho Cucamonga: 6-3, 3.03 ERA with 125 strikeouts in 86 innings and a 1.151 WHIP
Prospect rank: The Dodgers' No. 28 prospect as ranked by MLB.com.
Comment: Kremer has a mid-90s fastball to go with a curve, changeup and splitter. Named to the Cal League All-Star team this season.
Zach Pop, RHP
Age: 21
This season with Class A Great Lakes and Class A Rancho Cucamonga: 1-2, 1.04 ERA with 47 strikeouts in 43.1 innings and a 0.877 WHIP
Prospect rank: Not ranked among the Dodgers' top 30 prospects by MLB.com.
Comment: Pop has an appropriate name because his fastball touches 99 mph. He has been used as a closer this season in the minors and has relied on his fastball and a slider to devastating effect, giving up only one earned run in his last 27 innings and allowing only 19 hitters to reach base.
Breyvic Valera, utility player
Age: 26
This season with Dodgers: .172/.273/.172 in 20 games.
This season with triple-A Oklahoma City: .284/.350/.433 with 8 doubles and 6 homers in 263 plate appearances.
Prospect rank: Not ranked among the Dodgers' top 30 prospects by MLB.com.
Comment: Valera is a guy who can play almost every position but can't really hit. In this time of 13-player, 12-pitcher rosters, he is valuable because of his versatility.
Past trade deadline deals in the Andrew Friedman era
July 30, 2015: As part of a three-team trade, the Dodgers send Zachary Bird, Hector Olivera and Paco Rodriguez to Atlanta and Victor Araujo, Jeff Brigham and Kevin Guzman to Miami in exchange for Bronson Arroyo, Luis Avilan, Jim Johnson, Mat Latos, Mike Morse, Jose Peraza and Alex Wood.
Record before trade: 57-45, first place by a half-game over San Francisco.
Record after trade: 35-25
Final standings: Dodgers finish 92-70 and win division by eight games over San Francisco.
Aug. 19, 2015: Sent John Richy and Darnell Sweeney to Philadelphia for Chase Utley.
Record before trade: 67-52, first place by two games over San Francisco.
Record after trade: 25-18
Final standings: Dodgers finish 92-70 and win division by eight games over San Francisco.
Aug. 1, 2016: Sent Grant Holmes, Jharel Cotton and Frankie Montas to Oakland for Rich Hill and Josh Reddick.
Record before trade: 59-46, second place, two games behind San Francisco.
Record after trade: 32-25
Final standings: Dodgers finish 91-71 and win division by four games over San Francisco.
Aug. 25, 2016: Sent Joey Curletta, Tommy Bergians and A.J. Ellis to Philadelphia for Carlos Ruiz.
Record before trade: 71-55, first place, three games over San Francisco.
Record after trade: 20-16
Final standings: Dodgers finish 91-71 and win division by four games over San Francisco.
July 31, 2017: Sent A.J. Alexy, Brendon Davis and Willie Calhoun to Texas for Yu Darvish. Sent Hendrik Clementina and Scott Van Slyke to Cincinnati for Tony Cingrani. Sent Oneil Cruz and Angel German to Pittsburgh for Tony Watson.
Record before trade: 74-31, first place, 14 games ahead of Arizona.
Record after trade: 30-27
Final standings: Dodgers finish 104-58 and win division by 11 games over Arizona.
More KTLA games
For those of you who live in the Los Angeles area and are unable to see Dodgers games on TV, the Dodgers announced that four games in August and one in September will be televised on KTLA (Channel 5). Those games are:
Saturday, Aug. 4, vs. Houston, 6 p.m.
Wednesday, Aug. 15, vs. San Francisco, 7 p.m.
Monday, Aug. 20, vs. St. Louis, 7 p.m.
Friday, Aug. 31, vs. Arizona, 7 p.m.
Tuesday, Sept. 4, vs. New York Mets, 7 p.m.
Meanwhile, there is no agreement between DirecTV and Spectrum SportsNet coming in the near future.
Ask Ross Porter
Hi, fans! It's good to be back with you to answer your questions during this baseball season. Please send your questions to Houston, and he will pass them on to me. Include the city where you live.
Joseph Russell of Sherman Oaks asks: Ross, Joc Pederson has made an amazing turnaround in his contact and strikeout rates. How did he do it?
Ross: First, the Dodgers asked Joc to improve his physical conditioning despite setting a record with a hit and a run in each of his first six World Series games. He also established a Dodger postseason mark and tied a World Series record with an extra base hit in five consecutive games, including three home runs.
Pederson started this season by going four for 27 (.148) and didn't get hot until June, when he settled on a batting stance. A key was limiting his head movement. Joc began leaning forward so his head started at a lower position. He went into more of a crouch trying to get into his legs to a greater extent and bent his knees more. Pederson also pulled his hands farther away from his body, with his hands and bat angle in a similar position and his front side slightly open.
The 26-year-old newlywed crushed seven home runs in his first 24 plate appearances in June and finished the month with 10 while hitting .283. Another important factor as you mention, Joseph, is the reduction in Joc's strikeout rate. In his first three seasons, he struck out 35%, 32% and 25% of the time, respectively. This season, only 17%. Dave Roberts says Pederson is the Dodger that has grown the most this season.
Bob Korda asks: Your report on the 453 baseball players who have been on the disabled list this year and the $411 million they have been paid was shocking. Can't teams buy insurance policies?
Ross: Clubs usually insure only the long-term contracts of their expensive players with a three-year policy and renewal with a physical. Teams get 50% to 80% of the player's pay, but it might take a year. Position players are less expensive than pitchers who might be rejected because of an injury history. The burden of paying costly insurance premiums hurts smaller market franchises.
Michael Green of Monterey, Calif., asks: Few catchers have won batting titles in the majors. Is there a reason, Ross?
Ross: Only four catchers in the modern era have been the best average hitter in his league — "Bubbles" Hargrave of the 1936 Reds, Ernie Lombardi with the 1938 and 1942 Reds, Joe Mauer of the Twins in 2006, 2008 and 2009, and Buster Posey of the 2012 Giants. Why? Michael, physical pounding behind the plate for 150 or more games and lack of speed needed for infield hits. My late friend, Hall of Fame catcher Gary Carter, estimated that he went into a crouch 250,000 times. Not good for the legs.
Gavin Dluehosh of Portland, Ore., asks: Hi, Ross. How many uniforms does an everyday player go through in a season? Who does their laundry?
Ross: Each player is assigned five to seven polyester home and road uniforms and get new ones if there is a tear or stain. The team's clubhouse staff washes them.
Up next
Friday, 5 p.m.: Dodgers (Rich Hill, 2-4, 4.55 ERA) at Milwaukee (Wade Miley, 1-1, 2.38 ERA)
Saturday, 4 p.m.: Dodgers (Clayton Kershaw (3-4, 2.74 ERA) at Milwaukee (Chase Anderson, 6-7, 3.78 ERA)
Sunday, 11 a.m.: Dodgers (Alex Wood, 5-5, 3.92 ERA) at Milwaukee (Brent Suter, 8-6, 4.39 ERA)
And finally
Bill Plaschke writes about the Machado trade and what the Dodgers need to do next. Read all about it here.
Have a comment or something you'd like to see in a future Dodgers newsletter? Email me and follow me on Twitter: @latimeshouston.
---
Get our Dodgers Dugout newsletter for insights, news and much more.
You may occasionally receive promotional content from the Los Angeles Times.