Dodgers Dugout: A little small ball never hurt anyone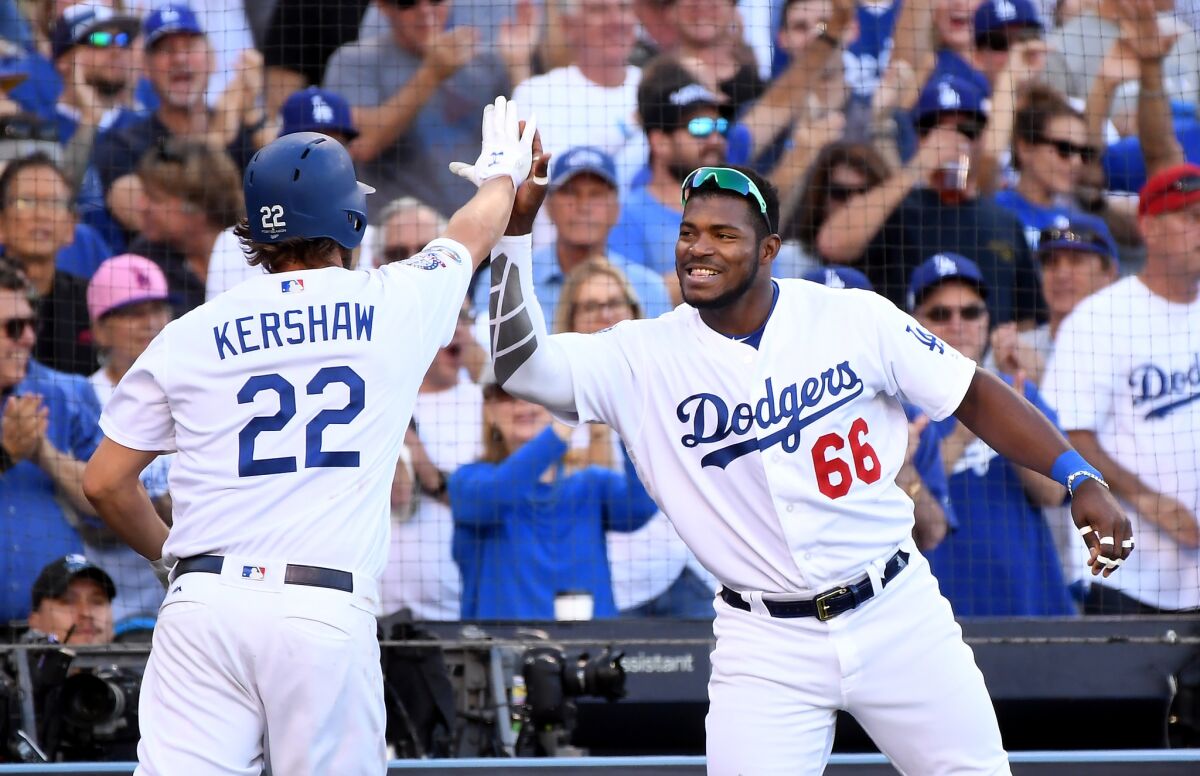 Hi, and welcome to another edition of Dodgers Dugout. My name is Houston Mitchell, and the Dodgers are five wins away from … let's not jinx it.
The NLCS
It's amazing what happens when you don't always try for home runs and just put the ball in play.
--Or, as Cody Bellinger put it: "Our approach was single them to death. And we did a great job executing that."
--Now just apply that approach at key times in the game, say second and third and one out, and everyone's happy.
--How about that Clayton Kershaw? He was aware of all the criticism after his Game 1 start, spent some time with pitching coach Rick Honeycutt and came up with a new plan for Game 5: Use the curveball more.
--Honeycutt: "You always want a speed separator. Everybody is talking about [Kershaw's] fastball and the slider are the same speed. A separator of speed puts that doubt in their mind."
--Dave Roberts on Kershaw: "When you get a champion like him, that gets hit around a little bit, he's going to respond. And that's what he did today."
--That's what an ace does, he adjusts. And that's what Kershaw did. And that's why yes, I still think he will opt out, because some team will offer him a nice contract. But that's a story for another newsletter.
--You know who else has shown remarkable restraint at the plate all season and in the playoffs? Yasiel Puig. Yes, I know he had a bad strikeout earlier this series, but for the most part, he is laying off pitches he used to chase. He had a big hit in Game 5. It's why he had his best OPS+ this season since 2014.
--I was worried the Dodgers would be tired after the long 13-inning win over Milwaukee, but it was the Brewers who looked tired.
--I said the Dodgers in seven when the series started, and I am sticking with it. But if the Dodgers want to win it tonight, I'm fine with that.
--Brewers Manager Craig Counsell, who spends more time on the field complaining about stuff than his players spend on the field actually playing, tried a trick in Game 5, but Roberts didn't fall for it.
--He started Wade Miley, a left-hander, hoping Roberts would start all his right-handers. Then, when he switched to a right-hander after one batter, the Dodgers would either have to use almost their whole bench to counter, or they would have to have some bad matchups at the plate.
--Instead, Roberts started three left-handed hitters. For all the criticism Roberts gets, he didn't fall for it and deserves the credit.
--Miley will also start Game 6 tonight, but it's unlikely Counsell will employ the same strategy.
--Historical note: Royals manager Dick Howser did a similar thing in the 1985 ALCS. His opponent, Toronto, had left-handed hitters such as Al Oliver, who would tee off on Royals closer Dan Quisenberry, a right-hander. Howser needed to counter that, so he started a right-hander, Bret Saberhagen in Game 7. Bobby Cox, managing the Blue Jays, started his left-handed hitting lineup. Saberhagen pitched three scoreless innings and Howser took him out and brought in Charlie Leibrandt, a left-hander. Sure enough, Cox took out most of his left-handed hitters. Oliver, Rance Mulliniks and Ernie Whitt went to the bench for Garth Iorg, Jeff Burroughs and Cliff Johnson. When Quisenberry came in in the ninth, the Blue Jays had no one to counter with. Leibrandt got the win, Quisenberry got the last outs. The Royals went on to win the World Series.
--How unorthodox was that strategy? Saberhagen was their best pitcher and won the Cy Young Award that season. It's the equivalent of using Kershaw or Justin Verlander as a decoy.
--Wasn't the Brewers bullpen supposed to be much better than the Dodger bullpen?
--Some Dodgers fans came to the defense of Manny Machado after he dragged his foot across the ankle of Brewers first baseman Jesus Aguilar in Game 4. Here's my take on it: When pretty much everyone in baseball, including former Dodgers, say it was a bush-league play, then it was a bush-league play. If the situation was reversed, those same Dodgers fans would be crying foul. Did Aguilar leave his foot on the bag too long? Yes, but that's not an excuse to try and hurt him. There was plenty of room for Machado to avoid him.
--Tonight, Hyun-Jin Ryu pitches. He has been much better at home (1.15 ERA) than on the road (3.58) this season. You'll hear a lot about that on the FS1 broadcast, I'm sure. But if you look at his career numbers, the split is much closer: Home (2.85), road (3.56). Either way, I have full confidence that Ryu will pitch a strong game.
--Speaking of FS1, when is Joe Buck going to ask Christian Yelich to marry him? I get that he is an excellent player, but does Buck have to fawn over every at-bat of his?
--I love writing for you guys, but I hope this is my last newsletter until the day of Game 1 of the World Series.
Dodgers postseason batting averages this season
Chris Taylor, .333 (7 for 21), 1 triple, 1 homer, 3 RBIs
Yasiel Puig, .318 (7 for 22), 2 doubles, 1 RBI
Justin Turner, .296 (8 for 27), 1 double, 1 homer, 3 RBIs
Joc Pederson, .280 (7 for 25), 1 double, 1 homer, 1 RBI
Manny Machado, .250 (9 for 36), 2 double, 3 homers, 9 RBIs
Matt Kemp, .231 (3 for 13), 1 double, 1 RBI
Brian Dozier, .200 (2 for 10), no extra-base hits, 2 RBIs
Max Muncy, .192 (5 for 26), 2 homers, 5 RBIs
Austin Barnes, .182 (2 for 11), no extra-base hits, 2 RBIs
Cody Bellinger, .143 (4 for 28), 1 double, 2 RBIs
David Freese, .143 (1 for 7), no extra-base hits, 3 RBIs
Yasmani Grandal, .130 (3 for 23), 1 homer, 1 RBI
Kiké Hernandez, .091 (2 for 22), 1 homer, 1 RBI
NLCS schedule
Game 6 — Friday, 5:30 p.m.: Dodgers (Hyun-Jin Ryu) at Milwaukee (Wade Miley). TV: FS1
Game 7* — Saturday, 6 p.m.: Dodgers (TBA) at Milwaukee (TBA): TV: FS1
* — if necessary. All times Pacific.
Shameless plug
We have five top reporters covering every Dodgers playoff game for The Times: Andy McCullough, Jorge Castillo, Bill Plaschke, Dylan Hernandez and Bill Shaikin. If you are not checking out our website and reading their stories, you are missing out on some great stuff. So, what are you waiting for? Click here and start reading.
And if you aren't near a TV or radio to monitor each game, I'm doing live updates for The Times every game. You can find it during the game at the above link.
And finally
Watch highlights of the Game 5 victory. Click here to watch.
Have a comment or something you'd like to see in a future Dodgers newsletter? Email me and follow me on Twitter: @latimeshouston.
Get our Dodgers Dugout newsletter for insights, news and much more.
You may occasionally receive promotional content from the Los Angeles Times.