Dodgers Dugout: Here's one look at the position players who should be on the playoff roster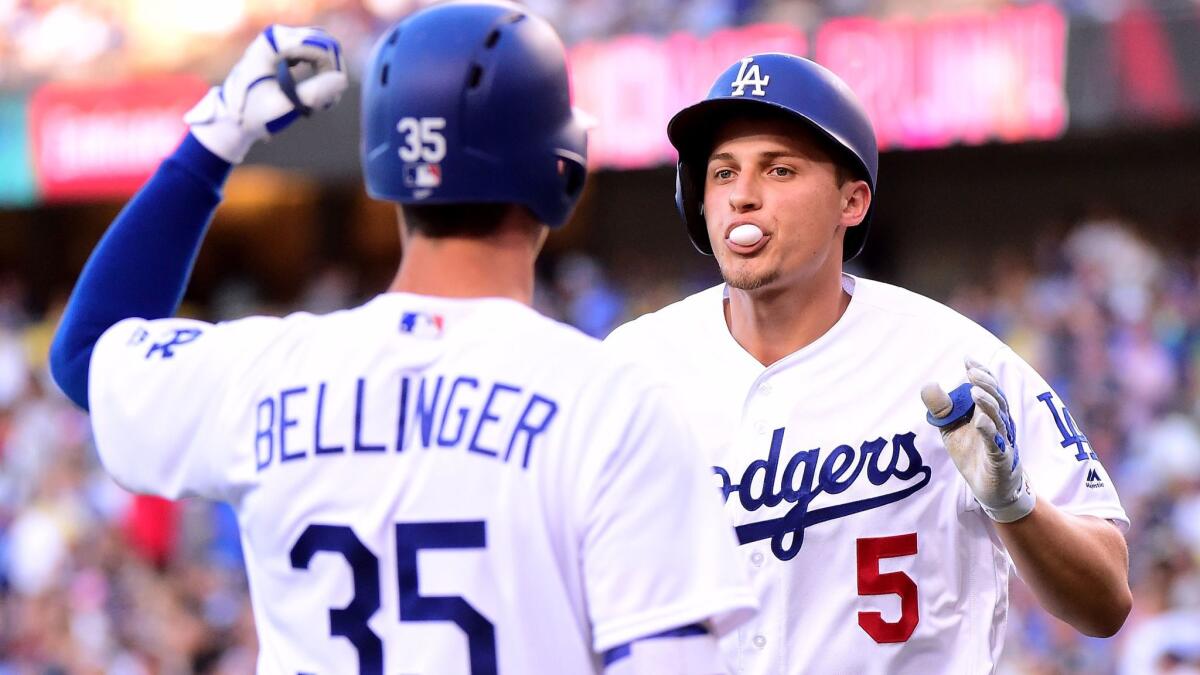 Hi, and welcome to another edition of Dodgers Dugout. My name is Houston Mitchell, and I didn't watch any of the champagne celebration over winning the NL West. I know how that movie ends already. I'm hoping for a rewrite.
Playoff roster
Because Dodgers Dugout will go daily during the playoffs, here's a shorter-than-normal version (hey, stop applauding) as we get ready for the playoff opener next week.
So, what batters deserve to be on the Dodgers' playoff roster? Here's one opinion:
Catchers
Austin Barnes
Yasmani Grandal
Infielders
Cody Bellinger
Logan Forsythe
Corey Seager
Justin Turner
Chase Utley
Outfielders
Andre Ethier
Enrique Hernandez
Yasiel Puig
Chris Taylor
That leaves two spots available for batters (unless the Dodgers go with 13 pitchers, which leaves one spot). Here are the candidates for the last two spots.
Charlie Culberson
Kyle Farmer
Adrian Gonzalez
Curtis Granderson
Joc Pederson
There aren't a lot of great choices. The easy picks are Granderson and Gonzalez. They are both veterans with playoff experience. However, since coming off the DL, Gonzalez is hitting .197, hasn't had a hit since Sept. 5 and only four plate appearances since then. Granderson is hitting .143 in September, but has been hitting the ball harder lately. He's hitting .227 in the last week. Pederson is two for 15 since coming back from the minors. Farmer would be added if the Dodgers wanted to carry three catchers, allowing them to play Barnes at second base or use him as a pinch-hitter. Culberson would be added depending on how severe Seager's elbow injury is: If they are afraid he can't make it through the series, Culberson could be the insurance policy.
I'd probably add Farmer and Granderson. Gonzalez looks immobile, and I like the flexibility three catchers allows the team. Pederson still looks lost at the plate, and his defense has gone downhill.
There's still a week's worth of games, so things could change if someone decides to heat up at the plate. But I'm sure the Dodgers are using this week to figure out exactly who those last two spots should go to. So don't mark my choices down in pen.
We'll look at pitchers next time.
Best record in baseball
Remember, MLB dumped the rule that the league that wins the All-Star Game gets home-field advantage. Now it goes to the team with the best record.
The standings after Sunday's games:
Dodgers, 99-57
Cleveland, 98-58, 1 back
Houston, 95-59, 3 back
Washington, 94-61, 4 1/2 back
If the Dodgers and Cleveland tie for best record, the Dodgers would get home field based on the fact that they beat the Indians two of three times during the season.
All by himself
Clayton Kershaw surpassed 200 strikeouts for the season during Sunday's win over the Giants. He has done it seven times for the Dodgers, breaking a tie with Sandy Koufax and Don Drysdale for most in Dodgers history.
Shameless plug dept.
On Wed., Oct. 11 at 7 p.m., I will be moderating a discussion with former Dodgers GM Ned Colletti at Chevalier's Books at 126 N. Larchmont Blvd. in Los Angeles. Colletti will also be signing copies of his book at the event. So if you've ever wanted to boo me in person, please stop by. For more information, click here.
Also, if you are a fan of horse racing, The Times is starting a horse racing newsletter that will work very much like this Dodgers newsletter. It will include entries and results and the news of the day. And it's free! To sign up, click here: https://lat.ms/2wVt9oq.
Next series
Monday, 7 p.m. PT, San Diego (Travis Wood, 3-3, 6.23) at Dodgers (Yu Darvish, 9-12, 3.96 overall and 3-3, 3.80 with the Dodgers)
Tuesday, 7 p.m. PT, San Diego (Dinelson Lamet, 7-7, 4.45) at Dodgers (Alex Wood, 15-3, 2.71)
Wednesday, 7 p.m. PT, San Diego (Clayton Richard, 8-14, 4.63) at Dodgers (Rich Hill, 11-8, 3.50)
Note: Pitchers are subject to change.
And finally
The Dodgers' clubhouse crew is well-versed in cleaning up after champagne celebrations. Read all about it here.
Have a comment or something you'd like to see in a future Dodgers newsletter? Email me and follow me on Twitter:@latimeshouston
Twitter: @latimeshouston
Get our Dodgers Dugout newsletter for insights, news and much more.
You may occasionally receive promotional content from the Los Angeles Times.