Dodgers Dugout: Who are the four best relievers in team history?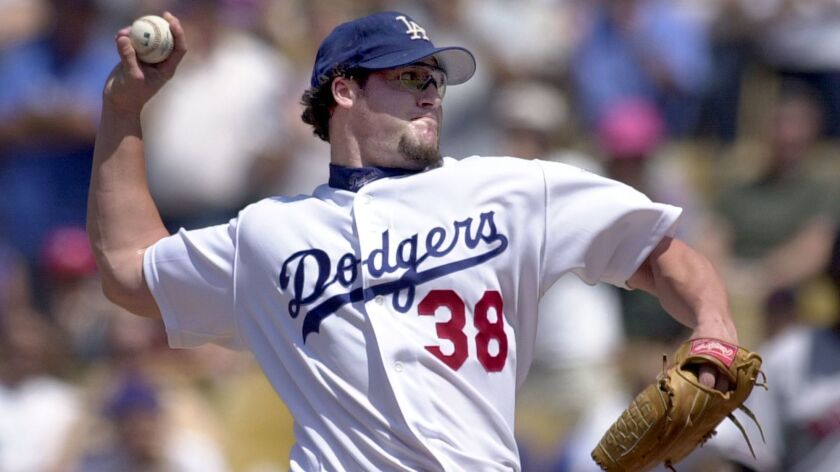 Hi, and welcome to another edition of Dodgers Dugout. My name is Houston Mitchell and it's time to continue selecting the all-time 40-man roster for the Dodgers.
The all-time team, relievers
The ground rules for how relievers made the selection list:
First, we are counting only what a pitcher did as a Dodger.
Second, only games played since 1901 count. My apologies to those who played before then.
Third, the pitcher had to save at least 40 games with the Dodgers. Plus, I added in Larry Sherry, who only had 39 saves, but won a World Series MVP.
Finally, you can vote for four relievers. After the recaps of each pitcher, there will be a link to a site where you can make your selections. With that, let's get to it. There are 17 relievers who meet the criteria for the Dodgers.
Let's look at them using three statistics: Save% (The percent of saves successfully converted), IRS% (the percentage of runners on base when the reliever came in that scored) and WAR (wins above replacement, which shows career value with the Dodgers). Those three stats don't give a complete picture, but it should give an overall sense of the value of each player. I encourage you to do further research on each player if you are unsure.
Save %
Eric Gagne, 96.4%
Kenley Jansen, 89.9%
Takashi Saito, 89%
Jeff Shaw, 83.8%
Ed Roebuck, 79.6%
Todd Worrell, 79.4%
Jay Howell, 79.4%
Ron Perranoski, 76.3%
Clem Labine, 76.3%
Charlie Hough, 75%
Jim Brewer, 74.6%
Jonathan Broxton, 71.8%
Tom Niedenfuer, 71.1%
Larry Sherry, 70.9%
Steve Howe, 70.2%
Mike Marshall, 62.7%
Numbers not available for Hugh Casey
IRS%
Eric Gagne, 15%
Jeff Shaw, 18.42%
Kenley Jansen, 23.58%
Jonathan Broxton, 29.37%
Jim Brewer, 29.92%
Ed Roebuck, 32.25%
Charlie Hough, 32.38%
Takashi Saito, 33.33%
Tom Niedenfuer, 34.1%
Ron Perranoski, 34.2%
Larry Sherry, 35.26%
Mike Marshall, 35.9%
Jay Howell, 36.79%
Steve Howe, 37.14%
Clem Labine, 39.86%
Todd Worrell, 42.1%
Numbers not available for Hugh Casey
WAR
Kenley Jansen, 15.7
Jim Brewer, 15.7
Ron Perranoski, 14.9
Clem Labine, 11.3
Hugh Casey, 11.0
Eric Gagne, 10.9
Jay Howell, 10.5
Tom Niedenfuer, 9.8
Takashi Saito, 8.1
Steve Howe, 6.7
Larry Sherry, 6.5
Jonathan Broxton, 6.1
Ed Roebuck, 4.4
Jeff Shaw, 3.6
Charlie Hough, 3.0
Mike Marshall, 2.0
Todd Worrell, 1.7
A closer look at the players (statistics are with Dodgers only):
Jim Brewer (1964-75, 61-51, 2.62 ERA, 126 saves): Brewer pitched in 474 games with the Dodgers, fourth in team history behind Don Sutton, Don Drysdale and Kenley Jansen. He became the closer in 1968 and remained in the job through the 1973 season. He was very good, but sort of non-descript and relied on the screwball as his out pitch. Brewer died of complications of injuries received in a car accident in 1987. He was 50.
Jonathan Broxton (2005-11, 25-20, 3.19 ERA, 84 saves): Two words: Matt Stairs. That's a little unfair, because Broxton wasn't a bad closer, he just seemed to never come through when needed.
Hugh Casey (1939-42, 1946-48, 70-41, 3.34 ERA, 49 saves): Casey was the Dodgers' first real closer, though they weren't called that back then and weren't used as modern closers are. He led the NL with 13 saves in 1942 before losing three seasons to World War II. He came back to go 11-5 with five saves in 1946 and then led the NL with 18 saves in 1946. Casey was a starter until manager Leo Durocher switched him to relief midway through the 1941 season. It made all the difference in the world for Casey, who thrived in the role. In 1942, the Dodgers were training in Cuba and author Ernest Hemingway was there. Some team members and Hemingway were having some drinks when Hemingway challenged Casey to a fight. Casey refused, so Hemingway sucker punched him. Casey then pretty much beat up Hemingway until the author punched Casey in the groin and declared the fight a draw. Casey's life ended in 1951, he owed back taxes and had just lost a paternity suit. He checked into an Atlanta hotel and called his wife, who he was estranged from because of the paternity charges. While talking to her on the phone, he told his wife that he was not the father of the baby, put a gun to his head and pulled the trigger. Casey was only 37. For a great bio of Casey, click here.
Eric Gagne (1999-2006, 25-21, 3.27 ERA, 161 saves): Gagne was a failed starter who came out of nowhere to seize the closing job in spring training in 2002. He converted 84 consecutive saves at one point, and few people left Dodgers games early when Gagne was the closer, because they wanted to see him pitch. He was dominant and won the Cy Young Award in 2003. Then injuries derailed him and he pitched little in 2005 and 2006. He signed with Texas and then went to Milwaukee in 2007. He was with the Brewers when he was named in the Mitchell Report as a player linked to Human Growth Hormone use. His tenure ended with the Dodgers 13 years ago, but it seems like a million years ago for some reason. This season he will serve as bullpen coach for the triple-A Nashville Sounds, a Texas Rangers affiliate.
Charlie Hough (1970-80, 47-46, 3.50 ERA, 60 saves): Hough is one of the rare knuckleball closers in history, serving as the team's main closer in 1976 and 1977. He ate up a lot of innings in his appearances, pitching 142.2 innings in 77 games in 1976. He was sold to Texas in 1980 and reinvented himself as a starter, pitching for 15 more seasons before retiring as a 46-year-old starter with Florida in 1994.
Steve Howe (1980-85, 24-25, 2.35 ERA, 59 saves): The tragic story of Steve Howe. Won Rookie of the Year award in 1980, then developed a major cocaine problem. Was suspended for the entire 1984 season. Dodgers finally gave up on him midway through the 1985 season. He bounced in and out of baseball for the rest of the 80s before finally appearing to clean himself up. He pitched for six seasons for the Yankees from 1991-96. He was suspended seven times in his career for substance abuse. In 2006, he was killed in a single-car accident when his truck rolled over in Coachella. An autopsy report found meth in his system.
Jay Howell (1988-92, 22-19, 2.07 ERA, 85 saves): You could probably win more than one bar bet by asking people to name the closer on the Dodgers' last World Series title team. Howell came to the Dodgers before that season in the same trade in which they acquired Alfredo Griffin and Jesse Orosco. Howell was suspended during the NLCS for using pine tar on his glove to get a grip on the baseball, an event that seemed to anger the team rather than make them fall apart. Howell made the All-Star team in 1989 and had 28 saves, his high with the team.
Kenley Jansen (2010-current, 25-18, 2.20 ERA, 268 saves): There's not much I can write about Jansen I haven't written the last few years. He's a truly great closer who was still very good last season, his worst season so far.
Clem Labine (1950-60, 70-52, 3.63 ERA, 81 saves): Labine relied on a sinker as his main pitch, telling Peter Golenbock in the book Bums, "They go to swing at it, and it drops on you, and you get the top of the ball. So, you're not gonna hit a lot of line drives off of me, just a lot of groundballs. And don't forget who we had scooping them up: Gilly, Robinson, Reese and Cox." Labine pitched in four games in the 1955 World Series, winning one and saving one. "Clem Labine was one of the main reasons the Dodgers won it all in 1955," Vin Scully said after Labine died at age 80 in 2007. "He had the heart of a lion and the intelligence of a wily fox. And he was a nice guy, too."
Mike Marshall (1974-76, 28-29, 3.01 ERA, 42 saves): Marshall was a man of strong opinions. He felt he could pitch pretty much every day, but most of his managers thought he was a nut. Until he hooked up with Walter Alston, who trusted Marshall and told him to just tell him if he couldn't pitch, otherwise he'd use him as much as possible. And that set the stage for an incredible 1974 season, where Marshall appeared in 106 games, pitching an amazing 208.1 innings in relief, going 15-12 with a 2.42 ERA and 31 saves. He won the Cy Young Award, becoming the first reliever to do so. But because Marshall was so outspoken, and a big proponent for the burgeoning union, he was usually sent packing quickly by teams. The Dodgers traded him in 1976. In all, Marshall spent 14 seasons in the majors, playing for nine teams. He is also a key background character in Jim Bouton's book, "Ball Four." He has his own website you can check out here.
Tom Niedenfuer (1981-87, 30-28, 2.76 ERA, 97 saves): Niedenfuer was an effective reliever who will forever be remembered by Dodgers fans for giving up the home run to Jack Clark in Game 6 of the 1985 NLCS. He also gave up a game-winning homer to Ozzie Smith earlier in the series. "Looking back on it," Niedenfuer said in a 2010 interview, "it's a very proud feeling that your manager had enough confidence in you to be the guy he put in that situation. I wouldn't trade that for anything in the world because I loved being out there. But when it happened, all I can remember is … you let the team down." Niedenfuer, now 59, lives in Sarasota, Fla., with his wife, actress Judy Landers. They have two daughters.
Ron Perranoski (1961-67, 54-41, 2.56 ERA, 100 saves): For all the praise (much deserved as it is), Sandy Koufax and Don Drysdale get for pitching the Dodgers to three World Series appearances and two titles in the 1960's, people sometimes overlook the fact that waiting in the wings in case one of them, or some other starter, faltered late was Perranoski. He finished fourth in MVP voting in 1963 after going 16-3 with a 1.67 ERA and 21 saves in a league-leading 69 games and led the league in games pitched three times, often pitching more than 100 innings. He later served as Dodger pitching coach from 1981-94 and is currently a special assistant in the San Francisco Giants front office.
Ed Roebuck (1955-63, 40-22, 3.46 ERA, 43 saves): Roebuck was a key reliever for the 1955 team, with a great first half before a terrible second half. He was an effective reliever for a few seasons, often coming into tie games and piling up a lot of decision each year. He went 8-2 in 1957 and 10-2 in 1962. He only had double digits in saves once, in 1955, when he saved 12 games. The Dodgers sent him to the Washington Senators during the 1963 season. He retired from baseball in 1966 and lived in Lakewood, Calif., for the rest of his life. He died in 2018 at age 86.
Takashi Saito (2006-08, 12-7, 1.95 ERA, 81 saves): Takashi Saito was great. He was 36 when he came to the Dodgers from Japan and put together three great seasons. In 2007, he went 2-1 with a 1.40 ERA and 39 saves, giving up only 33 hits and 13 walks in 64.1 innings, striking out 78. He suffered a sprained elbow ligament near the end of the 2008 season and signed with Boston as a free agent after the season. He left the majors after the 2012 season and played three more years in Japan, retiring at age 45 after the 2015 season.
Jeff Shaw (1998-2001, 9-17, 3.37 ERA, 129 saves): One of the first things Tommy Lasorda did when he was named interim general manager midway through the 1998 season was acquire Shaw from the Cincinnati Reds. In fact, Shaw had been so good for the Reds he was named to the All-Star team. He pitched as a Dodger in that game even though he had yet to appear in a game with the team. Lasorda though the Dodgers needed a closer to put them over the top that season. Shaw pitched well, but it wasn't enough, as the team finished third. Shaw was good in his remaining three seasons in L.A. and saved 43 games in his last season with the team. Unfortunately, many Dodgers fans were still remembering who the Dodgers gave up to acquire Shaw: Top prospect Paul Konerko, who hit 439 homers in his career. Several teams wanted to sign Shaw after the 2001 season, So,e comsidebut he retired to be a dad to his kids. His son, Travis Shaw, currently plays for the Milwaukee Brewers and hit 32 homers for them last season.
Larry Sherry (1958-63, 34-25, 3.47 ERA, 39 saves): Sherry etched his name into Dodgers lore by winning two games and saving two others in the 1959 World Series victory over the Chicago White Sox, giving L.A. its first World Series title. He was named World Series MVP. It capped a great season in which he went 7-2 with a 2.19 ERA and three saves. Sherry died of cancer in 2006. He was 71.
Todd Worrell (1993-97, 17-19, 3.93 ERA, 127 saves): Worrell was the St. Louis Cardinals' closer until he tore a ligament in his elbow near the end of the 1989 season. By the time he made it back to the majors in 1992, he had lost his job to Lee Smith. The Dodgers signed him to a three-year, $9.5 million deal and made him the closer. The first two seasons were disastrous, as injuries limited him to 73 games, 16 saves and a 5.13 ERA, but he rebounded nicely in 1995. He had his best season with the team in 1996, when he led the NL with 44 saves and retired after the 1997 season as the Dodgers' all-times saves leader, a number since surpassed. Worrell is currently the pitching coach at Westminster Christian Academy in St. Louis.
Those are the candidates. So, go vote for four of them. Click here to vote. Or email me here with your list of four.
Right-handed starters
We received 12,614 ballots for right-handed starters, asking you to vote for eight. Here are the results:
Don Drysdale, named on 100% of ballots
Orel Hershiser, 100%
Don Newcombe, 99.8%
Don Sutton, 99.7%
Dazzy Vance, 78.9%
Carl Erskine, 70.5%
Bob Welch, 45.9%
Burt Hooton, 38.6%
Just missed the cut
Ralph Branca, 34.6%
Hideo Nomo, 27.6%
Ramon Martinez, 24.6%
Burleigh Grimes, 19.8%
Bill Singer, 16%
Jeff Pfeffer, 15%
Van Lingle Mungo, 5.4%
Tom Candiotti, 3.1%
Chad Billingsley, 3%
Chan Ho Park, 2.9%
Ismael Valdez, 0.6%
The 40-man roster so far:
Catchers
Roy Campanella
Mike Piazza
Mike Scioscia
Infielders
Adrian Beltre
Ron Cey
Steve Garvey
Jim Gilliam
Gil Hodges
Davey Lopes
Wes Parker
Pee Wee Reese
Jackie Robinson
Bill Russell
Justin Turner
Maury Wills
Outfielders
Dusty Baker
Tommy Davis
Willie Davis
Andre Ethier
Carl Furillo
Kirk Gibson
Pedro Guerrero
Matt Kemp
Reggie Smith
Duke Snider
Zack Wheat
Pitchers
Don Drysdale
Carl Erskine
Orel Hershiser
Burt Hooton
Tommy John
Clayton Kershaw
Sandy Koufax
Don Newcombe
Johnny Podres
Don Sutton
Fernando Valenzuela
Dazzy Vance
Bob Welch
Coming up
Feb. 19: Who do you cut?
Feb. 26: Managers
And finally
Don Drysdale, Ron Perranoski, Willie Davis, Maury Wills, Frank Howard and Bill Skowron perform on "The Joey Bishop Show." Watch it here.
Have a comment or something you'd like to see in a future Dodgers newsletter? Email me and follow me on Twitter: @latimeshouston.
---
Get our Dodgers Dugout newsletter for insights, news and much more.
You may occasionally receive promotional content from the Los Angeles Times.