Dodgers Dugout: These three Dodgers should get reduced playing time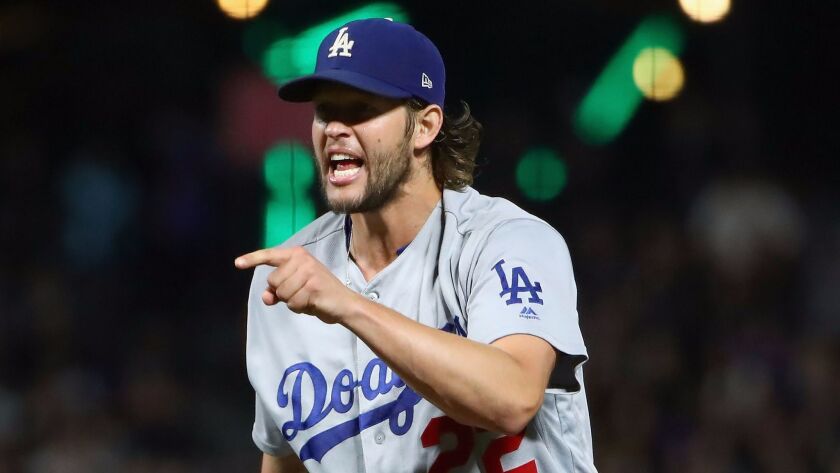 Hi, and welcome to another edition of Dodgers Dugout. My name is Houston Mitchell, and I told you that my lucky socks would do the trick.
So this is what winning feels like
All it took was a trip to San Francisco to right the ship! The World Series is guaranteed! The best team ever!
OK, maybe I'm getting a little carried away. But I think that Clayton Kershaw's primal scream to his teammates after hitting that double woke up a few players. Or maybe it was just a coincidence.
So the losing streak is over, and a modest winning streak begins. Dodgers fans can climb off the ledge and start thinking about the playoffs, in which the team clinched a spot on Tuesday.
There are two goals before reaching the playoffs though: Win the division and have the best record in baseball so they can have home-field advantage throughout the postseason. The first part is all but guaranteed. The second part, not so much. Let's look at the best records in baseball:
Dodgers, 94-52
Cleveland, 91-56
Washington, 89-57
Houston, 88-58
The Indians, who have won something like 123 games in a row, would be the World Series favorite if it started today. But most experts still have the Dodgers as the favorite to win the NL pennant.
I think we will know more about that after the Dodgers play the Nationals in a three-game series this weekend. Even if they don't win every game, as long as they play competitively against Washington, then we know the Dodgers are back on track. If they look like they did the last two weeks, then, well, let's not think about it.
But let's look at three players that the Dodgers should rely on less in the coming month.
Curtis Granderson
Why is Curtis Granderson playing so much? Let's look at the alternatives.
1. Start Adrian Gonzalez at first and put Cody Bellinger in left, Chris Taylor in center and Yasiel Puig in right. The problem: Gonzalez is immobile at first now (there's no way he makes that leap and tag Bellinger pulled off in Tuesday's game) and he can't hit. Bellinger should be the everyday first baseman the rest of the season. If Gonzalez gets his back situation straightened out, he can try to win the job again in spring training. But right now trading Granderson's bat for Gonzalez's is not a big improvement.
2. Play Andre Ethier instead of Granderson. The problem: Ethier hasn't played regularly for two seasons and is more fragile than a soap bubble. Personally, I'd start him over Granderson, but I don't think the Dodgers will.
3. Play Joc Pederson. The problem: Pederson is one for 10 since his return and his defense has regressed so he is now below average.
The Dodgers acquired Granderson because they wanted a veteran outfielder with power to replace Pederson and give them a lift. Granderson has accomplished none of those things. He has eight hits and 24 strikeouts in 75 at-bats. The odds are that Granderson will continue to get plenty of playing time in the hopes he will break out of this slump and play to his potential.
But watching him hit, that doesn't seem likely, because he seems completely lost at the plate.
If it were me, I'd say to myself "We went 65-27 in games Pederson started. Let's see if we can get him back on track instead of Granderson. Or I'd play Ethier, who is hitting .267, and see if he can stand up to playing every day. The Dodgers are 6-17 when Granderson plays and 2-8 when Ethier plays.
Logan Forsythe
Did you notice who got the Dodgers going on Tuesday, the day they ended their 11-game losing streak? Chase Utley, who hit a home run into McCovey Cove. Utley hasn't played much this month, because the Dodgers seem to get some sort of strange pleasure out of watching Logan Forsythe watch strikes go by him. But Utley needs to be in the lineup. If you have to play Forsythe, then only play him against lefties, against whom he hits .300/.435/.445. But start Utley against right-handers.
Yasmani Grandal
And why is Grandal playing? He's one for 30 this month. He is hitting .207 since the All-Star break. No amount of pitch framing can overcome that. I am very comfortable with Austin Barnes being the starting catcher.
Second half
Let's take a look at key Dodgers and how their stats in the first half compare to their stats in the second half and their stats over the last 14 days.
Chris Taylor
First half: .285/.365/.480/126 OPS+
Second half: .309/.356/.536/133
Last 14 days: .226/.226/.321
Corey Seager
First half: .298/.395/.502/140
Second half: .317/.368/.468/121
Last 14 days: .222/.290/.296
Justin Turner
First half: .377/.473/.583/183
Second half: .266/.353/.479/119
Last 14 days: .318/.412/.591
Cody Bellinger
First half: .261/.342/.619/151
Second half: .290/.375/.580/149
Last 14 days: .286/.375/.612
Yasmani Grandal
First half: .267/.319/.469/109
Second half: .207/.280/.414/82
Last 14 days: .033/.189/.133
Logan Forsythe
First half: .249/.369/.345/95
Second half: .203/.342/.297/74
Last 14 days: .200/.282/.343
Yasiel Puig
First half: .251/.324/.453/107
Second half: .281/.385/.538/143
Last 14 days: .302/.362/.535
Chase Utley
First half: .226/.326/.390/92
Second half: .241/.315/.410/92
Last 14 days: .125/.222/.313
Enrique Hernandez
First half: .215/.308/.452/101
Second half: .200/.276/.347/65
Last 14 days: .217/.217/.261
Austin Barnes
First half: .283/.426/.457/133
Second half: .305/.400/.484/142
Last 14 days: .263/.440/.263
Curtis Granderson
First half: .232/.328/.471/112
Second half: .161/.306/.389/84
Last 14 days: .088/.205/.088
Adrian Gonzalez
First half: .255/.304/.339/74
Second half: .207/.230/.345/50
Last 14 days: .273/.273/.364
Joc Pederson
First half: .241/.361/.466/121
Second half: .149/.260/.287/46
Last 14 days: .100/.308/.100
Comparison
Comparing this year's Dodgers team at this point in the season with the teams that posted the best records in Dodgers history (since 1901):
2017: 94-52, .644
1953: 99-47, .678 (finished season 105-49, .682, lost World Series to Yankees)
1942: 96-50, .658 (finished season 104-50, .675, did not make postseason)
1941: 94-52, .644 (finished season 100-54, .649, lost World Series to Yankees)
1955: 94-52, .644 (finished season 98-55, .641, won World Series over Yankees)
1974: 92-54 .630 (finished season 102-60, .630, lost World Series to Oakland)
Ask Ross Porter
Michael Lloyd asks: Despite their recent slump, the Dodgers have had the best record in baseball much of the year. How often lately has the team with the best regular season mark won the World Series?
Ross: Not that often, Michael. Only seven times in the last 31 years.
Amy Millstone asks: My favorite team, the Indians, now have a 22-game winning streak. What is the major league record and the Dodgers all-time high?
Ross: The 1916 New York Giants recorded 26 wins in a row, but there was one tie, which is not counted in the official statistics. The 1935 Cubs had 21 successive victories without a tie, and Cleveland just eclipsed Oakland's AL record of 20 straight in 2002.
In Brooklyn, the 1924 Dodgers were victorious in 15 straight, while the 1962 and 1965 Los Angeles Dodgers prevailed in 13 consecutive contests.
Santiago Santini asks: Greetings from Argentina. We follow Dodgers games on the Internet and frequently go to sleep at 2:30-3 a.m. Ross, what happens if a team does not have nine players available?
Ross: Major league baseball rule 4:17 states: "A game shall be forfeited to the opposing team when a team is unable or refuses to place nine players on the field."
Gordon Lenart asks: I live in Boise, Idaho, and have been a Dodgers fan for 68 years. Has there ever been a major league pitcher who has thrown both right-handed and left-handed in the same game?
Ross: Yes, Gordon. Four 19th century pitchers and Greg Harris of Montreal in a 1995 game.
A natural right-hander, he threw left-handed to two batters in the ninth inning of a game against Cincinnati. Harris retired the first hitter, walked the second and got the third and fourth men out. Pat Venditte is the only active pro pitcher to do it today, and he must declare which hand before the at-bat. Yu Darvish of the Dodgers throws with his left hand when training to keep both arms strong and balanced, but not in a game
Former Dodgers announcer Ross Porter will answer select reader questions throughout the season. Email me a question for Ross, and I will pass it on. Please include "Ask Ross" in the subject line of the email.
Next series
Friday, 4 p.m. PT, Dodgers (Alex Wood, 14-3, 2.81) at Washington (Edwin Jackson, 5-5, 3.88)
Saturday, 10 a.m. PT, Dodgers (Rich Hill, 9-8, 3.67) at Washington (Stephen Strasburg, 13-4, 2.64)
Sunday, 5 p.m. PT, Dodgers (Hyun-jin Ryu, 5-7, 3.59) at Washington (Gio Gonzalez, 14-7, 2.68)
Note: Pitchers are subject to change
And finally
Dodgers skip the champagne after playoff-clinching victory they didn't know about. Read all about it here.
Have a comment or something you'd like to see in a future Dodgers newsletter? Email me and follow me on Twitter:@latimeshouston.
Twitter: @latimeshouston
---
Get our Dodgers Dugout newsletter for insights, news and much more.
You may occasionally receive promotional content from the Los Angeles Times.