Dodgers try to contend now while keeping an eye on the future
The office of Andrew Friedman is situated on the fifth floor of Dodger Stadium, tucked away in the left-field corner of the ballpark.
The decorations are minimal. On one wall hangs a lineup card from April 6, 2015, the first game of Friedman's tenure as the Dodgers president of baseball operations.
On most days, Friedman escapes to watch games from either the clubhouse or his seat behind home plate. To do so, he forsakes a spectacular view from his office window. If the product on the field does not meet his standards, he can always gaze into the San Gabriel Mountains.
"Just living the dream," Friedman said earlier this week inside his office as he answered messages on his phone.
How's that going? a visitor asked.
"I wouldn't mind being woken up," he mumbled, thumbs still affixed to his phone.
He looked up and broke into a grin. Five months away from his 40th birthday, Friedman can no longer be considered a wunderkind like he was when he became Tampa Bay's general manager in 2006. His stubble features more gray than he would like, and his facility with gallows humor is impressive.
Fans are focused on the next 15 minutes ... . But we have to operate with one eye on the immediate future, and one eye on the more extended outlook.
— Andrew Friedman
The first 12 weeks of the 2016 season tested Friedman's patience and his plans for the Dodgers' future. A rash of injuries ravaged his roster, which leads the major leagues in cumulative days on the disabled list. April hiccups from the pitching staff cast doubt on his decision to let Zack Greinke depart in free agency and spend minimally on the bullpen. The offense hasn't clicked with consistency.
"When you put it in that perspective, we feel good about where we are looking forward," Friedman said. "But there's certainly been some aspects of the season that have been frustrating.
"So much of what we focus on is looking ahead. The past does portend a lot into how things will play out. But we expect to have more of our guys that are on the DL back in the fold. Our most consistent baseball has yet to be played."
The last seven games supported his vision. The Dodgers (41-33) swept a home series against the Washington Nationals and won six in a row heading into this weekend in Pittsburgh. The team leads the National League wild card standings and resides within striking distance of San Francisco in the National League West.
In the eyes of many rival executives, no team in baseball has a better combination of financial might and minor-league assets. The Dodgers' farm system is stocked, at all levels, with upper-echelon players. But around the sport, other teams are waiting for the organization to convert those assets into the "elite" talent Friedman said he covets.
"None of this boiler-plate talk means anything until they're willing to put their chips on the table," said one National League official who would speak only anonymously about a rival.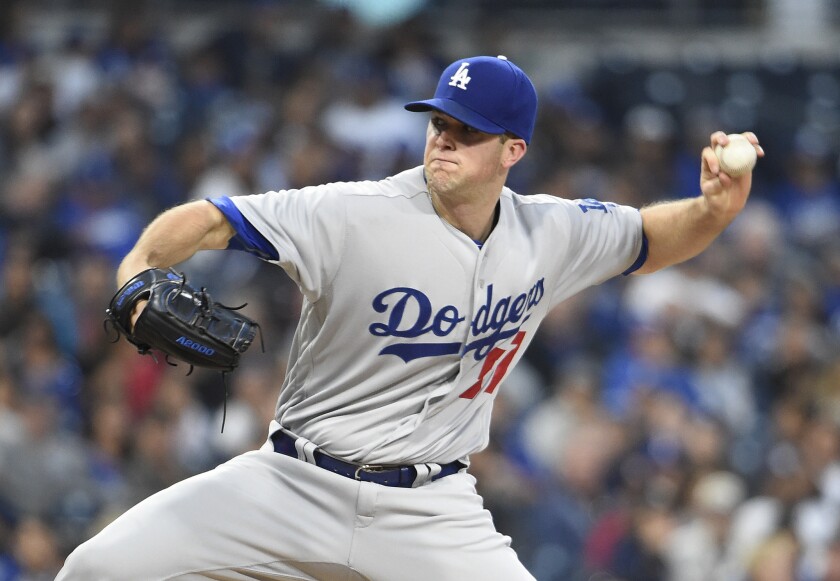 Last summer, the Dodgers declined to assemble the packages of prospects necessary to net aces such as Cole Hamels and David Price. Health concerns scared them away from Johnny Cueto. Instead, the team acquired Alex Wood and Mat Latos.
Friedman rejected the notion that his past actions will predict his future behavior. He explained that because it has stockpiled assets the organization is better prepared to add star power moving forward.
"Our mind-set since I've gotten here has been to focus on elite-level players," Friedman said. "That being said, we also had to focus on rounding our roster. With where our roster is, where our depth is, and with the quality of our upper-level prospects, it allows us to focus more intently on that."
This summer may not present the organization with the opportunity to strike. As the July 31 trade deadline approaches, the Dodgers face an unusually thin market.
"They have chips to move," another rival executive said. "But the biggest question becomes: What can you move it for?"
The market has yet to take shape. The prospect of reaching the Wild Card Game compels fringe contenders to avoid selling.
There are no aces on the block, rival executives say. Oakland starter Sonny Gray strained muscles in his neck and shoulder in May and went into this weekend with a 5.20 earned-run average. With the Miami Marlins competing for a playoff spot, Jose Fernandez is not considered available. The Dodgers found the asking price for Chicago White Sox ace Chris Sale last winter to be excessive.
The Dodgers expect to see pitchers such as Wood, Hyun-Jin Ryu and Brandon McCarthy return from the disabled list in the next few weeks. In addition, prospects like Frankie Montas and Jose De Leon could contribute. Ross Stripling could also rejoin the big-league club. With those useful arms, the Dodgers are less inclined to pursue mid-level pitchers such as Tampa Bay's Jake Odorizzi and Matt Moore, or Chicago's Jose Quintana.
The same principle applies to the offense. Friedman does not see a sinkhole in his lineup, even as he eyes upgrades.
Yulieski Gourriel, a highly touted Cuban infielder, worked out at Dodger Stadium this week. Gourriel can play either third base or second base — positions occupied by Justin Turner, Chase Utley and Howie Kendrick.
The Dodgers outfield is even more crowded, which would complicate the pursuit of Milwaukee's Ryan Braun or Cincinnati's Jay Bruce. Braun, in the eyes of rival scouts and executives, invites questions about his contract, health and character. The Brewers owe him $80 million from 2017 to 2020.
"It's a lot of money for an inflexible, left-field-only player with injury history," one rival evaluator said. "These are the types of players they're trying to get away from."
If the Pittsburgh Pirates continue to founder, center fielder Andrew McCutchen could become available. The Dodgers would be poised to strike there — if they feel McCutchen, in the midst of a down season and approaching his 30th birthday, is worth the cost. Pittsburgh will not part with an iconic player easily.
The Dodgers' best bet may be improving its bullpen, a unit that already leads the NL in earned-run average. The baseball operations department has yet to discuss with ownership the prospect of pursuing New York Yankees closer Aroldis Chapman. The Dodgers were close to striking a trade with Cincinnati in December, but the deal crumbled after the team learned Chapman had choked his girlfriend and fired a gun in her vicinity two months earlier.
Wary of the uncertainty surrounding Chapman, the Dodgers backed out. The Yankees stepped in a few weeks later to acquire Chapman, who served a 30-game suspension.
Just as talented is Chapman's set-up man, left-hander Andrew Miller. Since 2014, Miller has been one of the four most valuable relievers in baseball, according to FanGraphs' version of wins above replacement.
In 30 games this season, in 2016, he has a 1.17 ERA and a 19-to-1 strikeout-to-walk ratio. He does not care what innings he pitches. He also is under contract through 2018, at the relative bargain of $9 million per season, which would create insurance for the Dodgers as closer Kenley Jansen becomes a free agent this winter.
Miller may be the best player available next month. "We can't let the Giants or the Cubs get him," said a Dodgers player who didn't want to be identified offering advice to management.
Friedman scoffed at the notion the team has not committed enough resources to the 2016 season. But he also understood that rhetoric cannot change that perception. The only way to do so is for the performance on the field to match the vision hatched in his office.
"Fans are focused on the next 15 minutes, which I appreciate and totally get," Friedman said. "But we have to operate with one eye on the immediate future, and one eye on the more extended outlook. The only way for fans to appreciate what's going on is to win in that current year, and to be really competitive, while being able to sustain it for many years to come."
ALSO
How the Clippers are preparing for the NBA draft
LeBron James on free agency: 'I've got no plans to go nowhere at this point'
Plaschke: Luke Walton is ready to return the fun to the Lakers and that has people smiling
Twitter: @McCulloughTimes
---
Get our Dodgers Dugout newsletter for insights, news and much more.
You may occasionally receive promotional content from the Los Angeles Times.