Clayton Kershaw is sharp but Dodgers are not as another loss dooms home-field advantage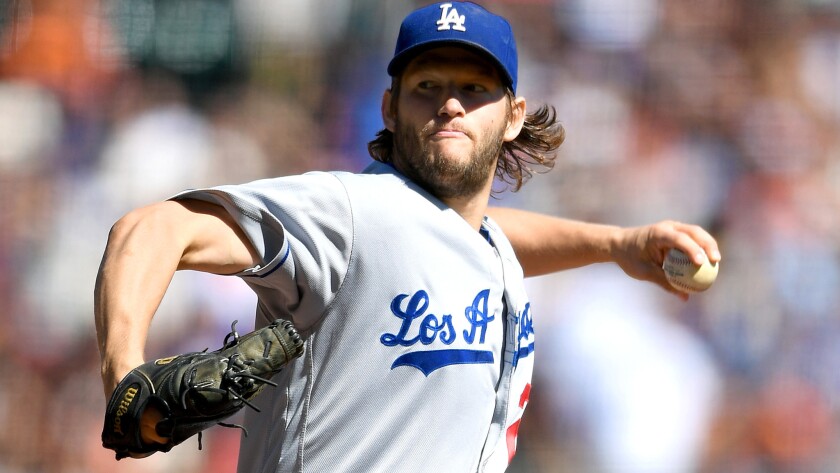 Reporting from San Francisco —
A week of subpar baseball against their California rivals rendered remote the Dodgers' chances at home-field advantage in the first round of playoffs even before Saturday's game against the San Francisco Giants began. The hope for Game 1 at Dodger Stadium vanished when a throw from third baseman Justin Turner skipped past Adrian Gonzalez at first base in the seventh inning of a 3-0 defeat.
Turner is a sure-handed fielder with an arm that holds strong and true. He was forced into an awkward position after a groundball from San Francisco shortstop Brandon Crawford deflected off the kneeling form of ace Clayton Kershaw, who had dipped to retrieve the baseball.
The error allowed Angel Pagan to score from first, put Crawford in position to score on a sacrifice fly in the next at-bat and made official the team's date at Nationals Park for Game 1 of a National League division series Oct. 7.
"To me, since we clinched, it doesn't matter," closer Kenley Jansen said. "We just don't want to go home in the first round again. We've experienced that. It doesn't matter where we start. If you want to get to the World Series, you have to win on the road, anyway."
Down two games to Washington when Saturday began, the Dodgers (91-70) needed to win on Saturday and Sunday at AT&T Park in addition to a pair of losses from the Nationals.
Kershaw looked up to the task, holding the Giants to one earned run in seven innings, along with two unearned in his last inning. But the offense managed only one more hit (three) during eight innings against left-handed rookie Ty Blach as Blach himself recorded at the plate.
Manager Dave Roberts offered praise for Blach. He complimented him on his poise and the steadiness of his fastball. He lacked similar words for his own offense.
"Today wasn't a good day [for] the quality of at-bats," Roberts said. "Some [was due to] the lack of familiarity. But even with that, I think that we gave away a lot of at-bats today. We've got to be better. We're going to see a lefty next series. We've got to be better."
That left-hander will likely be the erratic veteran Gio Gonzalez. But Kershaw is expected to duel with right-handed ace Max Scherzer in the opener. A midseason back injury to Kershaw may have opened the door for Scherzer to win the National League Cy Young Award.
Roberts intended to treat Saturday afternoon like "any normal Clayton Kershaw start." He said he hoped Kershaw could throw a complete game. The prospect felt remote after the care the organization showed in his first four outings back from the disabled list.
Kershaw did expand to seven innings in his previous outing, holding Colorado to three hits and no runs. Roberts remained happy with Kershaw's fastball command, and encouraged with the improvement of his offspeed pitches.
"I feel good," Kershaw said. "My arm feels good. I want to be perfect, so it wasn't perfect today, but good enough."
Kershaw unfurled a delightful curveball in a seven-pitch first inning. He snapped a 1-and-2 curve to induce a useless swing from outfielder Gorkys Hernandez for the inning's first out. An inning later, Kershaw achieved a similar result against outfielder Hunter Pence. The ball hit the dirt. Pence hit nothing.
Kershaw required 26 pitches to complete the first three innings. He ranged off the mound twice in the third to scoop up groundballs, testing his back in lumbering but effective fashion.
A Giant reached base in the bottom of the fourth, when catcher Buster Posey smacked a fastball into left field for a two-out single. Kershaw did not appear dismayed. He retired Pence, the next batter, on a chest-high, first-pitch fastball. Pence swung late and popped out in foul territory near first base.
The Giants showed little interest in patience. Through the first four innings, Kershaw faced a two-ball count twice. But the aggression paid dividends for San Francisco in the fifth.
Kershaw lives on the inner half of the plate. He pumps his fastball inside to right-handed hitters in order to open up his secondary array. Opponents know this, which can lead to moments like the first at-bat in the fifth, when Kershaw tried to handcuff Pagan with a 92-mph heater. Pagan was not fooled, and his drive cleared the fence in left.
"I didn't think he hit it that well," Kershaw said. "But I guess he did. You tip your cap, I guess."
The solo shot placed Kershaw in the line for a defeat. His offense provided him nothing. The night before, the group dinged Madison Bumgarner for three runs, a credible sum against a talented left-handed pitcher and an encouraging sign for the team's overall improvement against southpaws. Yet the offense regressed on Saturday.
The game fell out of reach in the seventh, after the errant throw by Turner and the two runs by San Francisco. The loss cemented a date in the District of Columbia next week.
"We're on a little bit of a slide here," Roberts said. "But we're still in a good position."
Twitter: @McCulloughTimes
---
Get our high school sports newsletter
Prep Rally is devoted to the SoCal high school sports experience, bringing you scores, stories and a behind-the-scenes look at what makes prep sports so popular.
You may occasionally receive promotional content from the Los Angeles Times.