Column: Dave Roberts leaned on his late father to survive his first managerial crisis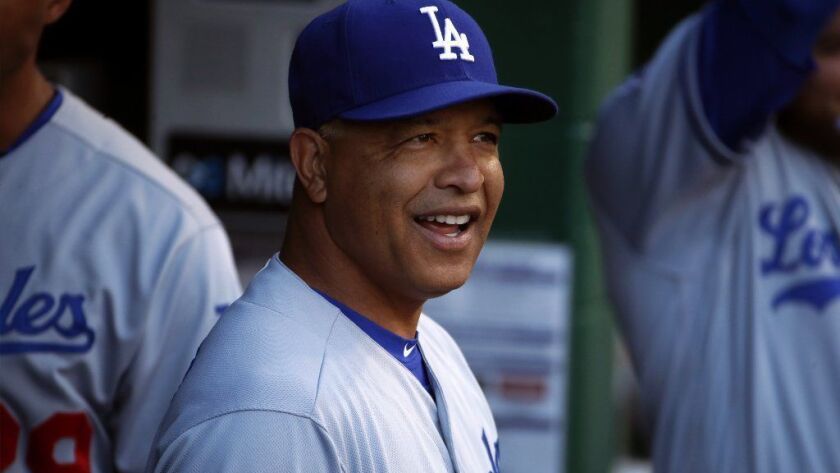 As comfortable as Dave Roberts is talking, he is also a believer in the power of nonverbal communication. It's one reason he's a card-giver.
The Dodgers manager likes to give greeting cards because he liked to receive them, particularly from his father, Waymon, a reserved and sometimes intimidating man who served in the Marines for three decades.
"I'll tell you, some of the best things my dad ever conveyed to me were on a card, as opposed to him telling me," Roberts said.
In the cards, his father would tell him what he could never say in person, how proud he was of him, how he knew he didn't show it enough.
And on Father's Day, Roberts would send cards to his father, each time taking the painstaking effort of searching for the right words to inscribe.
Waymon Roberts died last spring and there are no more cards to write. Sunday will be Dave's second Father's Day without him.
"Gosh," Roberts said, "I think about him every day, man."
Roberts thought about him again Friday as he recalled how he managed the Dodgers out of last place and into postseason contention, saying he learned from his father the characteristics he adopts in times of trouble.
"Many of the good and some of the bad," Roberts said.
The thought made him double over with laughter.
"I have kind of evolved into my father," he said, finding humor in the observation because he is as extroverted as his father was subdued.
The Dodgers dropped to 16-26 and into last place on May 16. They were 8 1/2 games out of first place.
The players observed their manager, looking for signs of him cracking. They didn't find any.
Roberts spoke with purpose. He didn't waver in his beliefs. He was loyal to his players.
"The same as it is now," outfielder Matt Kemp said. "If something was bothering him, if he was worried, he didn't show it. But I don't think he was worried."
Roberts knew panicking wouldn't help.
"Professional athletes are motivated," he said. "They're the best at what they do. To think that any rah-rah kick-them-in-the-ass meeting is a remedy, it's not. If there's a lack of preparation or effort, that's a different conversation. But to each man, that wasn't the case."
Deviating from the norm would result only in problems. If the manager was apprehensive, the players would be, too. Fingers would be pointed. Division would follow.
"My dad was very even-keeled," Roberts said. "I would like to think I took that from him."
Roberts said of the coaching staff and front office, "We did a great job of staying connected to the most important cog and that's the players."
The roster was ravaged by injuries to key players, as Justin Turner was sidelined for the first month and a half, Corey Seager underwent a season-ending operation and Clayton Kershaw has spent the majority of the season on the disabled list. But the team's problems extended beyond that.
The bullpen was in shambles. Many of the players who were expected to contribute offensively weren't hitting.
"You have to appreciate the length of the major league season," Roberts said. "You really do. When we had our struggles in the different facets of the game in the beginning part of the season, we kind of stepped back and looked at each part of it, whether it be the 'pen, the starters, the hitting and asked, 'Are these the right guys?' To every one of those questions, I believed they were the right guys. So with that, then you have to bet on the length of the season."
Since the day they fell into last place, the Dodgers are 20-6, including a 3-2 win over the San Francisco Giants on Friday night at Dodger Stadium. The Dodgers are now in second place.
Particularly admirable was how Roberts didn't let his personal situation interfere with how he went about his work. He is inexplicably in the final guaranteed year of his contract, as the Dodgers have yet to extend his deal or exercise the team option they hold for next season.
It wasn't a surprise Roberts declined to discuss his contractual status. His father didn't raise a complainer. He wasn't about to start bellyaching now.
"I want to do his legacy right," Roberts said.
He is, and by doing so, he is sending his father the most heartfelt of messages.
Follow Dylan Hernandez on Twitter @dylanohernandez
---
Get our high school sports newsletter
Prep Rally is devoted to the SoCal high school sports experience, bringing you scores, stories and a behind-the-scenes look at what makes prep sports so popular.
You may occasionally receive promotional content from the Los Angeles Times.